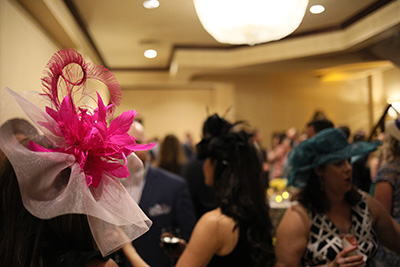 On Friday, May 4, 2018, more than 370 people attended the third annual Derby-themed Hats & Horses fundraiser for Kennedy Krieger Institute. The event was held at The Grand Lodge of Maryland and co-chaired by Cynthia Cavanaugh, Aimee Fulchino, Paige Kenney and Lisa Vogel. Decked out in festive Derby attire, Hats & Horses guests enjoyed dinner, a silent auction and an inspirational video about the work being done at Kennedy Krieger, then danced the night away. 
Thanks to dedicated committee members, sponsors, guests and auction donors, the event raised more than $300,000. Proceeds will support Kennedy Krieger's "Healing Rooms of the Future" project, the goal of which is to accelerate the healing process for children recovering from brain injury by tailoring the sensory experience for each child and his or her family.  Kennedy Krieger will be creating hospital rooms equipped with new technologies to deliver sights, sounds and lighting in ways that will stimulate the child's senses.
The event was hosted by the Women's Initiative Network for Kennedy Krieger (WIN), a volunteer organization dedicated to raising awareness and resources for Kennedy Krieger by promoting and facilitating volunteerism that assists families whose children are patients at the Institute. WIN members provide monthly meals to parents of inpatients, and they volunteer on "WIN Wednesdays" in the Child Life and Therapeutic Recreation room, where they do hands-on activities with children staying at the Institute's rehabilitation hospital. While these activities may seem small to some, they can make a world of difference to patients and families who are away from the comforts and normalcy of home. Please visit KennedyKrieger.org/WIN for more information.
Save the date! Next year's event will take place on May 3, 2019.