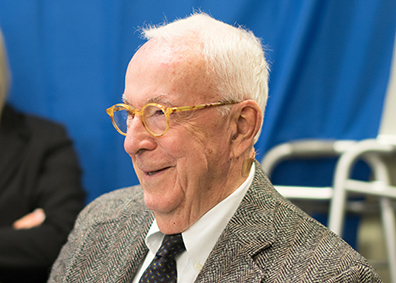 Kennedy Krieger Institute honored esteemed physician, employee and friend Charles (Chick) E. Silberstein, MD, at a retirement celebration on January 5.
Dr. Silberstein, an orthopedic surgeon, began his relationship with Kennedy Krieger in 1967 under the mentorship of legendary physician and innovator Winthrop M. Phelps, MD. Dr. Phelps was the founder and medical director of the Children's Rehabilitation Institute, which later became Kennedy Krieger Institute.
It was under such exceptional mentorship that Dr. Silberstein began his career in pediatric rehabilitation. Through ground-breaking research initiatives, Dr. Silberstein was able to provide innovative treatments that changed the lives of countless children with disabilities resulting from disorders of the brain.
Dr. Silberstein's dedication to his work, throughout his 51 years as an orthopedic surgeon, was unparalleled, recalls former colleague and friend Eileen A. Atkins PT MS, Department of Physical Therapy, Kennedy Krieger Institute.
He earned unwavering loyalty and fondness from family, friends, colleagues and patients alike.
If you wish to make a gift in honor of Dr. Silberstein's retirement or in tribute to one of your Kennedy Krieger doctors, please consider making a donation to Kennedy Krieger in honor of National Doctors' Day. Help us celebrate those who dedicate their lives to providing care for others.