By Lisa Carey
October 17, 2017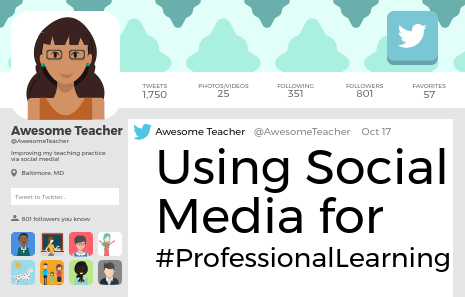 Professional learning communities (PLCs) have become popular ways for educators to guide their own professional learning. They can be described as collaborative and "continuous job-embedded learning for educators."(1)Traditionally, PLCs were formed through school-based collaborations between teachers. This means teachers were questioning, researching, and implementing solutions to problems of practice within their own school house without much outside input or perspective. Given the digital tools at our disposal, the limits of the school house are now obsolete. Many teachers are seeking to connect with educators from around the globe in order to drive their own professional learning and create online communities of educators seeking to solve instructional problems and remove barriers to professional learning. (2) One of the best ways to connect with other educators is through Twitter. Below are resources to help you get started, find online professional communities, and get the most out of social media for professional learning.
The basics:
Scholastic and KQED have created a really great beginners guide to Twitter for professional learning that include the basics of using Twitter, the etiquette of social media for learning, and how to engage others online. If you're a beginner, or just want a bit of a refresher, these guides (specifically for teachers) are a wonderful first stop.
#BestHastags4Teachers:
Hashtags have seeped their way into our everyday culture in some very silly ways, but if you're trying to use Twitter for professional learning, they serve a very important purpose. Hashtags help group and sort tweets. For example, if you're looking for information about Universal Design for Learning, you might search using the hashtags #UDL, or #UDLpl. Likewise, if you're sharing information and want it to get to a target audience, you might use a hashtag within your tweet so that it is more easily searchable by other educators. For example, if I've visited a classroom and I've seen some great examples of project-based learning, I might take a picture, describe the activity, and then use the hashtag #PBL in order to share my post with interested parties. The biggest barrier to using hashtags is knowing what other teachers are already using. Teach Thought and Getting Smart are two sites that offer lists of education themed hashtags. You can also search for your specific interests and see if there are additional hashtags being used by communities of teachers.
Twitter Chats:
Once you have the basics down and have gotten the hang of following, tweeting, retweeting, and using hashtags, you might want to try a live Twitter chat. This is a chance to talk to other educators live. Typically there is a moderator to ask the group questions and get the conversation rolling. These chats can be fast-paced and a bit overwhelming at first, so remember, it's ok just to observe. You can check out this YouTube video of a teacher walking you through the steps of a live Twitter chat so that you understand the basics, or use ISTE's Twitter guide to feel comfortable getting started. In addition to sharing ideas with teachers from outside of your school building, Twitter chats are a great way to find other educators to follow and gain ongoing ideas from.
Honestly, at first, I was intimidated by the idea of using Twitter for professional learning. But, some of my trusted colleagues were finding such great ideas and resources through Twitter that I decided to give it a try. The power to connect and share with other educators, regardless of distance and time, has been a powerful tool in my ongoing professional learning. I'm still blown away that Twitter has allowed me to sit in my living room in Baltimore for a half hour, share ideas with teachers in Indiana, Texas, and California, and walk away with great new ideas and a wonderful sense of belonging to an impressive profession of passionate and driven individuals.
Have a topic or question you would like to see addressed in a future Linking Research to Classrooms blog?
Enter your topic /question in our contact form.