By Lisa Beth Carey
Graphic Created By Erin F. Jones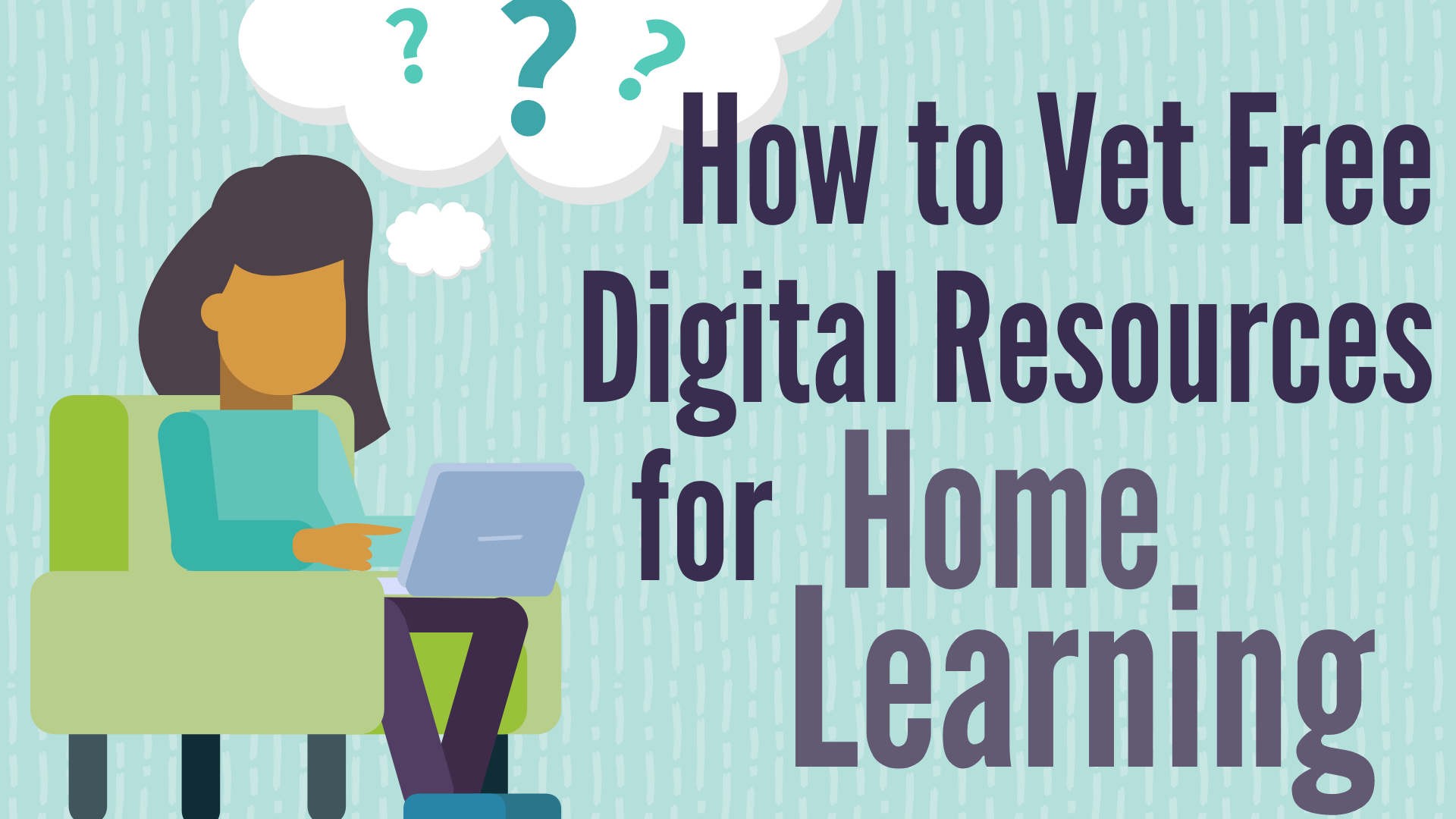 Due to the current coronavirus pandemic, school closures have left teachers and families scrambling to support learning at home.  The Linking Research to Classrooms blog has expanded our scope to support both teachers and parents in designing meaningful learning experiences for all students.  Previous posts have discussed connecting while social distancing and creating a daily home schedule to help maintain much-needed routine.  This post will dive into the world of free online learning materials.
Vetting the Mountain of Digital Resources:  
In an act of solidarity, tons of online resources are being shared on various digital platforms. This deluge of recommended resources can be overwhelming, especially since it can be hard to know which resources are worthwhile and meet educational standards.  To help navigate this process and narrow down the resources worth recommending to fellow teachers or parents, consider the following questions when evaluating a new digital resource:
Does the activity really require technology?
The American Academy of Pediatrics screen time recommendations have not changed!  Screen time for school-aged kids should be limited, even during a period of distance learning.  Distance learning doesn't have to only occur in front of a screen! For example, do you need to use an app to play the game Memory, or can you use household items instead?
 
Is it free for everyone?
We should only recommend apps and sites that are free! Everyone is stressed, we don't need families to be sorting out which digital resources they can afford to use. There are many great resources that are free and don't require a subscription or upfront cost.
 
Is it accessible across all platforms?
Only recommend apps and sites that are usable across platforms (e.g., does it work on iOS and android products? Does it work on the web?). Again, families shouldn't have to sort out which apps and sites they will be able to use based on the platforms they own or have access to.
 
Does it include features to allow everyone access to the content?  We need to vet recommendations for digital accessibility (e.g., closed-captioning, read-aloud functionality). For example, if a YouTuber is providing story time videos, but they don't have good captions, then you shouldn't recommend that resource. Make sure you consider your students' access needs before you share resources with families. The National Center for Accessible Educational Materials can be a great resource for thinking through access.
Keep it Simple with Some Go-To Digital Learning Sites:
We created a short list of go-to digital resources that are free, work across digital platforms, and offer accessibility features. All of these resources have been evaluated using the questions outlined above.
Brainpop!:
This site has just become free for all!  Brainpop! includes videos, activities, readings, games, and links related to lots of different topics and education levels.  The video topics align with subjects covered in middle and high school classes. Brainpop Junior is a similar format, but designed for elementary students. Brainpop ELL is designed for English Language Learners. Brainpop games is a game-based learning site that helps students practice and learn academic skills through playing digital games. Taken together, the various Brainpop! products offer a great collection of learning resources that are engaging while covering a wide range of topics.
PBS Kids:
PBS Kids targets pre-school and early elementary aged students, and offers videos and games related to popular shows like Sesame Street and Daniel Tiger. These shows fit within the America Academy of Pediatrics guidelines for "high quality programing." In fact, multiple studies have demonstrated that Sesame Street improves student learning.
Kanopy Kids:
Kanopy Kids offers access to free e-books, movies, and read-aloud stories via your public library access. If you don't already have a library card, you can call your local library for login information (As a side note, check out your local library's website too! Many libraries are providing resources for reading activities that you can do with kids).
Crash Course:
Crash Course is a YouTube channel that covers a plethora of academic topics. It is designed for high school students to learn difficult topics through storytelling and imagery. Much like Crash Course, Crash Course Kids offers videos about academic topics for elementary and middle school aged students. 
If you are a parent and/or teacher who would like to share digital resources that fit this three-step-criteria, please feel free to contact us!  We'd love to hear from you and share your resources with our readers.
If you have questions or specific content you'd like us to cover, don't hesitate to reach out HERE. Take care!