By Lisa Beth Carey
Graphic Created By Erin F. Jones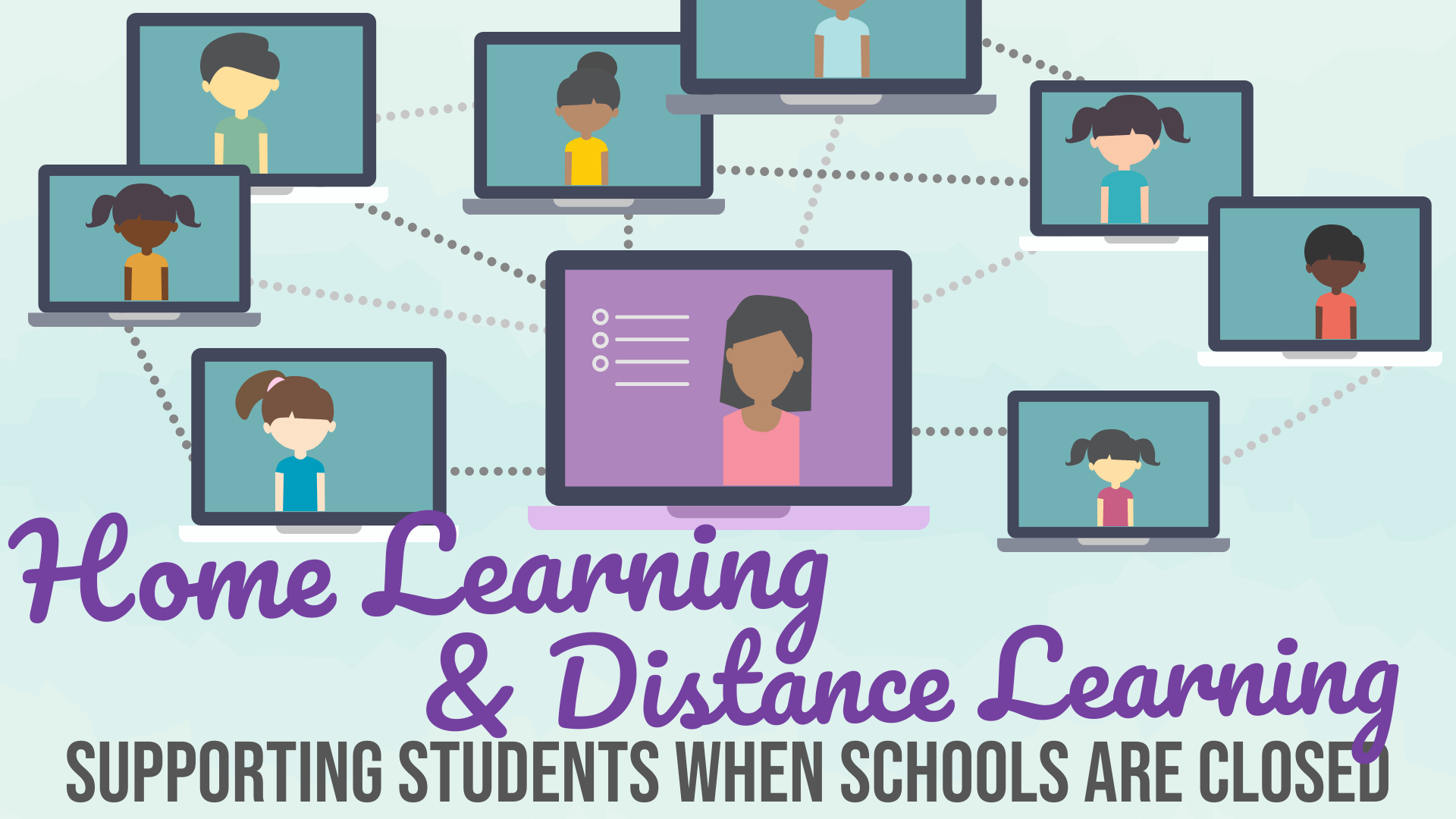 The COVID-19 pandemic has closed schools around the world. Parents and caregivers are now trying to entertain and educate children at home while teachers are trying to find ways to support distance learning for their students. Whether you're a parent, caregiver, or teacher - that's probably not the job you intended to do!
In response to these new distance learning and home learning needs, the Linking Research to Classrooms Blog will shift focus to provide tips, resources, and ideas to both teachers and families.
Let's start by unpacking what home learning and distance education mean.
Home Learning
Why are we not saying homeschooling? Homeschooling refers to families who have chosen to independently educate their child outside of a school/school system.  In choosing to do so, homeschool families prepare with resources, appropriate curricula, and materials.  This is not the experience of families dealing with sudden school closures.  Using the term homeschooling puts unnecessary pressure on families to re-create school in their homes- something they are often unprepared to do.
Instead we should talk about home learning.  We use the term home learning to talk about less formal ways families can support learning while schools are closed.  This can range from helping students plan time to complete assignments sent by teachers to engaging in home life activities with a focus on learning new skills (like cooking!).
Distance Education
Distance education is when teachers guide student learning while bridging the divide between time and distance1.  E-learning, or online learning is a type of distance education, so is completing assignments sent in a non-virtual manner.  Distance education is its own separate form of teaching. This is a type of teaching that many K-12 teacher have not been trained to do. That means stress on teachers and school systems to learn new instructional skills.
Where should we start?
We just established that we are all playing new roles that we haven't necessarily prepared for.  The first step should be for everyone to focus on their mental health.  We are all experiencing a lot of stress.  Learning is more difficult when we are stressed and anxious 2.  So first, show yourself some kindness. This is a stressful time, you are doing your best.  We are all learning.
Second, find ways to connect with others (virtually).  Families, teachers, students, we are in need of some social connection. Students have been separated from their classmates and teachers.  Our first goal with distance learning will be to help student to connect. This is something that families and educators can work on together.
Here are some basic considerations for helping students connect while participating in social distancing:
What digital platforms do you have access to that can support groups of students in a facilitated virtual chat? (Think Zoom, Google Hangout, etc.)



Some teachers have started to host virtual meetings for their students.These are meetings that are facilitated by the teacher and focus on checking-in and connecting with students. 


 

What are ways that students can connect in small groups?





If you have more than 20 students in your class, all meeting in a virtual space at once can be difficult.  To give students the ability to speak with each other and their teacher, it might be best to form smaller groups for deeper conversations.


 

How can you support asynchronous (not at the same time) virtual connections?





Some teachers and families have been posting activities or projects they are going to work on. They then virtually share pictures or videos of themselves working on the project or the finished product. This is a way for students to feel they are all doing something together, even when physically apart.

Hopefully, by talking about home learning rather than homeschooling and some tips for connecting, you are feeling a bit more confident about supporting students during extended school closures.
We are going to continue to post distance and home learning resources to on the Linking Research to Classrooms Blog.
If you have a specific topic you would like us to cover, please contact us HERE.
References
Ely DP. Classic writings on instructional technology. Libraries Unlimited; 1996.


 

Immordino

‐

Yang MH, Damasio A. We feel, therefore we learn: The relevance of affective and social neuroscience to education. Mind, brain, and education. 2007 Mar;1(1):3-10.