A multi-vehicle car accident might have landed Katie in several hospitals for more than six months, but her hard work and dedication put her back on the path to graduate from college. Listen to Dr. Danielle Ploetz share Katie's story of courage and determination.  
Jackie Stone: In recognition of Brain Injury Awareness Month, I am joined by Dr. Danielle Ploetz, a neuropsychologist in the Specialized Transition Program at Kennedy Krieger Institute. 
Dr. Danielle Ploetz: Katie is a kind and friendly young woman who was in her final year of college working on her bachelor's degree so she could apply for physician assistant programs, when she was injured in a multiple vehicle collision that was so severe she required EMS to help with removal from the vehicle. She sustained multiple injuries including a severe traumatic brain injury.
She spent several weeks in the hospital and was transferred to our acute inpatient rehab program for about three months. Katie was then referred to our intensive day rehab program where Katie could get all of the therapies she needed five days a week. Aside from injuries, she was also impacted cognitively. One area in particular was with memory and coping with her change in functioning. She was referred to me for a comprehensive evaluation as a neuropsychologist.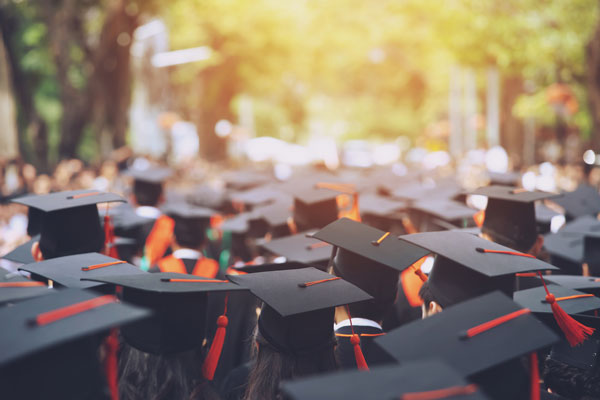 During her time with us, we worked on structuring her day and implementing strategies to help with her day-to-day memory. Despite the challenges that she encountered along her recovery, something that always stood out about Katie is her determination, dedication, and persistence with every task asked of her.
One tool in particular that was helpful was a memory log, recording her daily activities. All of our therapists on her interdisciplinary team worked on this collectively and over time she no longer needed cues to remind her to complete the log. In fact, she got so good at using these skills she was able to help one of our therapists find their phone after losing it.
She worked so incredibly hard to utilize all of the tools and strategies that we had to offer, but she did all the hard work. Due to her strength she was recently able to complete her bachelor's degree.
I could not be more proud or impressed and am grateful to do the work that I do. Katie, like so many of our patients and families, inspire me with their tenacity, their courage, and their positive attitudes in the face of adversity.