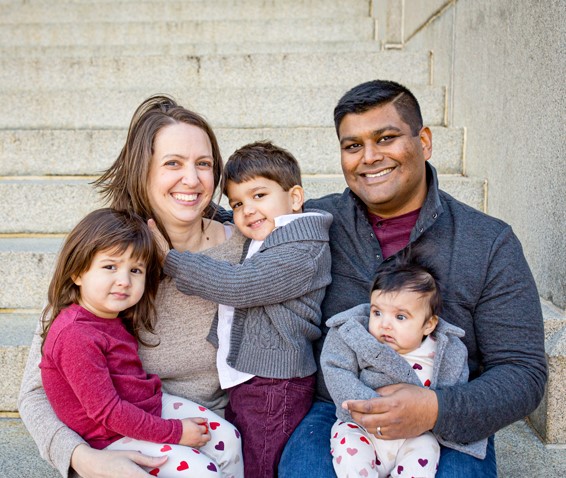 Zane (center) with his parents, Mary and Taibeen, and sisters, Sabrina (far left) and Aliya (photo courtesy of Sarah Bosma and SJB Photography)
Zane, 5, loves to talk. He's super social and loves meeting people and learning new things. On his first day of prekindergarten last fall, he told his teachers all about the planet Mars. He introduced himself to the vice principal and asked him for a selfie. Zane added the selfie to the customized communication app he uses on his iPad to communicate.
Three years before, when Zane was 2, he'd suddenly gotten very sick. As he was recovering, his parents, Mary and Taibeen, noticed he'd lost language skills, as well as gross and fine motor skills. Genetic testing revealed he had Aicardi-Goutières syndrome (AGS), a rare disease that can affect the brain's white matter. Zane's illness was most likely an overactive immune response to his own body caused by the AGS mutation.
Zane's doctors referred him to Kennedy Krieger Institute for speech therapy. Through the Institute's Specialized Transition Program, a neurorehabilitation day hospital, he began weekly sessions with speech-language pathologist Lynnley Moore in May of 2020—by telehealth, as the pandemic was still in its early stages. It was exactly what Zane needed—soon, he was saying short sentences again.
Without the support from Kennedy Krieger, he wouldn't be where he is now." – Mary
But Zane's mind was moving faster than his mouth could keep up—he needed another way to communicate. Moore suggested a personalized high-tech speech-generating device with pictures and words that Zane could touch, and the device would say those words aloud.
"We weren't sure if he'd use the tablet, but wanted to give it a try," Mary says. The first day Zane had the device, he talked with it on the car ride home to Annapolis for a few minutes. Then he was silent. At home, Mary saw the volume had somehow been turned off, and in response, Zane had written "mad" several times by clicking on the "mad" face. "I knew then that this device was just what Zane needed."
Zane loves reading books, keeping up with the latest episodes of his favorite cartoons, and talking about everything he's read and seen. When he comes across a new character, he'll ask his parents to add the character's name to the device, indicating exactly how he wants that name filed.
"It's really interesting to see how he troubleshoots when there's a word he's looking for that's not on the device," says Taibeen, who sits on the steering committee of the AGS Advocacy Association. "He'll come up with an approximation, like 'water' and 'lemon' for 'watermelon,' and he'll let us know it's not quite right."
Zane no longer needs to receive services from Moore, although he continues to do speech, physical and occupational therapies at school. "He's done so amazingly well," Mary says. "Without the support from Kennedy Krieger, he wouldn't be where he is now."
Photos courtesy of Sarah Bosma and SJB Photography.