In conjunction with Brain Tumor Awareness Month, we introduce you to Brian, a young Kennedy Krieger patient.
Brian, who was diagnosed with a brain tumor in early 2020, spent weeks undergoing treatment that included multiple rounds of chemotherapy and radiation. As a result of the radiation, Brian's brain swelled and he developed necrosis, causing him to lose function on the left side of his body and his ability to walk.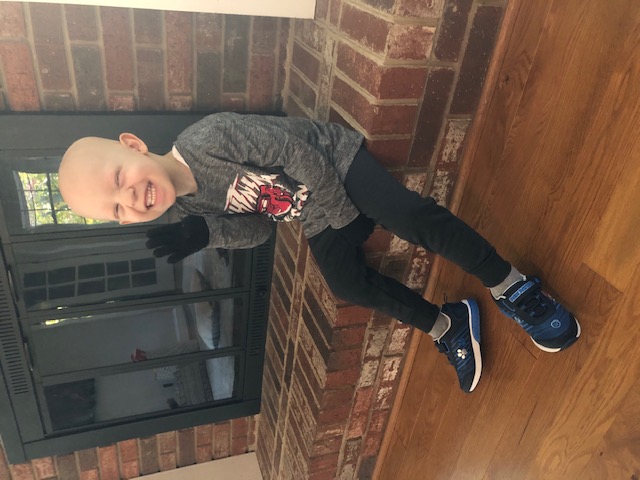 After many different types of therapy and doctor visits failed to help Brian's condition improve, Nora, Brian's mother, began to research intensive therapy programs. It was then that she discovered the Specialized Transition Program (STP) at Kennedy Krieger, a rehabilitation day hospital that helps children and adolescents undergoing intensive neurorehabilitation transition back into their home, community, and school life.
Nora wanted Brian's experience at Kennedy Krieger to help him regain function, as well as help with his anxiety. "He developed anxiety and low confidence during the chemotherapy and radiation," she says. "I wanted him to be able to live life like a kid again."
Brian was enrolled in STP for 12 weeks. During this time, he received physical, occupational, and speech therapy, and also participated in aqua and constraint-induced and bimanual therapy. Prior to coming to Kennedy Krieger, Brian hated therapy, but at Kennedy Krieger, the therapists made treatment fun.
Not only was therapy something Brian enjoyed, but it was something that helped him progress. After being discharged, Brian was walking, running, playing on his knees, and going up and down stairs; huge milestones for someone who wasn't able to walk when they were first admitted into the program. "Everyone is amazed by how far he's come," Nora says. 
In addition to his physical accomplishments, Nora has also noticed an improvement in Brian's attitude. "He's become more confident in himself," she says. "He used to suffer from anxiety on a daily basis. Now, he's happy."