By Lisa Carey
June 4, 2019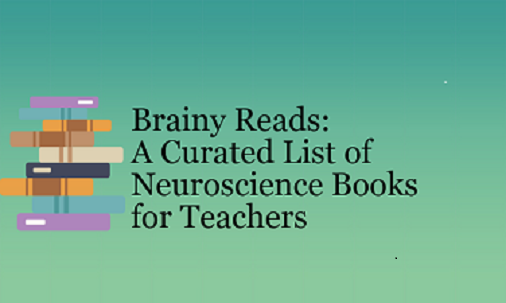 Each summer we like to offer a brain reads reading list for teachers who are interested in improving their instructional practice through a better understanding of the brain. This year, we curated a list of five brainy books that not only provide insight into how the brain works and learns, but provide some fun food for thought and maybe even a little debate. In the next few months we will be partnering with the Universal Design for Learning (UDL) Twitter Chat community to do virtual book clubs in which teachers can use Twitter to discuss brain reads and unpack how learning about the brain influences instructional choices. Happy reading, teachers!
Understanding Learning and Related Disabilities: Inconvenient Brains  by Martha Bridge Denckla, MD
Dr. Martha Bridge Denckla is a world-renowned expert on the developing brain.  In addition to being a famous researcher and clinician, Dr. Denckla is also passionate about working with families and teachers to improve education for all students.  As a fellow at the Center for Innovation and Leadership in Special Education at Kennedy Krieger Institute, I had the privilege of learning from Dr. Denckla as she taught me important lessons about the brain, how it is structured, how it develops, how it learns, and how to leverage that information to improve education.  This book was written with teachers and families in mind.  While it is packed with great technical information, it is written as a first-person narrative that makes it feel as if you chatting with Dr. Denckla in person. 
Engage the Brain: How to Design for Learning that Taps into the Power of Emotion-  by Allison Posey
Allison Posey is a curriculum and design specialist with CAST and frequently presents to teachers about the inner workings of the brain.  Her book focuses on some of the most exciting neuroscience findings with implications for teaching and learning – that learning is an emotional process.   This book will give you a deeper understanding of the learning brain, and a new way to think about students and instructional practices.  Bonus- the first chapter is free on the ASCD website (linked above).
How Emotions are Made: The Secret Life of the Brain by Lisa Feldman Barrett, PhD
I first heard of Dr. Barrett's book on the NPR podcast Invisibilia.  I was immediately excited to read more about her research into emotions, how they are created and work and how we have misunderstood them.  The chapter on how the brain works is one of the clearest explanations I've read and the accompanying appendix is clear and helpful.  While this book is not focused on education, a better understanding of emotions has large implications for teaching and learning.   
Inventing Ourselves: The Secret Life of the Teenage Brain by Sarah-Jayne Blackmore, PhD
I spent the bulk of my teaching career with high school and middle school students. The unique ways adolescents operate was one of the driving forces in my desire to learn more about the brain.  I first learned of Dr. Blackmore's research through her TED Talk and excitedly bought her book as soon as it came out.  I'd put this on any must read list for secondary education teachers and administrators (or anyone with teens in their lives for that matter).  The combination of thoughtful explanations of research and the respectful way Dr. Blackmore discusses adolescents and their minds makes this a great read. 
Reader Come Home: The Reading Brain in a Digital World – Maryanne Wolf, PhD 
Maryanne Wolf's Proust and the Squid: The Story and Science of Reading Brain is one of my favorite books about reading.  In her newest book, Reader Come Home, Dr. Wolf questions the way digital reading may influence our brains.  I'm very purposefully using the phrase may to highlight that some of this book is focused on asking questions about how reading is changing in the 21st century, rather than providing a preponderance of scientific evidence.  If you're interested in how the reading brain works and like to think about how technology impacts learning, this is a great book.   
---
We hope you enjoy the books we've recommended.  Each book was carefully selected for educators interested in learning more about the brain.  We are careful to vet books for accurate references so that you know you are spending time reading accurate information. Additionally, we care about accessibility and each book recommend comes in a variety of formats, including e-books. 
Stay tuned for information about our virtual book club on Twitter!  Happy Reading!