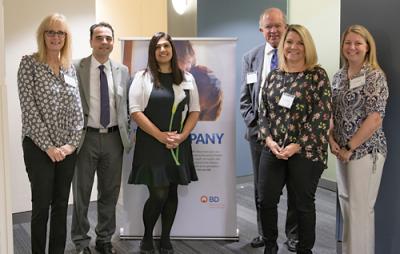 Maryland-based life sciences company BD Diagnostic Systems is at the forefront of an emerging, important trend: employing a neurodiverse staff and encouraging other businesses to follow suit, to help current and future generations of individuals with neurodiverse traits find employment.
Inclusion and diversity are a company-wide initiative, explains Pablo Pineyro, vice president of human resources for BD Diagnostic Systems. "We believe neurodiversity is not only critical for innovation— diverse employees can better serve a diverse customer population—but also important in terms of being an ethical employer."
Several of BD Diagnostic Systems' employees have autism. "They bring a wide range of abilities to our workplace, are eager to work hard and are really focused on what they do," Pablo says. "Their fellow employees see their amazing work ethic, and this creates a good workplace culture, while challenging the traditional thinking of diversity in terms of only gender and race."
Last fall, BD Diagnostic Systems was the primary sponsor of Kennedy Krieger Institute's inaugural halfday conference on neurodiversity in the workplace. More than 120 attendees, including human resources professionals and local business leaders, learned about creating employment opportunities for individuals with neurodiverse traits. A larger, national conference is planned for later this year.
"The conference absolutely created awareness around neurodiversity in the workplace—what individuals with neurodiverse traits can bring to the table, and what the roles are that businesses can play in encouraging neurodiversity in the workforce," explains Dave Hickey, worldwide president of BD Diagnostic Systems.
"We're eager to support reaching an even wider audience in 2019."
This wasn't BD Diagnostic System's first time supporting Kennedy Krieger. The company is a long-time sponsor of the Institute's annual Festival of Trees and ROAR for Kids fundraisers.
"We're a healthcare company. We look for partners in the healthcare field who are committed to diversity, are community-based, and are rooted in science, technology, engineering and mathematics," Pablo explains. "When we find an organization like Kennedy Krieger that combines all of those factors, that's our sweet spot, and it's where we want to invest our time and resources to help make the world a better place."
Visit the Neurodiversity at Kennedy Krieger site to learn more about the Institute's neurodiversity initiative.