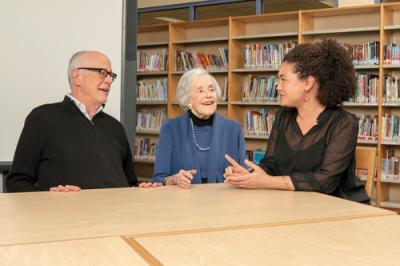 When the Wolmans learned about Kennedy Krieger Institute's fellowship program to leverage its deep knowledge and expertise to 'teach the teachers,' they got excited.
"Helping Kennedy Krieger train teachers to identify, analyze and address a wide range of complex learning and behavioral challenges sounded like a powerful opportunity to exponentially help the Institute support more children," explains Paul Wolman, principal of WolmanEdge, a Baltimore-based strategy and culture consultancy. He also chairs the advisory board for Teach For America Baltimore and is a board member or trustee for several community organizations and foundations.
With the Wolmans' help, Kennedy Krieger's Center for Innovation and Leadership in Special Education is training additional seasoned educators as well as new Teach For America teachers about the neuroscience of learning.
"We're committed to helping reduce inequities in our community, starting with the complex challenges facing young people who, through no fault of their own, are born into neighborhoods and families without the resources we had," Paul says.
Wanting to help comes naturally to the Wolman family. "Our parents were always involved in community initiatives, and our father, who passed away in 1984, served on the Institute's board of directors for many years."
"As a family, we always wanted to honor my late husband's devotion to Kennedy Krieger," says Susan Wolman, Paul's mother, who adds that the Institute has worked with a member of the Wolman family who has autism.
"Through the years, we've remained tremendously impressed by its work in the community, its research and its impact around the world," she says. "Supporting this program was a natural fit."
Our parents instilled in us the importance of leveraging our resources to help others.

Paul Wolman
"For the level of change needed in communities like Baltimore, we need to find ways to scale up what's working," Paul adds. "Helping Kennedy Krieger support more emerging leaders in our city's public schools is one place to start."
Visit the Center for Innovation and Leadership in Special Education to learn more about their work.