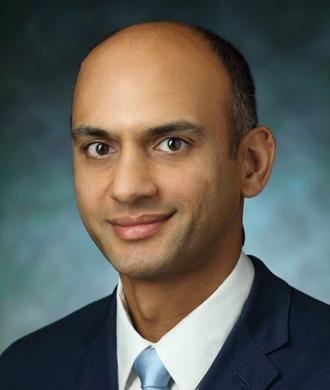 Assistant Professor, F.M. Kirby Center
Kennedy Krieger Institute, FM Kirby Research Center
707 N. Broadway
Baltimore, MD 21205
United States
About
Dr. Yadav is an assistant professor in the F.M. Kirby Center at the Kennedy Krieger Institute and in the Department of Radiology at The Johns Hopkins School of Medicine.
Education
Dr. Yadav completed his tertiary studies at the University of Western Sydney, Australia. In 2010, he obtained his PhD for developing novel NMR diffusometry methods for probing porous systems. Following his PhD, he completed at post-doctoral fellowship in the group of Dr. Peter van Zijl's group at the F.M. Kirby Research Center and in the Department of Radiology at the Johns Hopkins School of Medicine.
Research
Dr. Yadav research interests focus on developing novel MRI techniques for understanding brain function in normal and disease conditions. He is currently developing techniques for generating MRI contrast based on chemical exchange in vivo.
Research Publications
Xu J, Chan KW, Xu X, Yadav N, Liu G, van Zijl PC (2017). On-resonance variable delay multipulse scheme for imaging of fast-exchanging protons and semisolid macromolecules. Magn Reson Med. 77(2), 730-739.
Liu G, Ray Banerjee S, Yang X, Yadav N, Lisok A, Jablonska A, Xu J, Li Y, Pomper MG, van Zijl P (2017). A dextran-based probe for the targeted magnetic resonance imaging of tumours expressing prostate-specific membrane antigen. Nat Biomed Eng. 1, 977-982. 
Zeng H, Xu J, Yadav NN, McMahon MT, Harden B, Frueh D, van Zijl PC (2016). (15)N Heteronuclear Chemical Exchange Saturation Transfer MRI. J Am Chem Soc. 138(35), 11136-9.
Heo HY, Jones CK, Hua J, Yadav N, Agarwal S, Zhou J, van Zijl PC, Pillai JJ (2016). Whole-brain amide proton transfer (APT) and nuclear overhauser enhancement (NOE) imaging in glioma patients using low-power steady-state pulsed chemical exchange saturation transfer (CEST) imaging at 7T. J Magn Reson Imaging. 44(1), 41-50.