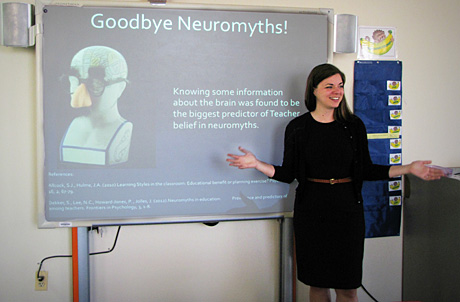 ​
The Center for Innovation and Leadership in Special Education (CILSE) is currently involved in an extensive community outreach program, entitled Project UNITE (Uniting Neuroscience, Innovative Teaching, and Education). Project UNITE is a three-year grant-funded professional development program aimed at improving student outcomes in two schools from socioeconomically challenged areas of Baltimore City. 
Project UNITE will work to identify students in Baltimore City Public Schools who have been assessed at Kennedy Krieger Institute, who are failing to progress academically, and who are at risk for special education placement. With permission from families, former fellow and current CILSE Education Consultant, Lisa Carey will consult with the assessing clinicians and select Baltimore City schools to help its educators better reach these students by making observations and assisting teachers with implementing the recommendations emanating from the recent assessments.  Outcomes will be assessed at the level of the individual student and teacher, as well as via the classrooms in which the interventions were made. 
Schools can anticipate both innovative program implementation and better retention of special education personnel where the Center's leaders work. Educators will feel more supported in their important profession. Disciplinary activities – such as detention, suspension, and expulsion – are expected to decrease as a result of the innovative behavioral interventions learned. The overall impact on students and their families will be profound.