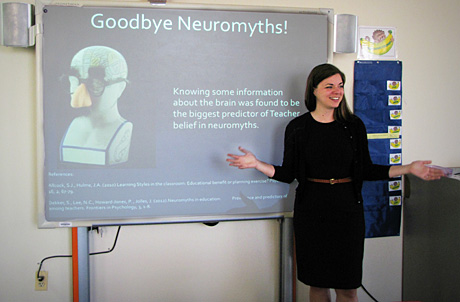 ​
The Center for Innovation and Leadership in Special Education (CILSE) is currently involved in an extensive community outreach program, entitled Project UNITE (Uniting Neuroscience, Innovative Teaching, and Education). Project UNITE is a grant-funded professional development program aimed at improving student outcomes in Baltimore City Public Schools.
Through funding from Transamerica, Project UNITE partners with two Baltimore City public schools per year to improve instructional practices for students with educational disabilities, as well as students who are struggling to learn and at risk for further intervention. With permission from families, former fellow and current CILSE Assistant Director, Lisa Carey consults with assessing clinicians and Baltimore City schools staff to promote best practices in the classroom. Outcomes are assessed at the level of the individual student and teacher, as well as via the classrooms in which the interventions were made.
Schools can anticipate supportive and innovative program implementation. Ongoing coaching assists educators in making instructional decisions and developing supportive learning environments.
Hear from teachers involved in Project UNITE talk about changes they made in their classrooms as a result of working with Lisa Carey to lean about Universal Design for Learning: