By Paul Siegel
Paul Siegel passed away shortly before this magazine went to press. We're grateful to Paul for his generosity and kindness. He inspired all who knew him.
I was barely a day old when I was diagnosed with Sturge-Weber syndrome (SWS), a neurological disorder, 36 years ago. Seventy-five percent of my body was—and still is—covered with port-wine birthmarks. I went on to develop seizures, migraines, glaucoma and many other health issues. No one knew what caused SWS back then.
Growing up, making friends was a challenge. It's still hard for me to stay positive and not be bothered by all the stares I get—they make me feel like I'm being judged. I've often thought to myself: This needs to change—not just for me, but for everyone with SWS. People are confused when they see me. We need to increase awareness about SWS, and we need better treatments.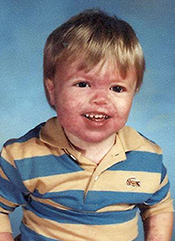 My mother, a nurse, was never satisfied with the care I received as a child. By the time I was 14, my seizures were out of control, and the medications I was on were not working for me. That was when mom found an internet listing for Dr. Anne Comi at Kennedy Krieger Institute. "Her research is in Sturge-Weber," mom said. "We need to see her!"
At my first appointment, Dr. Comi was so friendly, informative and receptive to both me and my mom. I didn't feel like just a patient with her; I was an individual. She explained how SWS was affecting me, and devised a treatment regimen just for me. I'm still her patient today, and I don't make any health-related decisions without her blessing.
In my late teens, when I started participating in medical studies on SWS, I started thinking about how I could give back. Every new SWS study and treatment that came out made me more resolved to do something to help. A few years ago, fueled by Dr. Comi and her research team's discovery of the cause of SWS—a DNA change in the GNAQ gene—I began selling T-shirts online of my own design. I raised almost $2,500 for the Institute's Hunter Nelson Sturge-Weber Syndrome Center.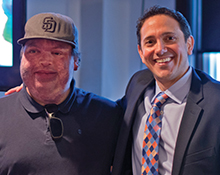 But I wanted to do more, to hold a fundraising event—a big one! I decided on a dine-out-for-SWS event, and reached out to Al DeCesaris and Ida Heck, of the Celebrate Hope Foundation, which also raises money for SWS research, for advice. I'd met them a few years before, when Al was biking across the country to raise awareness about, and funds for, Dr. Comi's research. They encouraged, helped and supported me 100 percent.
I started planning, scoping out locations online, finally settling on The Nickel Taphouse in Baltimore. I was promoting and inviting like crazy! There was no way this wasn't going to be a success, especially with Al and Ida helping me. People were going to know about SWS and the Hunter Nelson center, and all the great work it does. We raised $1,000—and a lot of awareness—for the center that night.
I'm already planning my next fundraiser. This is how I can give back. I have to keep trying my best to make a difference.
To learn more about Sturge-Weber syndrome, visit the Hunter Nelson Sturge-Weber Syndrome Center site.