Meet Calvin. He has Sturge-Weber Syndrome (SWS), a rare neurological disease where abnormal blood vessels in the brain, skin, and eye can cause seizures, paralysis, strokes, migraines, learning problems, vision loss, and other health issues.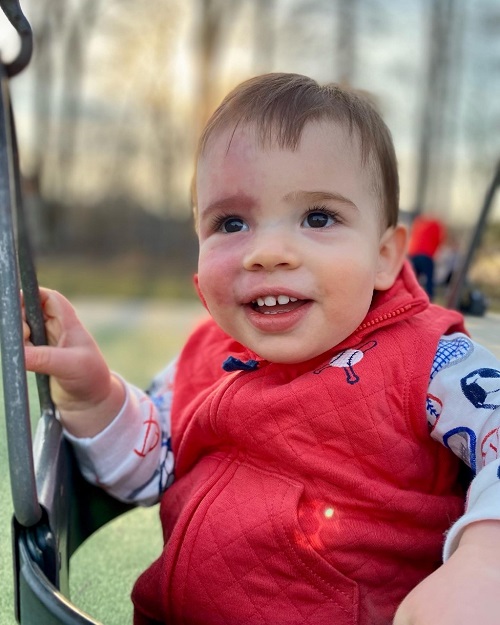 Calvin was diagnosed with SWS last July at 7-months-old. The evening following his diagnosis, Calvin began experiencing stroke-like episodes and a seizure, resulting in a nine-day stay at the hospital to get his seizures under control. In August, a month after his diagnosis, Calvin began receiving treatment at our Hunter Nelson Sturge-Weber Syndrome Center, where he is seen by Dr. Anne Comi. Natalie, Calvin's mother, notes that Kennedy Krieger has helped her family navigate Calvin's diagnosis.
"It's the only place where we receive a concise, consolidated review of Calvin's overall treatment plan," she says. "Families need centers like Kennedy Krieger to be a source of expertise, advanced research and treatment options."
Calvin has two of the three most common symptoms of SWS: a port-wine birthmark and leptomeningeal angioma, the abnormal malformation of blood vessels on the surface of the brain, which causes seizures. While Calvin does still experience seizures, he's currently four months seizure-free, his longest stretch since his first seizure last summer.
Natalie credits Calvin's medication, weekly physical and occupational therapy, and strength with helping him remain stable. "Calvin is unbelievably strong, brave, resilient, and determined," she says. "We hope and pray that this mix of medicine keeps him seizure-free for a very long time."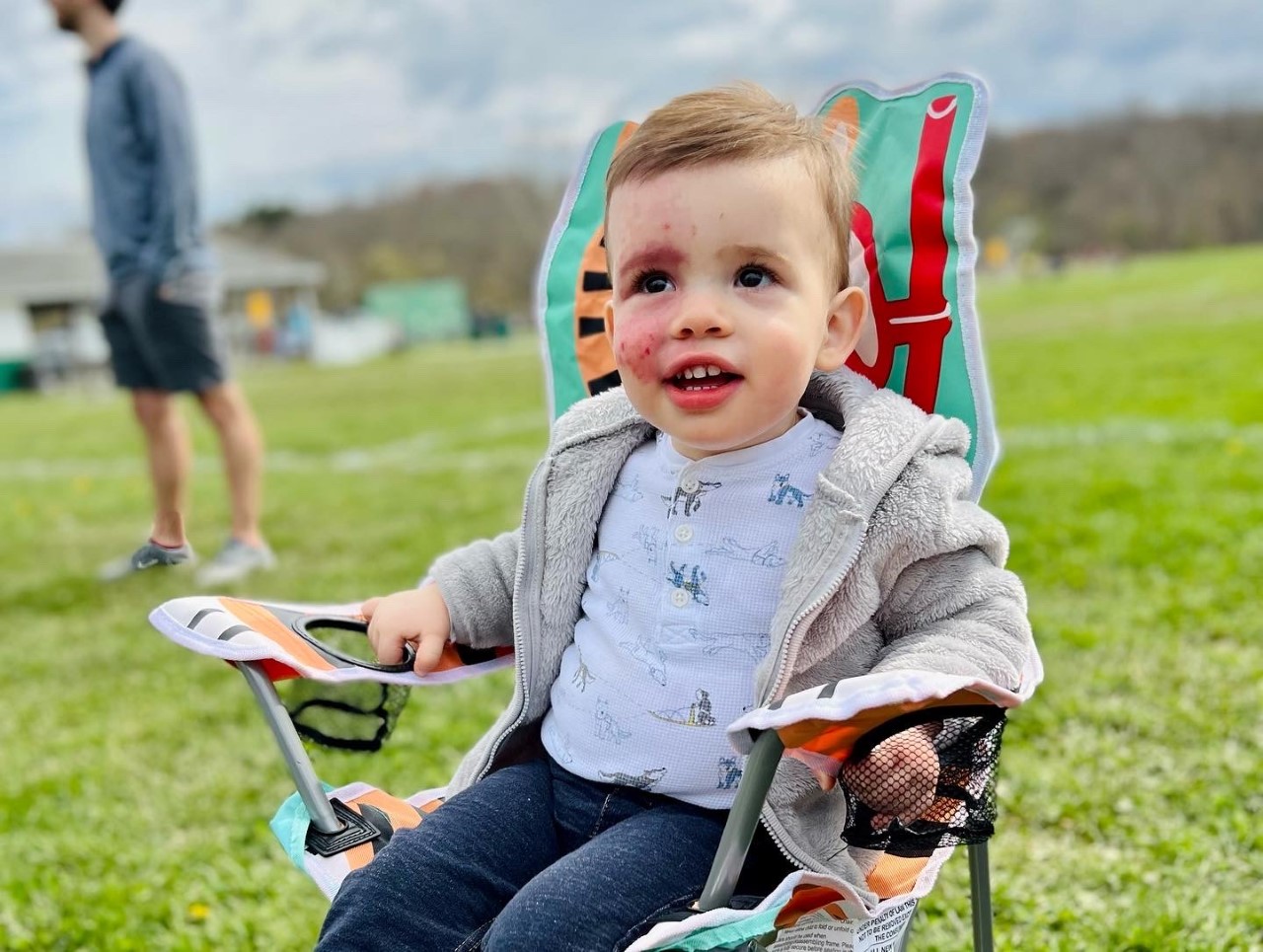 While Calvin's treatment is helping keep his symptoms under control, there is currently no cure for Sturge-Weber syndrome. Calvin's family is inspired to change that. To help find a cure, Calvin and Natalie's extended family started Calvin's Crusade, a non-profit organization raising funds for Sturge-Weber syndrome research at Kennedy Krieger.
"Raising awareness and money to support research means just as much to them as it does to us," says Natalie. "We are stronger than I could have ever imagined, and our family has felt a love that is deeper than we had ever experienced."
Calvin's Crusade will host their first annual event, the Calvin's Crusade 5K Walk/Run for Sturge-Weber Syndrome Awareness, on Saturday, May 28. Natalie hopes the event will raise funds to help bring researchers one step closer to finding a cure for SWS.
When asked what advice she has for other families dealing with a Sturge-Weber syndrome or rare disease diagnosis, Natalie stresses the importance of staying positive. "Try to be present and enjoy the good days," she says. "It's easy to get caught up worrying about the future, but don't let that worry consume what may possibly be your very best day as a family."
We hope that the 5K Walk/Run for Sturge-Weber Syndrome Awareness is the best day for Calvin and his family. To get involved, click here: https://bit.ly/3MQ4zZv. To learn more about Calvin's Crusade, visit them on Facebook: https://bit.ly/3MPYzzV.