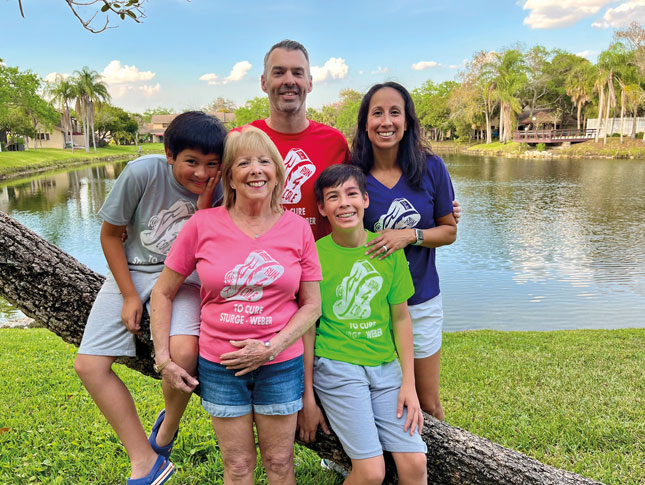 Left to right: Keaton Clark, Cyndy Burdige, and Cory, Cole and Bari Clark
In early 2014, as Cyndy Burdige crossed the finish line of the Miami Half Marathon, she asked herself, "Why do I do this?"
She wanted all that running to mean something. Turning to her family, she said, "Let's run next year, and raise money for Dr. Comi's research." Dr. Anne Comi directs Kennedy Krieger Institute's Hunter Nelson Sturge-Weber Syndrome Center, where Cyndy's grandson Cole is a patient. Sturge-Weber syndrome, also known as SWS, is a rare vascular condition in which abnormal blood vessels in the brain and eye can cause seizures, strokes, weakness, vision loss and intellectual challenges. Cole, who turns 12 this year, was diagnosed with SWS when he was 10 months old, right after his first seizure.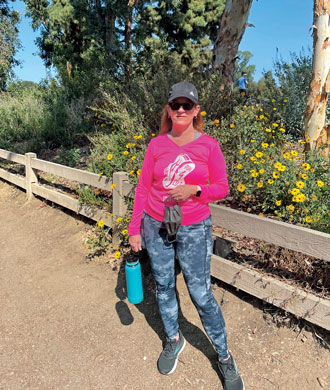 His family started brainstorming how they could help. "We were all trying to learn about SWS and what we could do," says Danna Lucca, Cole's aunt. "Once Mom ran the half marathon, we knew this was something we could all get involved in."
I'll always do what I can to help others." – Bari Clark
In 2015, mother-daughters trio Cyndy, Danna and Bari Clark, Cole's mom, started Run 4 Cole, a fundraising team. They reached out to family and friends to sponsor them in the Miami Half, with all proceeds supporting Dr. Comi's research. They've continued to run a race every year. Anyone can join the Run 4 Cole team, participating in any sort of activity from anywhere in the world.
Through Kennedy Krieger's Fundraise Your Way program, they've set up a Run 4 Cole fundraising webpage on the Institute's website, and have found the platform easy to use and share. Over the years, about 150 people have sponsored Run 4 Cole, many on an annual basis. So far, they've raised nearly $60,000.
Thanks to Dr. Comi's medical care, Cole is now seizure-free. "We hope that, through our fundraising, we can help everyone with SWS, and raise awareness about it," Bari says. "I'll always do what I can to help others.
Interested in starting your own fundraiser for Kennedy Krieger?
Learn more.