"Our biggest blessing is being surrounded by a supportive family. We truly wouldn't be able to give Rainey the best without it," Ricky and Cindy wrote to us from Texas. Their daughter, Rainey, 4, is a Sturge-Weber syndrome patient, who comes to Kennedy Krieger for treatment.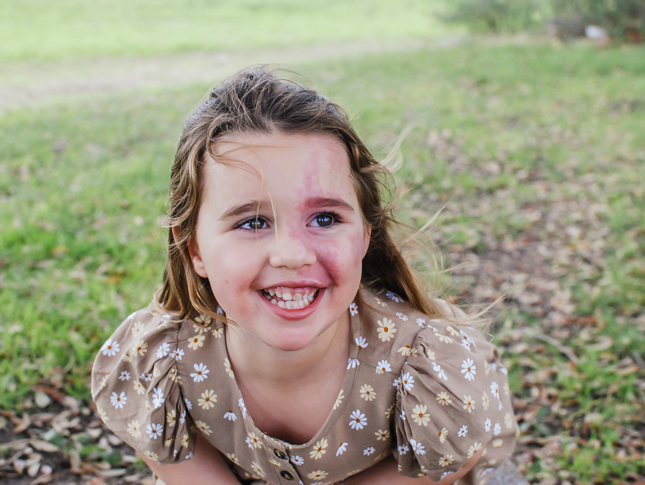 Sturge-Weber is a rare neurological condition that can cause seizures, glaucoma, muscle weakness and other symptoms. It's present from birth and children with Sturge-Weber often have a wine-colored birthmark on their face.
After Rainey was diagnosed, her parents immediately sought the care of Dr. Anne Comi, an expert who treats Sturge-Weber patients from around the world. For Rainey, her diagnosis means frequent seizure clusters. This spring, she underwent a left hemispherotomy, a surgery aimed at reducing those seizures. She then completed six weeks of intensive inpatient rehabilitation and currently is back home and working hard in outpatient rehabilitation. Ricky and Cindy report that she is getting stronger with every day—we're so heartened by this news!
Rainey's family relies on their faith, the online support groups of fellow Sturge-Weber parents, and the family and friends who help shuttle Rainey to appointments or provide her parents with a listening ear.
"We've learned how to be an advocate for Rainey, learn as much as we can, and get her the best care possible," her parents wrote. "She has taught us how to persevere through the trials and storms in life. Through our journey, our community has shown an outpouring of love and helped us see so much good in humanity."
The family also started Rooting for Rainey, a Halloween-themed 5K that has raised $78,000 in the past two years for Dr. Comi's Sturge-Weber research.
"Knowing that Rainey will live with this condition for the rest of her life, we wanted to give Rainey a platform to raise awareness for Sturge-Weber syndrome and to help others affected by this rare syndrome," her parents said. "We believe it's important to be a part of something bigger than yourself and this gives Rainey an avenue to help others."
This month is Sturge-Weber Month of Awareness. To learn more Sturge-Weber syndrome or to support Rooting for Rainey, click here.