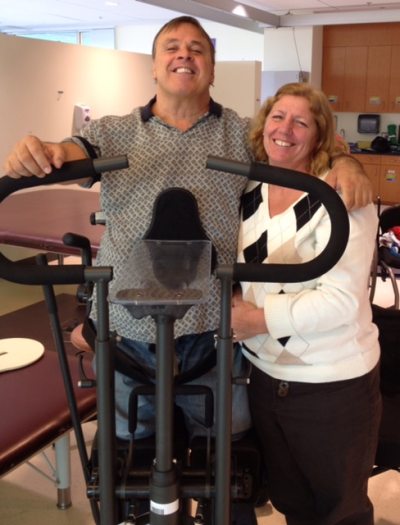 All someone has to do if they wish to experience a classic love story is to read Mike and Cheryl's forty-year journey as a couple.
They dated in high school. They broke up once and then got back together just after Mike experienced a tragic accident that left him paralyzed. Sadly, the accident occurred at his high school graduation party on the last day of his senior year.
Mike was standing on a dock when a friend laughingly pushed Mike off the pier into the water. Instead of just falling, Mike did a dive into the water below not knowing that the water was only a few feet deep. The accident instantly crushed three vertebrae leaving him a quadriplegic.
Cheryl stayed by Mike's side throughout the ordeal and its aftermath – for over 40 years and still going strong. Their bond is a testament to the power of love.
They married and raised three children, and now have ten grandchildren.
Mike spent the beginning of those 40 years in physical therapy, until he was told that not much more could be done for him.  The couple was told that physical therapy could only minimally help his condition. Eventually they told him they had done all they could, and discharged him from therapy.
Confined to a wheel chair, as he grew older, Mike's health began to decline.
A friend of theirs who works at Kennedy Krieger Institute's International Center for Spinal Cord Injury said that they should take a chance on rehab again.
He said that the Center had some success with patients long after their injury. Mike and Cheryl were skeptical. But they decided to give it a try.
Center therapists got Mike moving again, working to strengthen his entire body.
Everyone worked hard. At one therapy session, they placed him in a machine that allows spinal cord patients to come close to standing independently. As always, Cheryl was at his side.
At that moment, it happened that the Center Director looked across the room.
He saw Mike standing beside Cheryl, both with tears in their eyes. He went over immediately and asked if anything was wrong.
Cheryl replied that, "This is the first time in 40 years that we've stood eye-to-eye."
It was a moving moment for the couple and also for those around them.
A couple, whose love sustained them through unique challenges, was experiencing the joy of a truly poignant moment.
At Kennedy Kreiger Institute this is just one of the daily 'small miracles' that happen through the support of our donors.