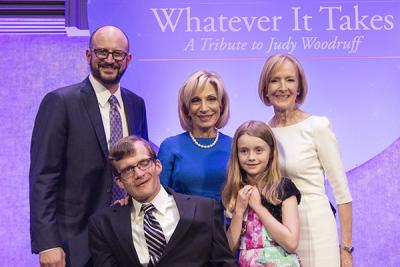 Nearly 300 people gathered at the Capital Hilton in Washington, D.C., on October 10 for Kennedy Krieger Institute's celebration of "Whatever It Takes: A Tribute to Judy Woodruff." The event honored the beloved journalist, who has been a tireless advocate for the groundbreaking pediatric brain disorder treatment and research that happens at Kennedy Krieger. The fact that she is also a longtime Institute friend and board member made the night that much more special.
There were so many memorable moments from the event, including:
The event raised crucial funds for pediatric brain disorder research at Kennedy Krieger. A portion of the proceeds also benefited Joey's Foundation, an organization devoted to supporting research, innovation and education for children with brain disorders.
We'd like to say a special thank you to the event's top sponsors: CareFirst, and Earl Abramson and Sheila Schlaggar.