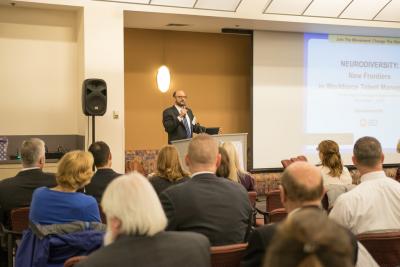 Kennedy Krieger Institute formed a neurodiversity task force earlier this year to focus on neurodiversity in the workplace. Made up of senior management and human resources representatives, the task force works directly with local nonprofit Itineris, which provides opportunities for meaningful employment, community engagement and dignity of choice for adults with autism.
The goal of the task force is to create awareness about Kennedy Krieger's neurodiversity initiative across the Institute and throughout the region. It has overseen the creation of a training program for supervisors and employees that addresses the challenges of including individuals with neurodivergence as staff members in their departments.
Neurodiversity, from the standpoint of a human resources department, is poised to be the next civil rights frontier that will have to be dealt with. 
– John Elder Robison, author of the 2007 memoir "Look Me in the Eye," which details his life with undiagnosed Asperger syndrome
On November 1, the task force held a half-day workshop for human resources professionals to learn about the benefits of employing a neurodiverse workforce. More than 70 people attended. The task force plans to follow the workshop with a full-day regional symposium on November 7, 2019. Visit KennedyKrieger.org/Neurodiversity to receive details on the symposium as they become available.
The Institute recently created two new positions for individuals with autism. One of the positions is within the Institute's Health Information Management Department, which is responsible for maintaining and updating patient records. That department's staff members attended an all-hands training session before the new staff member came on board. At the training, coworkers learned about autism and neurodivergence, including the unique aspects and common behaviors of individuals with autism, and their preferred modes of interaction with other people.
The two new employees with neurodivergence were shadowed by an Itineris staff member for a finite period of time early in their tenure. The counselor, acting like a job coach, helped them acclimate to their new surroundings. The entire effort took inclusion to a new level and aligned well with Kennedy Krieger's core mission.
Diversity is being invited to the party; inclusion is being asked to dance. 
– Verna Myers, advocate of workplace diversity
Another initiative at Kennedy Krieger is Project SEARCH, a 10-month school-to-work transition program for high school seniors (ages 18 to 24) with a disability. Many of the interns have autism. The program provides hands-on job training at Kennedy Krieger's inpatient rehabilitation hospital through career exploration, innovative adaptations, mentoring from experienced staff members, and three 10-week cycles of integrated worksite rotations.