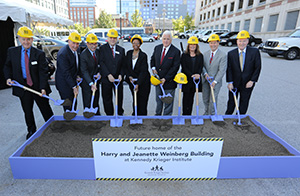 More than 200 people were on hand October 5th to witness the groundbreaking of the new Harry and Jeanette Weinberg Building. The colorful explosion of a confetti cannon heralded the first shovels in the ground of the soon-to-be constructed building adjacent to the existing Kennedy Krieger Institute outpatient center at 801 North Broadway in Baltimore. When complete in January 2019 the facility will allow the Institute to serve thousands more children and have an even broader impact. 
In his remarks at the opening, Kennedy Krieger Institute's president and CEO, Gary Goldstein, MD, explained how this new facility will advance and expand the Institute's comprehensive outpatient programs. 
The formal groundbreaking ceremony began with the Presentation of the Colors by Young Marines of Central Maryland from Kennedy Krieger High School. Numerous local dignitaries were in attendance including Lieutenant Governor Boyd Rutherford, Speaker of the House Michael Busch, and Senate President Thomas Miller, Jr.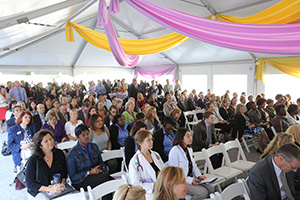 The ceremony included special recognition of The Harry and Jeanette Weinberg Foundation, Inc., The Whiting-Turner Contracting Company, and the family of the late Willard Hackerman. The new building is made possible in large part by a generous leadership gift from The Harry and Jeanette Weinberg Foundation, Inc. Norene Hammack, the parent of a child who has received services the Center for Children and Family Traumatic Stress at Kennedy Krieger Institute, spoke passionately about their family's personal experience and the positive impact the program has had on their lives.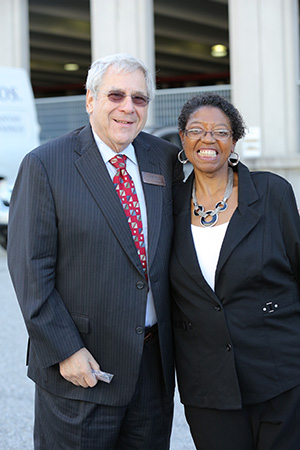 "Because of the sessions at Kennedy Krieger, and his medication, my son is thriving – WE are thriving," said Ms. Hammack. 
As the event drew to a close, all attendees went home with a delicious commemoration of the groundbreaking: shovel shaped chocolates.