By Lisa Carey, M.A., CILSE Education Consultant, and Amanda Hughes, M.Ed., 2016-2017 CILSE Fellow
June 7, 2016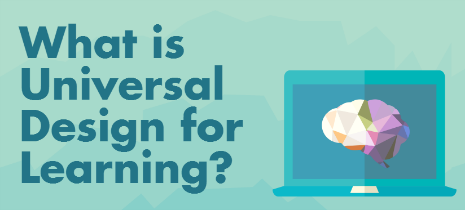 The Higher Education Opportunity Act (2008) defines Universal Design for Learning (UDL) as "a scientifically valid framework for instructional and learning environment design" that aims to help all students become expert learners and  is supported by research literature in the areas of neuropsychology, developmental psychology, and education. UDL is distinct from differentiation in that lessons are designed from the start to be accessible to all learners rather than modified after creation.

The framework of UDL is based on research that demonstrates that neurodiversity is the norm and that grouping students based on averages can be pedagogically problematic. There is no such thing as an average learner. Learner variability is the norm in all educational settings. The goal of UDL is to reduce barriers to learning so that all students are able to access content and meet rigorous learning standards. 

Although variability is the norm, learner variability often follows a predictable pattern (Meyer, Rose, & Gordon, 2014). For example, the ability to visually perceive information is highly variable. Some students have 20/20 vision, while others may be living with blindness or require glasses. Likewise, students vary in their ability to absorb other forms of sensory information, physically and mentally demonstrate learning, and effectively engage with learning activities.

The UDL guidelines were created with these patterns in mind, and they outline various ways that teachers can design a flexible learning environment. 

Based partly on neuroscience research that indicates the importance of neural networks, UDL guidelines are organized into three areas:
Engagement - focus on the affective brain network (also known as the limbic system) and are designed to help students understand the "why" of learning
Representation - help activate the recognition (or perception) networks in the brain. They are based on the "what" of learning and describe various ways content can be presented to the learner.
Action and Expression - target the "strategic brain" (also known as the frontal lobe) networks and detail the "how" of learning. They provide suggestions for the diverse ways students can work with and demonstrate new knowledge.
When combined, the UDL guidelines provide teachers with concrete strategies to engage and motivate students, present information in multiple ways, and allow students to express their knowledge in varied formats. Lessons designed using the UDL framework allow students to customize the learning experience to meet their needs. For more information and access to planning tools, visit the UDL Center.
UDL in Policy and Law:
UDL is not just a temporary educational trend; it is now part of federal and state educational policy. The Higher Education Opportunity Act of 2008 specifies that teacher preparation programs that receive grant money must train pre-service teachers to use UDL strategies in their practice. In addition, schools receiving grants must submit plans to increase the percentage of teachers trained to implement UDL.

UDL is also referenced in the Every Student Succeeds Act (ESSA) of 2015. This act outlines the requirements that schools must meet in order to receive federal funding. Under ESSA, school systems must utilize the UDL principles to design assessments, implement literacy strategies across content areas, and make decisions regarding educational technology.

UDL requirements are also part of Maryland state law. In 2012, a UDL regulation was written into the Code of Maryland Regulations (COMAR). The regulation requires Maryland school districts to utilize the UDL framework in the development of curriculum, instruction, professional development, and student assessments. School systems must select and purchase instructional materials that are accessible and provide multiple means of engagement, representation, and action and expression. Maryland superintendents are required to certify compliance with this regulation every three years.
Why Educators Use UDL:
Regardless of the fact that UDL is part of the law, there are many other reasons why educators use it in their instructional practice. One of the primary reasons to use UDL is to increase student engagement. UDL helps students feel invested in their learning, greatly reducing the student apathy many teachers complain about. In addition, educators who begin to implement UDL strategies are often pleasantly surprised by what their students can accomplish. When students are allowed to show their knowledge in a way that meets their needs, they are able to produce amazing work. 

In Universal Design for Learning: Theory and Practice (Meyer et al., 2014), educators cite numerous other benefits of UDL. For instance, students are more willing to take risks and tend to develop a growth mindset. In addition, teachers spend less time re-teaching when lessons are designed from the start using the UDL guidelines.

Implementing UDL also leads to a positive classroom culture in which students and educators truly become a community of learners. By strategically teaching students where they actually are academically rather than where they are assumed to be, students are able to make more academic growth than in a traditional classroom environment. 

While the idea of planning a lesson that simultaneously meets the needs of all learners in a diverse classroom may seem overwhelming, the UDL guidelines provide a framework for teachers to use to make the planning and implementation process manageable. Ultimately, UDL empowers teachers to design a learning environment in which all students can succeed. 
References:
CAST, Inc. (June 2015).  National center on universal design for learning. Wakefield, MA.  Retrieved from http://www.udlcenter.org/
CAST, Inc. (November 2014).  Universal design for learning guidelines. Wakefield, MA.  Retrieved from http://www.udlcenter.org/aboutudl/udlguidelines_theorypractice
 
CAST, Inc. (June 2014).  UDL guidelines – Version 2.0: Examples and resources. Wakefield, MA.  Retrieved from http://www.udlcenter.org/implementation/examples
 
CAST, Inc. (February 2016).  UDL in the ESSA. Wakefield, MA.  Retrieved from http://www.cast.org/whats-new/news/2016/udl-in-the-essa.html#essa
 
CAST, Inc. (2012).  Videos about UDL.  Wakefield, MA.  Retrieved from  http://www.udlcenter.org/resource_library/videos/udlcenter/udl
 
Code of Maryland Regulations. 13A.03.06. (2012). Retrieved from http://www.dsd.state.md.us/COMAR/searchall.aspx
 
Higher education opportunity act (2008). Retrieved from https://www.gpo.gov/fdsys/pkg/PLAW-  110publ315/html/PLAW-110publ315.htm
 
Meyer, A., Rose, D.H., & Gordon, D.  (2014). Universal design for learning: Theory and Practice.  Retrieved from http://udltheorypractice.cast.org
Have a topic or question you would like to see addressed in a future Linking Research to Classrooms blog?
Enter your topic /question in our contact form.