By Lisa Carey
Deceber 5, 2017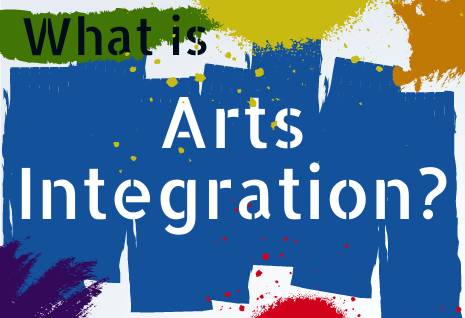 Teachers are always on the hunt for new and better ways to get students to engage with learning and retain information. Because of this eagerness to support student learning, trends, frameworks, concepts, and techniques are plentiful within the world of education. While some techniques fall short when it comes to evidence, one promising concept that might have crossed your radar is arts integration. But, what does it mean to integrate the arts, and how is this beneficial to student learning?
Arts integration has been described as "teaching through the arts"(1). A common definition is a bit difficult to find, as many different art forms and ways of integrating arts into the teaching of traditional content exist. Researchers frequently cite the following definition from the John F. Kennedy Center for the Performing Arts : "an approach to teaching in which students construct and demonstrate understanding through an art form. Students engage in a creative process which connects an art form and another subject and meets evolving objectives." According to the Kennedy Center, this can occur in three ways:
Arts as the curriculum, which is when students study specific art forms, typically within classes.
Arts- enhanced curriculum, which focuses on the arts as a way to enhance or explore a curricular concept. This form of arts integration doesn't require teachers to have specific training in the different arts forms.
Arts- integrated curriculum, which is where the arts are the method for exploring the curriculum. In this style, lessons may have dual objectives that include the art form and the content knowledge.
Some schools may use more than one approach. For example, a school may have arts, music, and dance teachers who specifically teach the arts as the curriculum, while content area teachers also infuse the arts into other academic areas such as language arts, social studies, math, and science.
Research Base
There is a growing body of research in the field of arts integration. Multiple studies have shown that various models of arts integration improve students' long-term retention of content(1,2). In the schools and classrooms where the arts are being used to teach the curriculum, students are more likely to remember what they learned weeks and months later.
Arts integration also benefits students' non-academic skills. Executive function (the skills used for goal directed behavior, such as inhibitory control, working memory, and flexible thinking) have been shown to be positively impacted by engaging in the arts(3). Additionally, arts integration methods have been shown to be linked to improvements in student engagement and student social-emotional skills(4).
The Kennedy Center also cites research that points to benefits for teachers, such as an increase in teacher satisfaction, and an increase in a sense of community within the school. At a time when teacher retention is at a low and most states are facing teacher shortages, an approach to teaching that will enhance teacher satisfaction while also boosting student retention of content and non-academic skills seems like a good investment of time and resources.
How do I get started?
If you're a teacher interested in arts integration, there are a few ways to get started on your own. If your school has teachers of the fine and performing arts, you can plan to collaborate and get advice for how to start using the arts to enhance your curriculum. This sort of collaboration can lead to the arts being infused into the content area classroom and content being infused into the arts classroom. This is also where those findings about increased feelings of school community come in. As you collaborate with other teaches, you may start to impact the school community.
If you have a background in any of the arts, you can start to think about how you'd use those skills to both present new learning to students and ask them to use art to work through the content. For example, if you have a background in music, you might consider how music can help enhance your content as you present it and as students engage with it. Teaching fractions? Great, music notes are all about fractions (whole notes, half notes, quarter notes). Teaching about the revolutionary war? Consider introducing songs from that era, or having students write their own. From puppet shows, to theater, to painting, there are many ways to start to incorporate the art into your lessons on your own.
You can also reach out to arts organization in your area. There are many non-profit organizations ready to assist educators as they explore arts integration. For example, Young Audiences of Maryland matches artists with educators to help them co-create arts integrated lessons. A simple online search can help you find an organization near you to collaborate with.
Consider collaborating online with teachers from across the country. See our posts on social media to get advice on how to access online communities of teachers. Try using #ArtsIntegration to find posts on social media and connect with other arts interested teachers.
Whether you stared in your high school musical, or struggled through a dance class, integrating the arts into your classroom has the potential to be fun and rewarding. You don't need to be an artist to be successful; you just need to see connections between the fine and performing arts and your curriculum. With potential benefits like increased teachers satisfaction, improved student engagement, motivation, executive function, and learning retention, why not give it a try?
References
1. Rinne L, Gregory E, Yarmolinskaya J, Hardiman M. Why Arts Improves Long-Term Retention of Content. Mind, Brain, Educ. 2011;5(2):89–96.
2. Hardiman M, Rinne L, Yarmolinskaya J. The Effects of Arts Integration on Long-Term Retention of Academic Content. Mind, Brain, Educ. 2014;8(3):144–8.
3. Diamond A. Activities and Programs That Improve Children's Executive Functions. Curr Dir Psychol Sci. 2012;21(5):335–41.
4. Steel JS. Noncognitive factors in an elementary school-wide arts integrated model. 2016;12(1).
Have a topic or question you would like to see addressed in a future Linking Research to Classrooms blog?
Enter your topic /question in our contact form.