By Lisa Carey & Ketia Stokes
February 27, 2018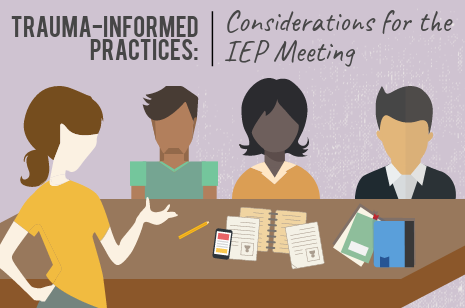 According to the National Child Traumatic Stress Network (NCTSN), one out of every four children attending school has been exposed to a traumatic event that can affect learning and/or behavior. Recognition of these statistics has led to a growing focus on trauma-informed practices within the classroom. There is, however, another area in which schools can improve their responses to children and families who have experienced trauma- the IEP meeting.
The Individuals with Disabilities Education Act (IDEA) requires that students who access special education services have a documented Individual Educational Program (IEP). The IEP team (consisting of the student's parents, teachers, school psychologist, school administrator, and others as warranted) must meet at least once a calendar year to review the student's IEP. Many parents report stress and anxiety related to attending these meetings. For families who have experienced trauma, the stress may become overwhelming. By being thoughtful about stressors, IEP meetings can become less stressful for all who attend and work toward being responsive to families who have experienced trauma.
Considerations for a trauma-informed IEP Meeting:
When planning and hosting the IEP meeting, it is important to keep in mind that families who experience a traumatic event often feel a loss of choice and control. According to the NCTSN, "The trauma-informed healing environment maximizes opportunities for choice and control and happens best in the context of relationships built on mutual trust, respect and empowerment." While it is important that all families feel a sense of mutual trust and empowerment at the IEP meeting, it becomes even more important when a family has experienced trauma. A trauma-sensitive approach to conducting IEP meetings requires us to employ practices that empower and imply an intention to build a partnership with the family. Below are suggestions for creating an environment that will support all attendees at an IEP meeting.
Suggested Practices for the IEP Team:
Preview the IEP documents and agenda. It is legally required to send notification of the IEP meeting, invited attendees, and a draft of documents to be discussed to the parents and/or legal guardians of the student. For a family that is struggling with traumatic stress, reaching out and having a brief meeting to prepare for the more potentially stressful IEP meeting may help create a sense of empowerment and ease. Ensure that the parent(s) understand what will be happening and why. Encourage them to consider and write down any questions they may have for the other IEP team members, this will help build a sense of control and empowerment.
Clearly and calmly set the intention for the meeting as well as the agenda. Helping the family have clear expectations of what will occur in the meeting can alleviate stress and help build relationships. Not sticking to the pre-set agenda has the potential to harm relationships and trust and trigger a stress response. If the IEP team encounters a topic in need of discussion that was not pre-determined by the agenda, it may be best to schedule an additional meeting.
Anticipate and carefully address any potentially triggering information that needs to be shared. This can most easily be done if the IEP team is aware of the traumatic events that impacted the family. Conversations with the mental health professionals in the IEP team (i.e. school psychologist and/or social worker) may help the rest of the team to consider what might cause family members additional stress and consider ways to address these topics. If an IEP member becomes visibly distressed during a meeting, it is okay to suggest taking a break or reconvening at another time. Keep in mind that sharing detailed information about previous history or traumatic events may not be necessary for the team to identify appropriate supports to address in an IEP. Ask the parent and/or student what information they are comfortable with being shared with the team.
Be careful with your tone and body language. Many parents perceive the IEP meeting as a place in which the school staff have more power. This perceived power differential can cause additional stress and difficulty for families who have experienced trauma. Keeping a friendly, calm, and even tone can help to reduce worries related to dealing with authority figures, as can body language that is open and non-threatening.
Empower the parent(s) with frequent opportunities to actively engage in the IEP meeting. Honoring the parent(s) voice and giving choices throughout the meeting helps restore the family's sense of personal power and change the perceived power differential. While all service providers are expected to come to meetings prepared with recommendations, be sure to engage parents by asking for their input about the recommendations or for additional suggestions. Experiencing trauma can tax a person's problem-solving capabilities. For some parents, it may be overwhelming to think of new strategies or recommendations. As an option, provide the family with an opportunity to choose from appropriate goals or services that may be appropriate as a result of the trauma their family has experienced. Engaging the parent in the meeting as the expert on their child and earnestly seeking their input as a thought partner, helps the family with making active steps to counteract the sense of powerlessness trauma often leaves families feeling.
Keep In Mind:
Trauma impacts the way people approach social situations and individuals, even when those individuals are offering help and assistance. What may appear to be standoffish behavior may in fact be a coping mechanism derived from past negative experiences. It is important to remain professional, calm, and responsive to a families needs when planning for their child's educational program. For more information on how trauma can impact families, please visit the NCTSN Core Concepts site.
Additional Resources:
Have a topic or question you would like to see addressed in a future Linking Research to Classrooms blog?
Enter your topic /question in our contact form.