By Lisa Carey and Catherine Stephan
July 18, 2017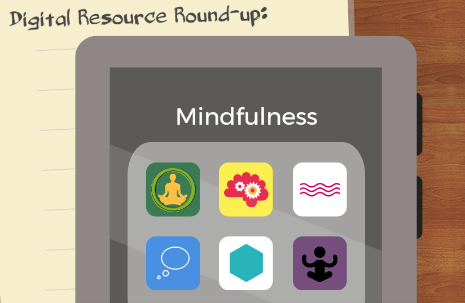 Catherine is a former research assistant in the Department of Neuropsychology at Kennedy Krieger Institute.
Mindfulness programs designed for school-aged children have demonstrated positive impacts on self-regulatory skills, psychological health, and coping strategies for dealing with stressors (Kerrigan et al., 2011; Sibinga et al., 2013). For teachers seeking ways to improve these critical non-academic components to school and social success, bringing mindfulness into the classroom is a promising practice.
Mindfulness isn't just for students; it can also help teachers deal with the myriad of stressors they encounter in a job that can take an emotional toll. If you're interested in bringing mindfulness practices into your classroom, it is best if you take time to practice on your own first. There are many ways to learn about and start to practice mindfulness. To get you started, we've generated a list of free digital resources.
Apps
Stop, Breathe, & Think (free with unlockable options, available for iOS and android)

This is a free mindfulness app with additional unlockable options behind a paywall. The app is designed to help you learn to meditate and includes a basic breakdown of what mindfulness is and how it is beneficial. The "What to expect" section helps new practitioners feel at ease with the process of learning to meditate, offering a variety of guided activities organized into categories such as "breath," "chill," and "for kids."

The app also allows users to determine how long they would like to practice and the type of voice used to guide them. There is also a progress monitoring feature that allows you to see the frequency and duration of your practice. Not sure which activity is right for you? This app asks you to check in through a series of guiding questions and then makes suggestions based on your current state.

Calm (free with unlockable options, available for iOS and android)

Calm offers guided breathing with options for length of practice and rate of breath. There is also a free 7-day meditate sequential with a different meditation each day. There are also recordings designed to help you fall asleep. The app features a calendar tool to track your progress and set a reminder to meditate.
PodCasts
The UCLA Mindfulness Awareness Research Center offers a collection of free podcasts of guided meditations. You can stream these offerings on your computer or smart phone, or download them for anytime use. They are simple to follow and vary in length. The site also offers transcripts for options for accessibility.

Meditation Oasis offers a collection of free meditation podcasts that can guide a listener through different meditations of varying lengths. However, they do not currently offer transcriptions of their podcasts. Keep this barrier to accessibility in mind if you are using these podcasts with groups.
Videos
Recent research has demonstrated the importance of affect to the learning process (Immordino-Yang & Damasio, 2007). Teaching children to self-regulate and proactively deal with stressors is one way we can help students become more academically and socially successful (Kerrigan et al., 2011). Growing evidence points to mindfulness practices as a means for helping students to develop positive coping strategies (Sibinga, Webb, Ghazarian, & Ellen, 2016). We hope that this collection of apps, podcasts, and websites aid you in exploring mindfulness resources.
Have a topic or question you would like to see addressed in a future Linking Research to Classrooms blog?
Enter your topic /question in our contact form.