By Lisa Carey
June 27, 2017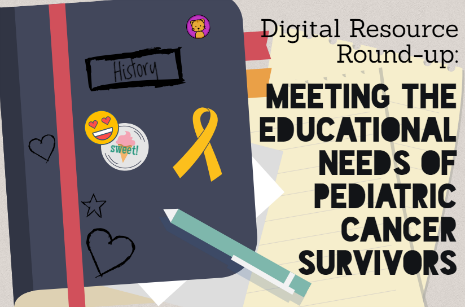 One of the biggest myths surrounding pediatric cancer survivorship is that children no longer need supports once their cancer is gone. Unfortunately, many of the life-saving therapies that have enabled doctors to increase the number of children who survive cancer can also have an impact on the developing brain. If you have a student who is returning to your classroom from cancer treatment, or has a history of cancer treatment, you can use the following resources to become more familiar with the impact of cancer on school performance and create a robust plan for supporting childhood cancer survivors in your school.
Learn More About the Impact of Cancer Treatment on the Developing Brain:
Late effects of cancer treatment are the lasting impact treatment has on cancer survivors. For school-aged children, many of those late effects impact schooling. The American Cancer Society has great information about late effects and the Children's Oncology Group offers helpful information about educational impacts of late effects.
Support Survivors Returning to School:
Transitions are tough. While children and their families often look forward to returning to school after treatment, navigating the transition isn't always easy. The following resources can help educators prepare and be better equipped to have meaningful and productive conversations about necessary supports and considerations for children returning after treatment.
The American Brain Tumor Association offers a quick guide of considerations for returning to school after brain tumor treatment, as does the American Cancer Society. The Livestrong Foundation & Scholastic offers a free e-book about education advocacy for parents of childhood cancer survivors. While educators are not the target audience of the e-book, it can be a helpful guide for considering educational and school-based supports.
Supporting Teens:
Teenagers returning to school after treatment can have concerns and needs that differ from younger children. This guide and podcast is designed with a teen audience in mind, but can be useful for middle and high school teachers as they support teen cancer survivors.
Considerations for students, families, and school staff: http://www.cancer.net/navigating-cancer-care/teens/family-friends-and-school/cancer-and-school
Addressing the Topic of Cancer with Students:
Unfortunately, cancer touches many students' lives. Scholastic partnered with the Livestrong Foundation to offer Livestrong at School, a collection of instructional materials for teachers who wish to address topics related to cancer with their students. The materials are designed for grades k-12 and offer different guides and activities.
We hope that these resources will help educators feel better prepared to support childhood cancer survivors. Understanding the late effects of cancer treatment can go a long way in planning for and supporting child who have battled cancer. As with all children, remember that childhood cancer survivors are a variable group. Always consider the possible needs of the student, but treat each child as the unique student that they are.
Have a topic or question you would like to see addressed in a future Linking Research to Classrooms blog?
Enter your topic /question in our contact form.