By Lisa Carey, Erin Jones and Lisa Jacobson
June 26, 2018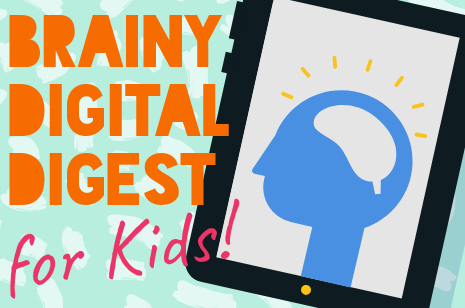 We've written a lot about brains over the past three years. We send out suggested reading materials about the brain for teachers every few months, but, our readers are always asking about brainy reads for kids. We're so happy to hear that many of our teacher readers are interested in having their students learn more about the brain! We've curated a list of some of our favorite free digital resources about the brain for student readers. You can use these with students, provide this list as individual reading options, or just read them yourself!
Journal Articles for Kids!
Many current practices in science education attempt to get kids "thinking like a scientist." Most scientists read and contribute to academic journals, so we were pretty excited to find Frontiers for Young Minds - an open-access scientific journal for kids! It's a really cool resource for the classroom and more specifically for students who are researching the brain. From class projects to some fun independent reading, these articles are great resources for students interested in the brain and nervous system. We highly recommend The Reading Brain, as well as articles about brain and behavior and Why We Can't Replace Our Brains with the Internet. Although these articles are written for a younger audience, there are fun, quick reads for adults too!
Videos and Activities
The Kids Health website offers a fun video and complementary activities about how the brain works. The video and accompanying materials are offered in both English and Spanish and include closed captions. The video is appropriate for younger students, but can also work with older students and adults.
For older students interested in the brain and nervous system, Kids Health offers a high quality article that includes embedded text-to-speech and is available in Spanish for increased accessibility options - in fact, almost all KidsHealth.org materials offer these accessibility features.
National Geographic Kids offers an introductory article about Your Amazing Brain, as well as 5 Reasons Why Your Brain is Mind-Blowing. The site also offers and array of videos and games about how the brain works. We really enjoyed the video about optical illusions.
Lesson Planning Resources
Want some brainy lesson plans? If you're interested in teaching students about the brain, Kids Health offers several lesson plans and materials for grade spans 3-5, 6-8 and 9-12. We recommend using these plans as a starting point and adapting the lessons and materials to meet the needs of all of your students. If you need help thinking through how to use these basic guides and materials to create accessible learning activities, we recommend checking out the Universal Design for Learning framework.
We hope these brainy resources are a good fit for your curious students. We selected materials that were accessible to younger audiences, but still offered valuable information for teachers, so don't hesitate to add some of these quick articles to your reading list!
Have a topic or question you would like to see addressed in a future Linking Research to Classrooms blog?
Enter your topic /question in our contact form.