By Andrea Parrish, Graduate Program Director for the Department of Special Education at Towson University
September 12, 2017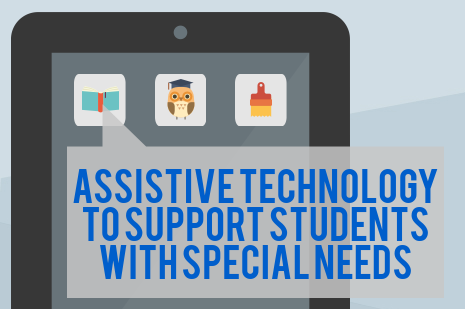 What is AT?
The Individuals with Disabilities Education Act (IDEA) 2004 defines an AT device as "any item, piece of equipment, or product system, whether acquired commercially off the shelf, modified, or customized, that is used to increase, maintain, or improve functional capabilities of a child with a disability" (IDEA, 2004 ۽ 300.6). IDEA defines an AT service as "any service that directly assists a child with a disability in the selection, acquisition, or use of an assistive technology device" (IDEA, 2004). AT services may include evaluation of the child's functional environment; selection, acquisition, and customization of appropriate technology tools; coordination of AT services between professionals; and the provision of training of technical assistance for school-based professionals or family members (IDEA, 2004).
You may have heard of other terms related to technology, such as instructional technology, educational technology, or information technology. While these terms refer to types of technology that may also be used by students with disabilities, AT specifically refers to forms of technology that are used to meet the learning and communication needs of students with disabilities in schools (Dell, Newton, & Petroff, 2017). AT devices fall along a continuum and are generally referred to in three basic categories:
Low Tech (less sophisticated items such as adapted handles, visuals, or Velcro fasteners);
Medium or Mid Tech (more complicated mechanical devices such as wheelchairs or battery-operated technology tools); and
High Tech (electronics, computers, tablets, apps, or software).
Legal Basis for AT
According to IDEA 2004, the Individualized Education Program (IEP) Team must consider, at least annually, whether a student with a disability needs an AT device or services in order to increase, maintain, or improve the student's functional capabilities. If the team determines AT is warranted, the public agency is responsible for ensuring that the device and/or services are made available to the student and documented as part of the IEP. As schools are recipients of federal funds, they must comply with the Rehabilitation Act of 1973, a federal civil rights law. Section 504 of this law extends its protections to students with disabilities and other medical conditions, and requires that these individuals be provided with reasonable accommodations to ensure their access to education. For many, the use of AT provides this access. For more information about IDEA 2004 and assistive technology, visit Wrightslaw or the description of the federal and state regulations affecting use of AT, found on Maryland Learning Links.
How AT Has Evolved
Technology has become an integral part of our lives and as universal forms of technology have improved, so has AT. While many forms of AT once required specialized equipment and training, the proliferation of mainstream mobile devices has made many forms of AT more easily accessible (Boser, Goodwin, & Wayland, 2014). For example, smartphones are now universally equipped with features such as notification systems, timers, calendars, and GPS. Instead of a student's teacher needing access to special software to create a social story, today's learners with developmental disabilities can access portable social stories through a free application on an iPad. These exciting new advancements in technology are exciting for students with disabilities and their families because they have brought many features of AT devices into the mainstream and they are cheaper, more portable, and carry less stigma than the AT devices of past decades.
Model Me Kids offers videos for modeling social skills. The Model Me Going Places app uses a photo slideshow of children modeling appropriate behavior in various community settings. The app is free and was developed by a team of licensed speech and language pathologists. Learn more about the team's technology tools at www.modelmekids.com.
Benefits of AT for Students with Disabilities
There are many benefits to using AT to support students with disabilities. While all learners are different, the use of AT devices and services:
Provides practical options for supporting students with disabilities in their least restrictive environment.
May be used to enhance a student's communication skills.
Can support student's access to academic instruction. For example, take a look at the many ways you can use AT to support reading, writing, and math and other curricular areas here. 
May be used to create visual supports and positive behavior support systems for students.
AT Decision-Making: How to Choose the Right Tool
There are many useful tools to support school teams in identifying the best AT tools to support individual students. Developed by the Wisconsin Assistive Technology Initiative (WATI), the WATI Guide offers a complete resource manual that walks school teams through the process of assessing students' needs for assistive technology and also includes useful resources such as related AT checklists and tools for implementing AT trials.
Another useful decision-making guide is the SETT Framework, an easy-to-use four-part model which promotes collaboration as part of the AT decision-making process (Zabala, 2017). Using the SETT Framework, teams work together to identify the needs of the STUDENT (S), relevant characteristics of the ENVIRONMENT (E), the functional or academic TASKS (T), to determine the most appropriate forms of TECHNOLOGY (T). A full set of resources, including a free webinar and downloadable forms for using this process are available at Joy Zabala's website here. 
By understanding AT, teachers are better equipped to make powerful decisions about tools that can help students with disabilities thrive.  It is important to know both a student's rights to access AT as well as the ever-expanding range of available tools that cane be utilized to improve a student's academic and social outcomes.  Be on the look out for future posts including resources to help you stay on top AT that may work for your students.
References
Boser, K. I., Goodwin, M. S., & Wayland, S. C. (2014). Technology tools for students with Autism: Innovations that enhance independence and learning. Baltimore, MD: Brookes.

Dell, A. G., Newton, D. A., & Petroff, J. G. (2017). Assistive technology in the classroom: Enhancing the school experiences of students with disabilities. (3rd ed.). Boston, MA: Pearson.

Individuals with Disabilities Education Act, 20 U.S.C. ۽ 300.6 (2004). Center for Technology in Education, Johns Hopkins University. (2015). The law and assistive technology. Retrieved from https://marylandlearninglinks.org/the-law-and-at/

Gierach, J. (2009). Assessing students with special needs for assistive technology: A resource manual for school district teams. (5th ed.). Wilton, WI: Wisconsin Assistive Technology Initiative.

Wright, P., & Wright, P. (2017). Assistive technology. Retrieved from http://www.wrightslaw.com/info/atech.index.htm

Zabala, J. (2017). Sharing the SETT framework. Retrieved from http://www.joyzabala.com/Home.php
Have a topic or question you would like to see addressed in a future Linking Research to Classrooms blog?
Enter your topic /question in our contact form.