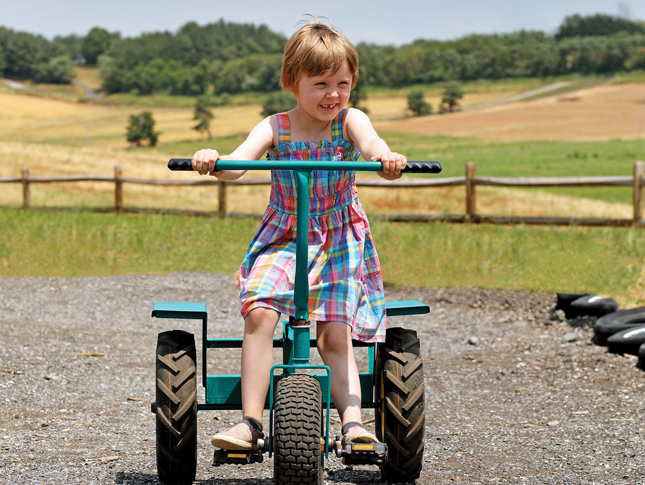 It was the morning of Maddi's big day—her first day of kindergarten. She'd been looking forward to it for as long as she could remember. Waving at everyone and giddy with excitement, she told her parents, Amanda and Megan, she would walk to her classroom all by herself.
"She was all smiles, with her feeding tube, double lumen Hickman" (a central line for medication), "no hair and backpack as big as she was," Megan says.
Six months earlier, in March of 2022, Maddi, now 6, had been diagnosed with Burkitt lymphoma, a fast-growing type of cancer. It had started out as a tiny lump in her cheek but had quickly spread through the soft tissue of her face. To treat the tumor, doctors administered chemotherapy drugs both intravenously and intrathecally—injected directly into her spinal canal.
Maddi was in the hospital for weeks. Megan decorated her hospital room like a schoolroom, and they did pre-K schoolwork when they could. Over the summer, once Maddi was back at home in Carroll County, Maryland, Amanda and Megan started noticing some neurological side effects—challenges in her cognition and learning—from the chemo. One of her physicians referred her to Kennedy Krieger Institute's Oncology Clinic, part of the Institute's Department of Neuropsychology.
A Very Important Meeting
"While intrathecal treatment is life-saving, it can have cognitive impacts," explains Dr. Lisa Carey, the department's educational specialist.
In the Oncology Clinic, neuropsychologists provide vital assessments, referrals, resources and more for children and teens who are receiving or have completed cancer treatment. Dr. Carey then works with staff members of patients' schools through the Institute's Hospital Education Liaison Program (HELP), which she and Dr. Lisa Jacobson, the clinic's director, co-founded in 2020 to advise families and schools on how best to support students receiving care at Kennedy Krieger for chronic medical conditions.
After performing a neuropsychological assessment of Maddi, Dr. Jacobson talked with Amanda and Megan about their daughter, how chemo had affected her, and how Kennedy Krieger could help her. "I definitely felt heard, and that built up trust," Amanda says. "She asked if we'd like help talking with Maddi's teachers, as school was about to start." Amanda and Megan took Dr. Jacobson up on that offer. They didn't want to have to tell their daughter she couldn't start school on time.
Dr. Jacobson referred them to Dr. Carey and HELP. A few days later—five days before the start of school—Dr. Carey met with Maddi's teachers and other school staff members.
"We walked through all that Maddi would need in a typical day of school," Dr. Carey says. She also shared a letter with the school team summarizing all the necessary accommodations. "Everyone was in agreement that if anything else came up, we'd just come back to the table."
I know they have other patients, but we feel like we're a priority, because they're always there for us." – Megan
"It all lined up perfectly for Maddi" to start school right on time, Amanda says.
An Invaluable Resource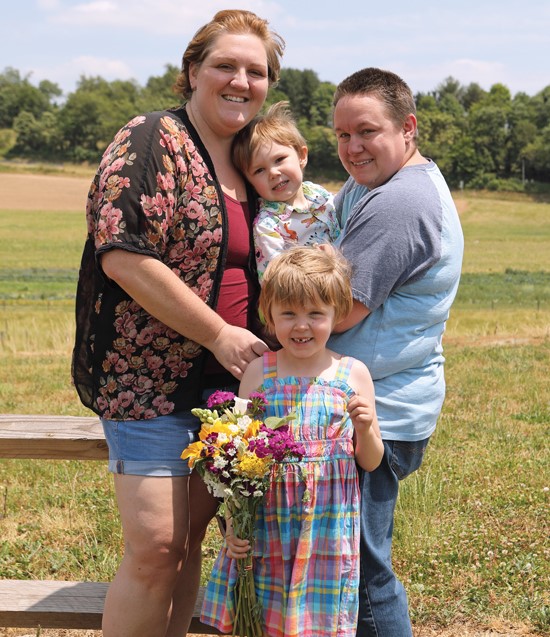 Megan, a special educator, first met Dr. Carey some years ago, when Dr. Carey was working as a special education consultant at the school where Megan was teaching. "When I was starting out as a teacher, I didn't know how cancer treatment could affect a student," Dr. Carey says. And before her daughter's diagnosis, Megan hadn't known, either. That's why the knowledge, resources and recommendations provided through the Oncology Clinic and HELP are so invaluable to parents and teachers of children with a history of cancer.
Recently, Megan participated in a research project run by the SUCCESS Lab, a Kennedy Krieger-Johns Hopkins collaboration founded in 2016 to study children who've been treated for cancer and how best to support them in school. (SUCCESS stands for Supporting and Understanding Childhood Cancer: Education, Strategies, and Services.) Initial research by the lab identified the need for supportive services, and HELP was born. Current research is further fine-tuning exactly what those services should entail.
Drs. Carey and Jacobson continue to follow Maddi as she prepares for her next big milestone—first grade. "We like to check in with our patients at key developmental timepoints" into young adulthood, Dr. Jacobson explains. "That way, we'll identify any challenges early on, and make sure our patients are on a good trajectory."
Amanda and Megan know that for Drs. Carey and Jacobson, "Maddi isn't a one-time patient," Megan says. "I know they have other patients, but we feel like we're a priority, because they're always there for us."
Whenever Maddi has to miss school for a medical appointment, she always wants to go right back to class once it's over. Her excitement for school has only grown since her first day of kindergarten.
When Maddi got home from school that day, she joyfully recounted the experience to her parents and little brother, Levi. "She had even more energy than when we dropped her off," Megan says. "It was everything she'd hoped it would be."
"It was the best day of my life," Maddi says.
The photos of Maddi and her family were taken at Local Homestead Products, an on-farm market in New Windsor, Md.