Rebecca
Martin
,
OTR/L, OTD, CPAM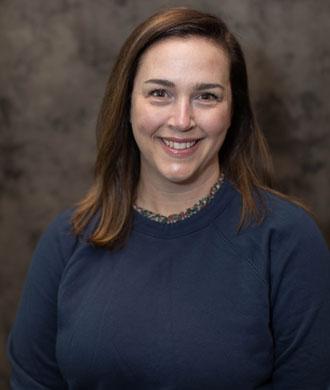 Manager, Clinical Education and Training, International Center for Spinal Cord Injury (ICSCI)
Kennedy Krieger Institute
801 N. Broadway
Baltimore, MD 21205
United States
About
Dr. Rebecca Martin is the Manager of Clinical Education and Training at the International Center for Spinal Cord Injury (ICSCI) at Kennedy Krieger Institute and an assistant professor at The Johns Hopkins University School of Medicine in the Department of Physical Medicine and Rehabilitation.
Education
Dr. Martin received her Bachelors of Science in Occupational Therapy from Boston University in 2001 and her Occupational Therapy Doctorate from Rocky Mountain University of Allied Health Professions in 2008. Prior to joining the Kennedy Krieger Institute, Dr. Martin worked in brain injury rehabilitation in Boston, Massachusetts.
Dr. Martin joined Kennedy Krieger in 2005 as a Senior Occupational Therapist in the International Center for Spinal Cord Injury. Since 2010, Dr. Martin has been the Manager of Clinical Education and Training at ICSCI and is responsible for program development, staff training, and oversight of the clinical research program. Dr. Martin speaks nationally on topics related to Activity-Based Rehabilitation; she has taught many continuing education courses for rehabilitation professionals in the areas of neurological pathology, rehabilitation, and research. She has been the principal investigator and co-investigator for grants from the Paralyzed Veterans of America Education Foundation and Department of Defense to develop, promote, and disseminate an activity-based restorative therapy training program and curriculum.
In 2011, Dr. Martin was awarded the Leader in Spinal Cord Injury Care by the International Center for Spinal Cord Injury at Kennedy Krieger. From 2011-2016 Dr. Martin has served as a Committee Chair for the annual Contemporary Trends in Spinal Cord Injury Management Symposium at Kennedy Krieger. As a consultant for SwissStim, she has helped create clinical use guidelines for training and documentation. In 2015, Dr. Martin was invited to serve on the NIH and NINDS Committee to establish Pediatric Spinal Cord Injury Common Data Elements.
Related Links
Research Publications
Bosques G, Martin R, McGee L, Sadowsky C (2016). Does therapeutic electrical stimulation improve function in children with disabilities? A comprehensive literature review. J Pediatr Rehabil Med. 9(2), 83-99.
Dolbow DR, Gorgey AS, Recio AC, Stiens SA, Curry AC, Sadowsky CL, Gater DR, Martin R, McDonald JW (2015). Activity-Based Restorative Therapies after Spinal Cord Injury: Inter-institutional conceptions and perceptions. Aging Dis. 6(4), 254-61.
Martin R, Johnston K, Sadowsky C (2012). Neuromuscular electrical stimulation-assisted grasp training and restoration of function in the tetraplegic hand: a case series. Am J Occup Ther. 66(4), 471-7.
Martin R, Sadowsky C, Obst K, Meyer B, McDonald J (2012). Functional electrical stimulation in spinal cord injury:: from theory to practice. Top Spinal Cord Inj Rehabil. 18(1), 28-33.
Other Publications
Martin R, Silvestri J. (2013) Current Trends in the Management of Upper Limb in Spinal Cord Injury. Curr Phys Med Rehabil Rep. 1(3):178-186.
Mertins R, Martin R, Sadowsky C, McDonald J, Becker D. (2014) Application of Aquatic Therapy to a Land Therapy Program Emphasizing Gait and Balance Training in an Adult with Neuromyelitis Optica: A Case Report. Journal of Aquatic Physical Therapy. 22(1):2-10.
Martin R. (2011) Hand Therapy Following Spinal Cord Injury. Rehab Management Magazine: Jul. 2011.