Albert
Recio
,
MD, RPT, PTRP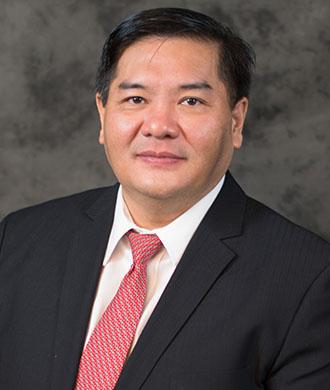 Physician, International Center for Spinal Cord Injury (ICSCI)
Kennedy Krieger Institute
801 N. Broadway
Baltimore, MD 21205
United States
About
Dr. Albert Recio is a physician in the paralysis restoration program at the International Center for Spinal Cord Injury (ICSCI), and the medical director for the aquatics medicine program at Kennedy Krieger Institute. He is also an assistant professor of physical medicine and rehabilitation at The Johns Hopkins University School of Medicine.
Education
Born in the Philippines, Dr. Recio graduated cum laude-first place with his medical degree in 1997 from the Perpetual Help College of Medicine in Biñan, Laguna. He undertook his internship training at the Perpetual Help Medical Center from 1997-1998. At Jackson Park Hospital in Chicago, Illinois from 2002-2003, Dr. Recio completed his general internship.
While at the Harvard Medical School/Spaulding Rehabilitation Hospital in Boston, Massachusetts from 2003-2006, he completed his residency in physical medicine and rehabilitation. From there, he completed a year-long clinical fellowship in spinal cord injury medicine at University of Washington/VA-Puget Sound Health Care System in Seattle, Washington in 2007.
Before earning his medical degree, Dr. Recio worked as a licensed physical therapist from 1990-1993 at the Sarah Bush Lincoln Health Center in Mattoon, Illinois. Since 1997, Dr. Albert Recio has been a volunteer physician for medical missions in the Republic of the Philippines. From 2003 to 2006, he was a contributing editor to Harvard Medical School/Spaulding Rehabilitation Hospital's rehabilitation and review monthly journal.
For two years he was also a contributing editor to the pain rounds website, until 2007. Dr. Recio served as a clinical scientific peer reviewer for the New York State Spinal Cord Injury Research Board, the Journal of International Medicine, the Journal of Rehabilitation Research and Development, the American Journal of Physical Medicine and Rehabilitation and the Journal of Behavioral and Brain Science.
In 2005 he won the Best Paper Presentation at the third world congress of the International Society of Physical Rehabilitation Medicine (ISPRM) in Sao Paolo, Brazil for his paper titled Post-Stroke Depression: Medication and Rehabilitation. Dr. Albert Recio has been the recipient of the Josefina Laperal Tamayo Award for Excellence, Community Service Award, the Perpetual Help Medical Center Loyalty Award, the Dean's Gold Medal Award and Academic Scholarship Award. For his 2005 paper titled Fertilized Duck Egg (Balut) and Cholesterol, he won Best Paper Presentation at the Asian Medical Students' Conference in Hong Kong.
Other professional honors include being named one of the Best Doctors in America 2013 & 2014. He was also named one of America's Top Physicians in 2010, 2012 & 2015 and Patient's Choice Award in 2010 & 2011. In 2014 & 2016, he was awarded the Leader in Spinal Cord Injury Care by the International Center for Spinal Cord Injury at Kennedy Krieger.
Research
Dr. Recio's research interests center on activity-based restoration therapies (ABRT). In an effort to provide patients with long-term spinal cord injuries or paralysis greater independence, his research evaluates the ability of ABRT to help patients recover neurological sensation and physical movement. Dr. Recio's field of interest also includes electrical stimulation in the treatment of recalcitrant pressure wounds and the use of functional electrical stimulation (FES) to activate nerves innervating extremities affected by paralysis resulting from spinal cord injury (SCI). Dr. Recio is certified in Clinical Densitometry and actively follows over 200 patients per year and reads routine DEXA scans every other month.
Since 2010, Dr. Recio has piloted the Virtual Sailing Simulator Research Program which allows individuals with disabilities to participate in real time "ride on" virtual sailing that has the potential to bridge the gap between dry land and on-the-water adaptive sailing by providing a realistic, safe, and easily supervised medium in which non-sailor patients can easily learn the required skills before venturing on the water. Dr. Recio focuses on improving bone health for all patients and improving the patient and staff experience for all children and for adult patients with intellectual disability. Dr. Recio developed the Bone Health/Infusion Clinic for SCI patients which is available to children and their families as well as to adults with disabilities and holds the bone health clinic every other month.
In 2013, Dr. Recio started researching the long term effects of Transverse Myelitis (TM). Transverse Myelitis is an inflammatory event within the spinal cord that commonly leads to weakness, numbness, loss of bowel or bladder function and often, paralysis. Alongside the TM advocacy group, and multiple institutions in North America that treat patients with TM, Dr. Recio is collecting real-time data about the outcomes in pediatric TM. At this time, there is limited literature in aiding outcome predictions for the pediatric TM population.
Related Links and Research
Elsevier Fingerprint Engine Profile for Albert Recio
Publications
Other Media (Videos, Websites, Blogs, Social Media, etc.)
Principles of Medical Management of Chronic Spinal Cord Injury. An Interactive Web-based E-Learning Presentation hosted: via the www.KennedyKrieger.org website. In-house review on April 15, 2011; submitted for external use in coordination with ABRT symposium on May 2, 2011.
Medical Examination related to Activity Based Restorative Therapy. An Interactive Web-based E-Learning Presentation hosted: via the www.KennedyKrieger.org website. In-house review on April 15, 2011; submitted for external use in coordination with ABRT symposium on May 2, 2011.
Principles and Practice of ABRT program. An Interactive Web-based E-Learning Presentation hosted: via the www.KennedyKrieger.org website. Seattle Web Conference on May 31, 2012.
Progressive, Evidence-Based Neurorehabilitation: Activity-Based Restorative Therapies (ABRT) An Interactive Web-based E-Learning program hosted via the www.KennedyKrieger.org website for external use in coordination with the Progressive, Evidence-Based Neurorehabilitation: Activity-Based Restorative Therapy Workshop on February 25, 2013.
Hendricks, Susan. "Virtual sailing program helps disabled." CNN Video. Online video clip. CNN.com Accessed on 16 October 2012. https://www.cnn.com/videos/health/2012/10/16/health-minute-virtual-sailing.cnn
"Study Results Highlight Virtual Sailing's Benefits to SCI Patients" Rehab Management, Nov 2013. http://www.rehabpub.com/2013/11/study-results-highlight-virtual-sailing-s-benefits-to-sci-patients/#sthash.2bge11Je.dpuf
"Sailing simulator found to help spinal cord injuries" Scuttlebutt Sailing News, Nov 2013. https://www.sailingscuttlebutt.com/2013/11/20/sailing-simulator-found-help-spinal-cord-injuries/
Hofheinz, Elizabeth. "Spine Feature." Sailing as Rehab for Spinal Cord Injury Patients. N.p., 21 Nov. 2013. Web. 23 June 2014. http://ryortho.com/breaking/sailing-as-rehab-for-spinal-cord-injury-patients/
Kennedy Krieger Institute. "Study Results Highlight Virtual Sailing's Benefits to SCI Patients - Rehab Management." Rehab Management. N.p., 26 Nov. 2013. Web. 23 June 2014. http://www.rehabpub.com/2013/11/study-results-highlight-virtual-sailing-s-benefits-to-sci-patients/#sthash.2bge11Je.dpuf