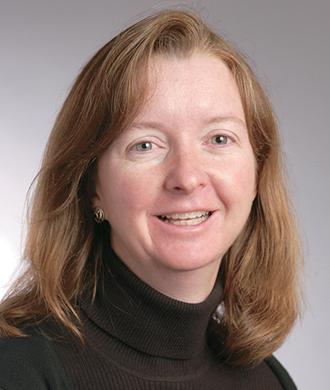 Psychologist, Kennedy Krieger Institute
Kennedy Krieger Institute
707 N. Broadway
Baltimore, MD 21205
United States
About
Dr. Julia O'Connor is a research scientist and psychologist at the Kennedy Krieger Institute. She is the director of day treatment services for the Neurobehavioral Unit Outpatient Clinic in the Department of Behavioral Psychology. She is also an assistant professor in the Department of Psychiatry and Behavioral Sciences at the Johns Hopkins University School of Medicine.
Education
Dr. O'Connor received her undergraduate training at Rutgers College - Rutgers University where she received her bachelor's degree in psychology. She completed her master's and doctoral training at the State University of New York in Binghamton in clinical psychology where she worked with children with autism and pervasive developmental disorders. She then completed her pre-doctoral internship at the Kennedy Krieger Institute and the Johns Hopkins University School of Medicine to focus on working with developmentally disabled children who display severe behavior problems.
Dr. O'Connor accepted a faculty position in the Neurobehavioral Outpatient Clinic in the Behavioral Psychology Department at Kennedy Krieger institute in 1994. She is a member of the Association for Behavior Analysis and the Maryland Association for Behavior Analysis. She is currently a licensed psychologist in Maryland and a psychologist at Kennedy Krieger Institute.
Research
Dr. O'Connor's research has focused on the assessment and treatment of severe behavior problems including self-injury, aggression, pica, property destruction and other problem behaviors exhibited by individuals with developmental disabilities. This includes the development of outpatient intensive behavioral treatment approaches for problem behavior, as well as evaluation of generalization of treatment effects and long-term outcome following inpatient or outpatient treatment. Dr. O'Connor's primary research interests focus on generalization of treatment gains, parent and teacher training, Cornelia de Lange Syndrome and Smith-Lemli Opitz Syndrome.
Related Links
Elsevier Fingerprint Engine Profile for Julia T. O'Connor
Research Publications
Strohmeier CW, Murphy A, O'Connor JT (2016). Parent-informed test-control functional analysis and treatment of problem behavior related to combined establishing operations. Dev Neurorehabil. , 1-6.
Scheithauer M, O'Connor J, Toby LM (2015). Assessment of self-restraint using a functional analysis of self-injury. J Appl Behav Anal. 48(4), 907-11.
Kurtz PF, Chin MD, Robinson AN, O'Connor JT, Hagopian LP (2015). Functional analysis and treatment of problem behavior exhibited by children with fragile X syndrome. Res Dev Disabil. 43-44, 150-66.
Kline AD, Calof AL, Lander AD, Gerton JL, Krantz ID, Dorsett D, Deardorff MA, Blagowidow N, Yokomori K, Shirahige K, Santos R, Woodman J, Megee PC, O'Connor JT, Egense A, Noon S, Belote M, Goodban MT, Hansen BD, Timmons JG, Musio A, Ishman SL, Bryan Y, Wu Y, Bettini LR, Mehta D, Zakari M, Mills JA, Srivastava S, Haaland RE (2015). Clinical, developmental and molecular update on Cornelia de Lange syndrome and the cohesin complex: abstracts from the 2014 Scientific and Educational Symposium. Am J Med Genet A. 167(6), 1179-92.
Kline AD, Calof AL, Schaaf CA, Krantz ID, Jyonouchi S, Yokomori K, Gauze M, Carrico CS, Woodman J, Gerton JL, Vega H, Levin AV, Shirahige K, Champion M, Goodban MT, O'Connor JT, Pipan M, Horsfield J, Deardorff MA, Ishman SL, Dorsett D (2014). Cornelia de Lange syndrome: further delineation of phenotype, cohesin biology and educational focus, 5th Biennial Scientific and Educational Symposium abstracts. Am J Med Genet A. 164A(6), 1384-93.
Paclawskyj TR, Kurtz PF, O'Connor JT (2004). Functional assessment of problem behaviors in adults with mental retardation. Behav Modif. 28(5), 649-67.
Other Publications
Gardner, A.W., Ernst, R., O'Connor, J.T., Daniolos, P.T., Morar, Varsha, V., & Richerson, L. P. (2008). The effects of risperidone titration on pica in an adolescent with autism. International Pediatrics, 23, 144-150.
Lieving, G.A., Hagopian, L.H., Long, E.S. & O'Connor, J. (2004). Response-class hierarchies and resurgence of severe problem behavior. The Psychological Record. 54: 621-634