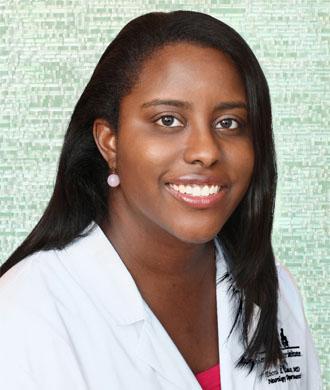 Co-Director, Neurology and Neurogenetics Clinic; Medical Director, Sickle Cell Neurodevelopmental Clinic
Kennedy Krieger Institute
801 North Broadway
Baltimore, MD 21205
United States
About
Dr. Eboni Lance is the Co-Director of the Neurology and Neurogenetics Clinic at Kennedy Krieger Institute, neurologist and Medical Director of the Sickle Cell Neurodevelopmental Clinic, and an associate professor in the Department of Neurology and Pediatrics at the Johns Hopkins School of Medicine.
Education
Dr. Lance received her undergraduate degree from Princeton University and received her medical degree from the Medical University of South Carolina. She did residency in general pediatrics at Childrens Hospital Los Angeles and additional specialized residency training in neurodevelopmental disabilities at the Kennedy Krieger Institute. She received additional research training at Kennedy Krieger Institute/Johns Hopkins University School of Medicine and has a PhD in clinical investigation from the Johns Hopkins Bloomberg School of Public Health. Dr. Lance is board-certified in general pediatrics, neurology with a special qualification in child neurology, and neurodevelopmental disabilities.
Research
Dr. Lance's research interest is in children with sickle cell disease and neurodevelopmental issues, such as ADHD, intellectual disability, and learning disabilities.
Related Links
Research Publications
Lance EI, Comi AM, Johnston MV, Casella JF, Shapiro BK (2015). Risk Factors for Attention and Behavioral Issues in Pediatric Sickle Cell Disease. Clin Pediatr (Phila). 54(11), 1087-93.
Lance EI, Casella JF, Everett AD, Barron-Casella E (2014). Proteomic and biomarker studies and neurological complications of pediatric sickle cell disease. Proteomics Clin Appl. 8(11-12), 813-27.
Lance EI, Lanier KE, Zabel TA, Comi AM (2014). Stimulant use in patients with sturge-weber syndrome: safety and efficacy. Pediatr Neurol. 51(5), 675-80.
Lance EI, York JM, Lee LC, Zimmerman AW (2014). Association between regression and self injury among children with autism. Res Dev Disabil. 35(2), 408-13.
Lance EI, Shapiro BK (2013). Confounding diagnoses in the neurodevelopmental disabilities population: a child with hearing loss, absence epilepsy, and attention-deficit hyperactivity disorder (ADHD). J Child Neurol. 28(5), 645-7.
Lance EI, Sreenivasan AK, Zabel TA, Kossoff EH, Comi AM (2013). Aspirin use in Sturge-Weber syndrome: side effects and clinical outcomes. J Child Neurol. 28(2), 213-8.