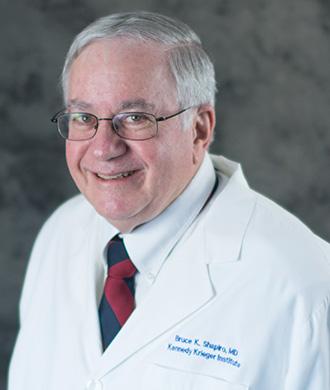 Associate Program Director
Kennedy Krieger Institute
707 N. Broadway
Baltimore, MD 21205
United States
About
Dr. Shapiro is a professor of pediatrics at the Johns Hopkins University School of Medicine.
Education
Dr. Shapiro attended Boston University's six-year combined liberal arts and medical sciences program. After graduation in 1972, he undertook post-doctoral training at the Children's Hospital National Medical Center in Washington, DC, where he was chief resident in pediatrics, and at the Kennedy Krieger Institute. He is the vice president of training and is an attending physician at the Kennedy Krieger Institute, St. Agnes Hospital and Johns Hopkins Hospital.
Research
Dr. Shapiro has wide-ranging interests in neurodevelopmental disorders and has participated in research that has focused on identification, assessment and therapy of neurodevelopmental disorders. He was awarded the Arnold J. Capute, MD, MPH, Endowed Chair in Neurodevelopmental Disabilities during 2004-2022.
Related Links
Elsevier Fingerprint Engine Profile for Bruce Shapiro
Research Publications
Lance EI, Comi AM, Johnston MV, Casella JF, Shapiro BK (2015). Risk Factors for Attention and Behavioral Issues in Pediatric Sickle Cell Disease. Clin Pediatr (Phila). 54(11), 1087-93. 
Lance EI, Shapiro BK (2013). Confounding diagnoses in the neurodevelopmental disabilities population: a child with hearing loss, absence epilepsy, and attention-deficit hyperactivity disorder (ADHD). J Child Neurol. 28(5), 645-7. 
Jasien J, Daimon CM, Maudsley S, Shapiro BK, Martin B (2012). Aging and bone health in individuals with developmental disabilities. Int J Endocrinol. 2012, 469235. 
Accardo PJ, Shapiro BK (2008). Neurodevelopmental disabilities in pediatrics and child neurology: Child development training for the future. J Pediatr Rehabil Med. 1(2), 113-4. 
Other Publications
Shapiro BK, Batshaw ML. Intellectual Disability. In Kliegman, RM, Stanton BF, St. Geme JW, Schor NF, Behrman RE. (eds.) Nelson Textbook of Pediatrics 20h Edition. Philadelphia, PA. Elsevier Saunders. 2016:216-222.
Gregory M, Burton VJ, Shapiro BK. Neurodevelopmental Disabilities and Metabolic Disorders in Zigmond MJ, Rowland LP, Coyle JT (Eds). Neurobiology of Brain Disorders:Biological Basis of Neurological and Psychiatric Disorders.. Philadelphia: Academic Press 2015:18-41.   
Shapiro BK, Batshaw ML.  Developmental Delay and Intellectual Disability. In Batshaw ML, Pellegrino L, Roizen NJ (eds),  Children with disabilities 7th ed. Baltimore: Paul H. Brookes 2013:291-306.
Lewis MEB, Church R, Shapiro BK. Specific Learning Disability. In Batshaw ML, Pellegrino L, Roizen NJ (eds),  Children with disabilities 7th ed. Baltimore: Paul H. Brookes 2013:403-422.