Employment - According to Baltimore Magazine, Kennedy Krieger Institute was voted one of the best places to work in 2013.
Climate - Maryland is neither North nor South, making the climate relatively moderate compared to many regions of the country.
Housing - Maryland has many affordable housing opportunities with many styles of housing to choose from, including homes with basements, yard, decks, and rooftop decks.
Variety - Baltimore City has over 200 distinct communities and neighboring towns have much to offer prospective home buyers in terms of employment, shopping and entertainment.
Entertainment– From festivals to museums, the aquarium to the theater, and shopping to sports, there are always things to do in Baltimore. The city is home to the American Visionary Art Museum, the Walters Art Museum, the Myerhoff Theatre, the Lyric Theatre, The Hippodrome, many smaller neighborhood theatres, movie theatres, and concert houses.
Sports- The area is home to the Super Bowl XLVII Champions, the Baltimore Ravens. Baltimore and Washington D.C. boast two great options for baseball fans between the Orioles and the Washington Nationals. In addition, sports fans will find a bevy of top college teams to root for.
Food - If you love crabs or seafood in general, then Maryland is for you. Check out Baltimore Magazine's Top 25 list for the best crab cakes in Baltimore. While you're there, visit the Best of Baltimore list to find the best places to sample your favorite cuisine.
Travel- International travel is easy from the Baltimore area due to the proximity of three airports-- BWI Airport in Hanover, Maryland, the Ronald Reagan Washington National Airport, and Dulles International Airport in Washington D.C./Northern Virginia.
Healthcare - Baltimore is home to Johns Hopkins Hospital-- the No. 1 hospital on US News Honor Roll of Best Hospitals 2013-2014.
Education - Maryland has some of the best universities (including, Johns Hopkins University, University of Maryland, Stevenson University, Loyola College, and Towson University) and high schools in the country. Thirteen high schools in Maryland made the top 500 of Newsweek's best high schools in 2014.
The top 10 reasons were borrowed from a blog on Trulia, a residential real estate site, and updated based on 2013-2014 data.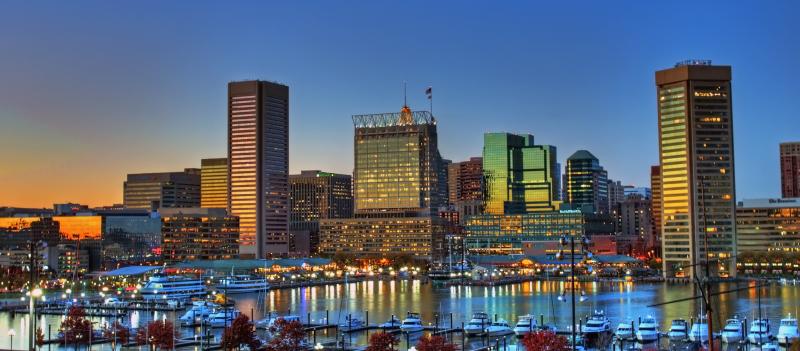 Visit the Live Baltimore website and check out other great reasons to live in Baltimore