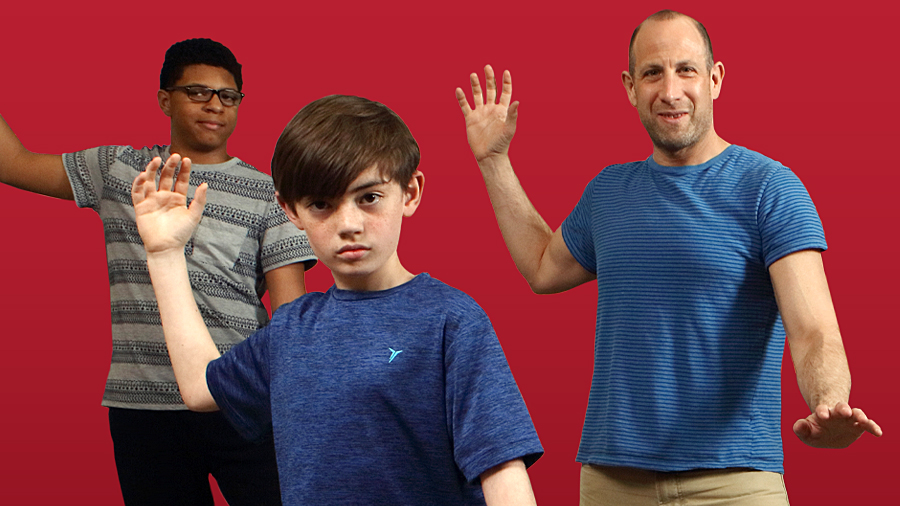 By Laura Thornton
While some of the children and teens visiting Kennedy Krieger Institute's Center for Neurodevelopmental and Imaging Research (CNIR) may be too young to realize it, they're helping researchers learn more about neurodevelopmental disorders—and develop new treatments, too. These children and teens are participating in critical research studies at the CNIR, which is dedicated to better understanding the behaviors and brain circuits involved in neurodevelopmental disorders such as attention-deficit/hyperactivity disorder (ADHD), autism spectrum disorder (ASD) and Tourette syndrome. The CNIR recruits youth who are neurotypical and youth with neurodevelopmental disorders for the studies—meaning that all young people have the opportunity to make a difference.
Children With ASD Show Differences in Imitation
In one study, researchers are investigating differences in imitation ability between children with and without ASD. Imitation is something that neurotypical children generally do very easily, and it's part of how children learn a wide range of skills—from motor (holding a pencil) to social (interacting with others). But for children with ASD, imitation doesn't always come naturally, explains Dr. Stewart Mostofsky, the CNIR's director.
Using cutting-edge video technology developed in collaboration with colleagues at The Johns Hopkins University, researchers study children's ability to imitate fun dance movements. The technology reveals prominent differences in the ways children with and without ASD imitate the dance moves. Children with ASD show more difficulty with imitation, and that difficulty predicts both ASD diagnosis and clinical severity. "Using a one-minute video, we can determine, with 90%-plus accuracy, whether a child has autism, based on how well they imitate," Dr. Mostofsky says. The goals of the study are to improve ASD diagnosis and develop new interventions to help children with ASD improve their social skills.
Clear Patterns of Motor Differences Revealed in Children With ADHD
In another study, the team is focusing on motor function in children with ADHD, who can have difficulties controlling their actions. The CNIR team uses safe brain imaging and brain stimulation to measure how the motor cortex—the brain area that controls movement—might be different in children with and without ADHD.
"We've identified clear motor patterns distinguishing children with ADHD from their neurotypical peers," Dr. Mostofsky explains. "We're determining whether these measures are consistent and whether they predict particular behavior profiles for children with ADHD. This could help us identify specific subtypes of ADHD and therefore help improve how we target treatments—both medication and behavioral."
Mindful Movement Practice Helps Children With ADHD
In this long-running study, the CNIR team has discovered that mindful movement instruction such as tai chi can help children with ADHD. "Specifically, we found that with just eight weeks of tai chi practice, children show profound improvements in their attention, as well as reduced impulsivity, hyperactivity and oppositional behavior," Dr. Mostofsky says. "We are now looking at whether these improvements can be sustained and whether mindful movement practice that is part of a Baltimore City public in-school curriculum can help a wide range of children improve their ability to regulate their attention, behavior and emotional responses."
Different Trajectories in Girls and Boys With ADHD
For this longitudinal study, researchers are looking at differences in brain development between girls and boys, ages 8 through 17, with and without ADHD. "Boys and girls can have very different ADHD trajectories, and we're determining factors—brain-behavioral measures in childhood that predict outcomes later in adolescence—to better guide intervention strategies," Dr. Mostofsky says.
"We're gathering information about behavior, cognitive functioning, and brain structure and functioning, and looking at whether ADHD symptoms improve and whether other mental health issues emerge as children age into adolescence," he adds. "Crucially, we are also trying to identify patterns that might predict important life outcomes, such as school and job performance, socialization, and mental health. One of the things we've already discovered is that during adolescence, girls diagnosed with ADHD in childhood seem to be having more difficulties than boys with ADHD. We're now working on understanding why this is true, and on identifying specific patterns that contribute to poorer outcomes in girls with ADHD."
"Without our study participants, we would not be able to gather the information we need to make progress in our research." – Dr. Stewart Mostofsky
These are just a few of the CNIR's ongoing studies, all of which are in need of participants. Most studies require just a few visits to Kennedy Krieger and involve playing fun games or doing simple tasks under observation—an easy way to make an important contribution to science. "The goal of our work is to improve how we care for, and intervene to help, children facing neurodevelopmental challenges," Dr. Mostofsky says. "Without our study participants, we would not be able to gather the information we need to make progress in our research."