By Laura Thornton
Karam loves school, swimming and his bright green iPad.
It's a captivating device for the 6-year-old, who understands English and Arabic but can only speak a few words of each. He uses his iPad to watch educational cartoons and listen to songs like "Old MacDonald Had a Farm."
Karam's parents, Dana and Ousama, use the iPad to motivate their son to do his therapy. One day last August, as Karam, gripping the handles of a small walker, slowly made his way across a therapy gym at Kennedy Krieger Institute, his dad sat on a rolling stool a few feet away, holding up Karam's treasured possession and scooting backward as Karam got ever closer to the target.
"Bravo, Karam!" Ousama cheered with every step his son took. "Bravo, Karam!"
After enough steps, Karam reached out and grabbed his iPad. Smiles spread across their faces. Just two years ago, Karam could barely sit up, let alone take a step and reach for things.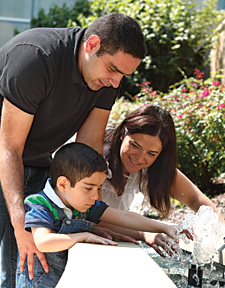 Karam, who was born in Syria, has hypomyelination and congenital cataracts, also known as HCC, a type of leukodystrophy that makes it difficult for the body to produce myelin, the protective coating surrounding brain and nerve cells. It's one of many different types of leukodystrophies, all of which affect myelin.
Karam's first symptoms were the clouded lenses of his eyes. An eye doctor in Syria diagnosed him with cataracts. Then Karam's development, which had been typical up to around his second birthday, began to regress, and he began experiencing rapid eye movements and some seizures. Karam's doctors sent a sample of his DNA to a laboratory in Germany, where it tested positive for HCC.
Karam struggles to stand, walk and talk. He had eye surgery last year to replace his lenses with artificial ones. The disease is known to affect only about a dozen individuals worldwide, and more research is needed to understand it, says Dr. S. Ali Fatemi, Karam's doctor at Kennedy Krieger and director of the Institute's Division of Neurogenetics and Moser Center for Leukodystrophies.
While there's currently no cure, Dr. Fatemi says it's possible that drugs now on trial to help individuals with multiple sclerosis—another disorder affecting myelin—could someday help Karam.
Standing Up
After using the walker, it's time for Karam to practice standing up. Physical therapist Brittany Hornby helps him sit down on a floor mat. Then, she places his arms on a very low table adjacent to the mat. Within Karam's reach on the table are several brightly-colored blocks and the coveted iPad.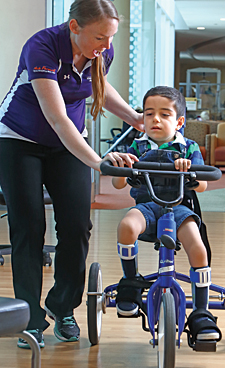 Just as Karam reaches for the iPad, Ousama steps on a pedal to make the table rise slightly, putting the iPad out of reach—unless Karam stands up. Karam positions his hands on the tabletop, and, using the table as a support, pushes himself into a standing position.
Dr. Fatemi watches with a practiced eye. "That's great!" he says. "I haven't seen him do that before."
Dana and Ousama met Dr. Fatemi four years ago at a United Leukodystrophy Foundation meeting in Baltimore. Having read about the Moser Center for Leukodystrophies, they'd flown to the U.S. specifically to ask him, in person, what they should do to help their son. Syrian medical facilities didn't have the resources to help Karam.
"The best thing for you to do," Dr. Fatemi advised Dana and Ousama, "is to move here."
For his first two years in the U.S., Karam wasn't able to stand at all. He'd been wheelchair-bound for so long that the tops of his leg bones had rotated out of their hip sockets.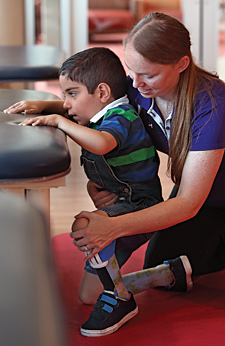 In June 2016, Dr. Ranjit Varghese, medical director of the Institute's Ortho-Cerebral Palsy Program, operated on Karam to reposition the bones of his hip joints and to lengthen some of his tight leg muscles so he could stand and move around better. Karam spent a month in Kennedy Krieger's inpatient hospital, and several weeks after that at the Institute's day hospital.
When he returned home, he started receiving visits from Andrea Sharar, senior speech-language pathologist for the Institute's Community Rehabilitation Program, as well as from occupational and physical therapists of the program. Sharar has been helping Karam develop the oral musculature needed to speak—blowing bubbles is a favorite strengthening exercise.
She's also been helping him use a picture communication book and an iPad app to augment his communication. Karam uses the book and app to point to pictures of what he wants or is trying to say.
His therapies are paying off. When the family left Syria, Karam had stopped making eye contact with people and could no longer indicate what he wanted.
"But now, he makes eye contact, and when he wants something, he looks for it, and he points to it," Dana says. "All of those things, he got from Andrea and his other therapists."
Reaching Higher
Ousama holds up a blue block, hoping Karam will reach for it.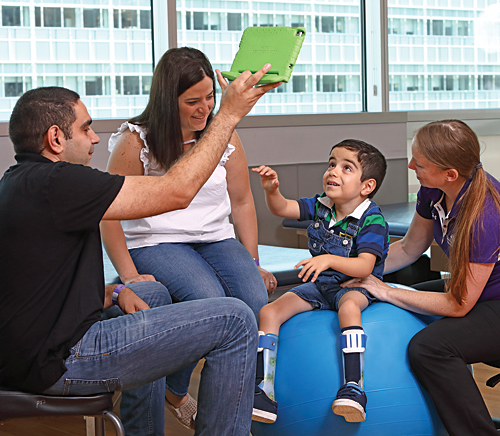 But Karam has eyes only for his green electronic device. He takes the block, gives it back to his dad, and reaches for the iPad instead. He knows what he wants.
For a few years, as Karam gradually lost the ability to walk, talk and laugh, a happy childhood seemed elusive. But since coming to Kennedy Krieger, he's gotten stronger and more communicative, and he's even started laughing again.
"I have confidence that we're doing all we can for Karam," Dana says, "because Kennedy Krieger is the best place for him."
To learn more about treatment options for patients with leukodystrophies, visit the Moser Center for Leukodystrophies page. For additional information about community rehabilitation services, visit the Community Rehabilitation Program page.