Dr. Lana Warren: Today I am joined by Leslie Marsiglia, Director of Major Gifts at Kennedy Krieger.
Leslie Marsiglia: Imagine finding that your 3 ½ year old child has a rare, progressive and ultimately fatal genetic disorder. I want to tell you about a very special family that chose to deal with this devastating news by embarking on a journey to raise funds to help find a cure for this disorder. Ellie has a leukodystrophy called LBSL, which affects Ellie's ability to walk and run. After consulting with Dr. Ali Fatemi, Director of the Moser Center for Leukodystrophy at Kennedy Krieger Institute, they were all in to find a cure. Knowing this would take years and millions of fundraised dollars to do so, Ellie's parents formed a foundation to raise funds for research at Kennedy Krieger and share awareness around the world. The McGinns have established personal relationships with families with LBSL all across the world, New Zealand, Italy, the Ukraine, the Netherlands, Brazil, Sweden, Russia, Iran and Bangladesh as well as from across the United States.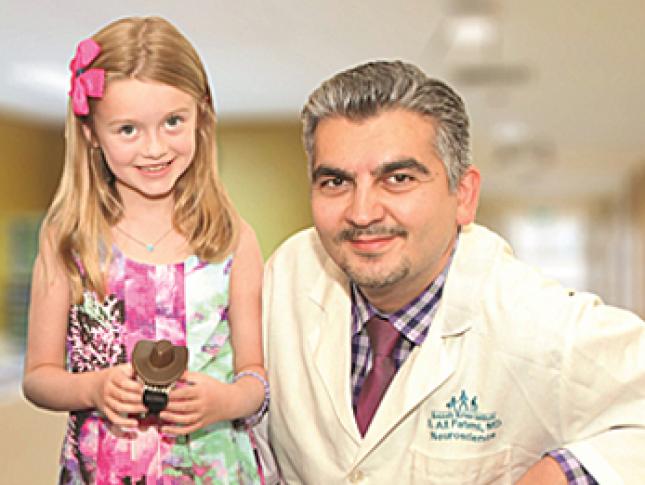 Through their website (A Cure for Ellie) and their Facebook page, the McGinns offer information on what is worth for Ellie and share it. This provides a safe space for families to ask questions, to share and to learn. This year Kennedy Krieger hosted the first LBSL summit. During the conference, experts spoke on a wide variety of topics. People from across the world attended and all were brought together by the McGinns and their foundation. I was greatly inspired by these families and the bonds that were strengthened between them. The children with LBSL and their siblings had the opportunity to meet and talk about their challenges together for the first time. Over the past two years, the Ferguson family from New Zealand has collaborated with the McGinns. Their son Marco and Ellie became fast friends and pen pals. The weekend before the summit, the McGinns held their annual 5K run with the entire Ferguson family as their guests of honor. It was truly heartwarming to see Marco and Ellie, regardless of their disabilities, triumphantly cross that finish line.
Dr. Lana Warren: Inspiring moments is produced for WYPR by Kennedy Krieger Institute. I am Dr. Lana Warren.