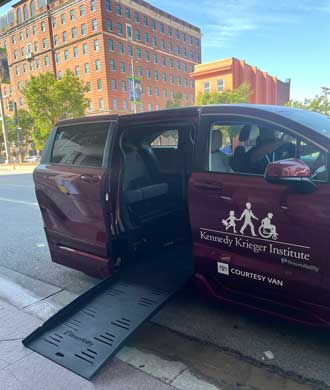 BALTIMORE, September 9, 2022 –Football season is here, and once again, Baltimore Area Toyota Dealers will donate $500 to Kennedy Krieger Institute for every touchdown scored by the Baltimore Ravens at both home and away games.
This fan-favorite fundraiser is part of a continued collaboration that began several years ago when the local Toyota dealers became interested in supporting a Baltimore-based nonprofit that helps children. Money donated from Toyota has been used to purchase adaptive vehicles, including a 2022 Toyota Sienna that can accommodate individuals who use wheelchairs and arrived at the Institute last month.
"We are so grateful for this partnership and the generosity of the Baltimore Area Toyota Dealers, who understand how important an accessible vehicle like this is for the patients and students we serve," said Brad Schlaggar, MD, PhD, president and CEO of Kennedy Krieger. "We also love that they make donating fun. It's a good reminder of how kids and adults receiving ongoing care at the Institute have the opportunity to have mobility in the community as part of their therapies. We really appreciate how Toyota and the Ravens make the extra effort to see our patients and what they need."
During each game, fans will hear an announcement about how the Institute benefits from the relationship with the Baltimore-area Toyota dealers and the Ravens. Local radio stations also will feature announcements about the touchdown campaign throughout football season.
"We wanted to help an organization that improves the lives of children, something Kennedy Krieger does on a deeply impactful level," said Nigel Hayes, Director of the Baltimore Area Toyota Dealers Advertising Association. "When we saw how much they benefit from our mobility transportation options we knew this was the kind of partnership that our franchisees are inspired to support."  
In addition to game day and radio announcements, Kennedy Krieger will provide donation updates on their social media platforms throughout football season.
About Kennedy Krieger Institute:
Kennedy Krieger Institute, an internationally known nonprofit organization located in the greater Baltimore-Washington, D.C., region, transforms the lives of more than 25,000 individuals a year through inpatient and outpatient medical, behavioral health and wellness therapies; home and community services; school-based programs; training and education for professionals; and advocacy. Kennedy Krieger provides a wide range of services for children, adolescents and adults with diseases, disorders and injuries that impact the nervous system, ranging from mild to severe. The Institute is home to a team of investigators who contribute to the understanding of how disorders develop, while at the same time pioneering new interventions and methods of early diagnosis, prevention and treatment. Visit KennedyKrieger.org for more information about Kennedy Krieger.     
###  
MEDIA CONTACT:
Jamie Watt Arnold
PROFILES
Jamie@ProfilesPr.com
215-284-5789 (cell)