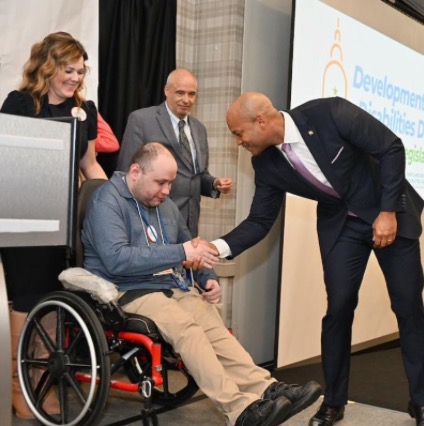 People On the Go (POG) held a Legislative Public Policy Committee meeting every Monday since the Maryland legislative session began in January. POG has submitted oral and written testimony on 14 bills to the House and Senate and signed onto testimony with other disability organizations. General members collaboratively created a letter of information for Governor Wes Moore, outlining their legislative platform. POG gave oral testimony on the Maryland Developmental Disabilities Administration (DDA) budget hearing in the House and the Senate. 
POG created a letter of information for HB1176, a bill that seeks to establish a 9-1-1 Registry Program to authorize adults and caretakers of individuals with intellectual and developmental disabilities to register with a local jurisdiction or local 9-1-1 call center in order to alert first responders of certain behaviors, diagnoses or traits that individuals may present during encounters with first responders.
POG members attended Developmental Disabilities Day at the Legislature (DD Day) on February 22, 2023 in Annapolis, Maryland. POG led trainees from the MCDD, Maternal and Child Health Leadership Education in Neurodevelopmental and Other Related Disabilities (LEND) program, and Center for Diversity in Public Health Leadership Training, helping them participate in legislative visits on DD Day. At the event, Mat Rice, POG advocacy coordinator, had the opportunity to introduce Governor Wes Moore and Dr. Laura Herrera Scott, Secretary of Health. He also spoke about next steps and gave closing remarks related to the event's theme, "Create Change. Unlock Opportunities. Improve Lives." Cody Drinkwater, POG public policy assistant, gave a presentation about the self-advocacy perspective during the Kennedy Krieger Lunch and Learn session.
Project S.T.I.R. (Steps Towards Independence and Responsibility) is a program that offers free, interactive self-advocacy trainings, helping attendees learn skills that are helpful to their daily lives. Through this program, POG offers four training modules: Communications, Problem Solving, Knowing Yourself, and Rights and Responsibilities. POG hosted four Project STIR trainings throughout the month of February for POG Southern Maryland and People Power, a self-advocacy group based in Howard County, Maryland. POG has additional trainings scheduled with Penn-Mar Human Services.
POG hosted a virtual quarterly meeting on March 4, 2023, with 18 self-advocates in attendance. During the meeting, attendees watched Governor Wes Moore's remarks about DD Day. Cody Drinkwater, POG public policy assistant, shared a recap of DD Day, reviewed DD Day fact sheets, and discussed key takeaways from the event and legislative visits. Liz Weintraub, Association of University Centers on Disabilities (AUCD) Self-Advocacy Specialist, was invited to discuss the federal perspective of advocacy. Aileen O'Hare, POG board secretary, discussed the job role and expectations of an at-large board member. This was done in preparation for sharing and disseminating the at-large board member applications. The next quarterly meeting will be held in person on June 3, 2023. 
POG members attended the Neurodiversity at Work Conference from March 22-24, 2023 and gave a presentation, "Advocacy is the Path Forward."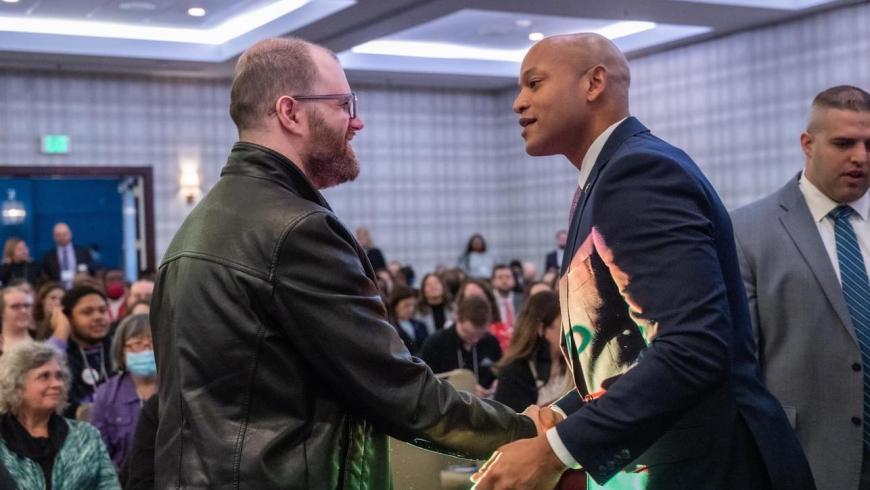 Pictured: Cody Drinkwater and Governor Wes Moore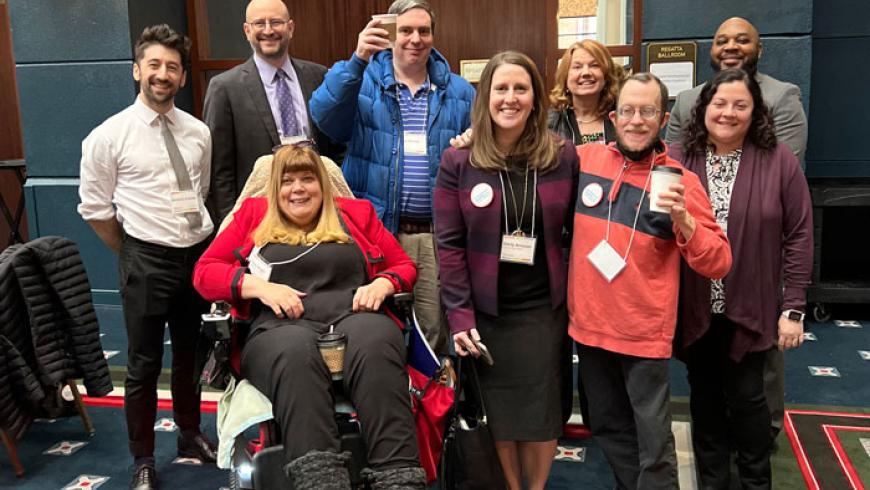 Pictured:
Back Row - Dr. Ben Schindel, Dr. Bradley Schlaggar, Alex Barnes, Jennifer Falter, Kenneth Williams
Front Row - Tracy Wright, Emily Arneson, Matthew Plantz, Dr. Christina Love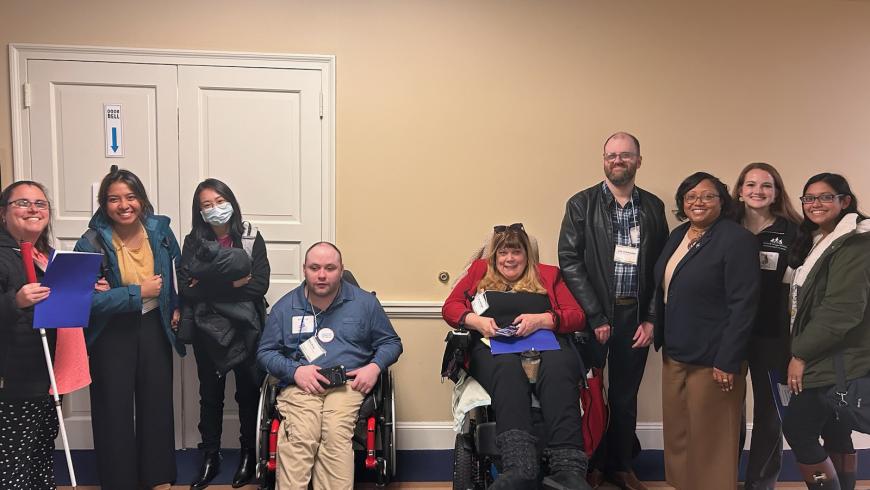 Pictured: Amanda Del Riego, Martina Penalosa, Melanie Ong, Mat Rice, Tracy Wright, Cody Drinkwater, State Delegate Sheree Sample-Hughes, Lauren Peterson, Amanda Taboas