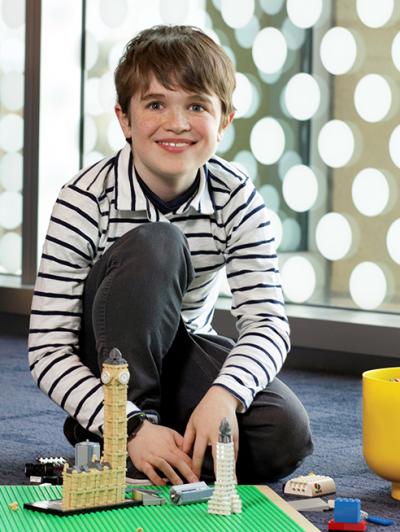 Originally published in 2017.
Time isn't something Dr. Kathryn Wagner has a lot of—not if she wants her patients to get better.
Dr. Wagner directs Kennedy Krieger Institute's Center for Genetic Muscle Disorders, which treats children and adults with muscle disorders such as limb-girdle, Becker and Duchenne muscular dystrophies.
Muscular dystrophy comes in dozens of forms, depending on the gene affected. In the U.S., approximately 20,000 people, mostly boys, have Duchenne muscular dystrophy, and for them, the disorder is fatal. Dr. Wagner is working to change that, beginning with the patients she's caring for right now.
Founded in 2009, the center—which has a multidisciplinary clinic, a clinical research branch and a laboratory research branch—is one of only a handful of centers in the world providing expert clinical care and seeking new therapies for these disorders. The center sees more than 1,000 patients a year with muscular dystrophy from across the country and around the world. In 2014, it became a Certified Duchenne Center of Excellence.
Dr. Wagner divides her time between the center's clinic and laboratory, working tirelessly to develop new ways to stop muscular dystrophy from destroying her patients' muscles. She sees patients regularly and leads clinical trials of drugs for muscular dystrophy developed at the center or elsewhere.
The center runs about a dozen clinical trials at any given time. Some are large, multicenter pharmaceutical trials involving other research institutions and hospitals. Others take place only at Kennedy Krieger and are the direct result of laboratory research performed at the center.
Trial drugs haven't received final approval from the U.S. Food and Drug Administration, but they are approved for clinical trial, a necessary step in obtaining FDA approval.
"With few exceptions, the drugs offered through the clinical trials are the only options available to my patients for slowing the destruction of their muscles," Dr. Wagner says. Many of her patients take steroids to help preserve muscle strength and function, but the steroids' effects are limited. Better drugs are needed.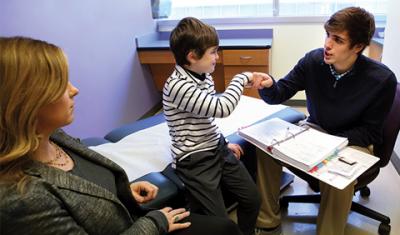 Minding Myostatin
One new type of therapy being studied in clinical trials for muscular dystrophy involves blocking myostatin, a naturally occurring protein in muscle that keeps muscle growth in check. Dr. Wagner and others working in her field believe that blocking the myostatin in the muscles of a person with muscular dystrophy will keep that person's muscles stronger for a longer period of time, perhaps even regenerating muscle.
In the center's laboratory, she and her colleagues have shown that blocking myostatin in animal models improves muscle regeneration and decreases the scar tissue that forms in muscles as they break down.
The center is currently participating in two trials to test whether blocking myostatin is helpful to boys with
Duchenne muscular dystrophy. And last year, in collaboration with an industry partner, the center launched the first trial of a drug devoted to limb-girdle muscular dystrophy 2I, which predominantly affects the muscles used for sitting and standing.
"The first generation of myostatin inhibitors was safe but not all that effective," Dr. Wagner says. "Our hope is that this current generation will do a better job of knocking down myostatin."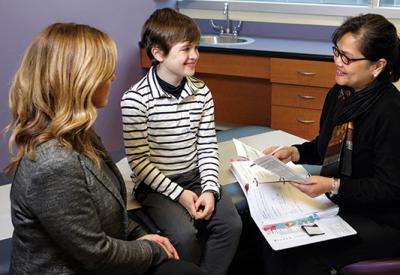 A Shot of Strength
Thanks to all of this research, there's hope for patients like Dylan, an astute and upbeat 11-year-old with Duchenne muscular dystrophy.
Dylan is part of a new clinical trial that's testing how well one of these second-generation myostatin inhibitors works for boys with Duchenne muscular dystrophy. He received his first dose of the drug in the form of an injection last winter. Much of the important preclinical work leading up to the trial took place in Dr. Wagner's laboratory.
"There's more than a decade of really good science leading up to this trial," Dr. Wagner says.
Dylan has been Dr. Wagner's patient for the past four years. He walks short distances with ease and lives a fairly typical life—albeit one with daily steroid pills and monthly trips to Kennedy Krieger for blood draws, cardiology checks, movement evaluations, physical and occupational therapy, and injections of the trial drug.
At home, Dylan attends school, enjoys zipping around outside on a motorized scooter and is planning on a career in architecture. He has a room full of building models he's made out of Lego bricks while experimenting with different architectural forms, developing an aesthetic sensibility all his own.
"I can't think of a time when I wasn't interested in architecture," he says. He lives in New York City, and loves studying the city's built environment. He particularly loves buildings with natural light and modern architecture, including just about anything by Frank Lloyd Wright.
Diagnosed with Duchenne muscular dystrophy at age 4, Dylan has been treated for the disorder since age 5, first at a hospital in the Midwest for two years, then at Kennedy Krieger. His mother, Catherine, chose Kennedy Krieger because of the strength of its multidisciplinary clinical care and muscular dystrophy research.
"Getting treatment and access to clinical trials at Kennedy Krieger—I feel like it's everything a parent can do," says Catherine, who has become a lay expert in the disease thanks to her work with the Parent Project Muscular Dystrophy group, which advocates for better funding for muscular dystrophy research.
"Because, of course," she says, "we all want to do as much as we can for our children."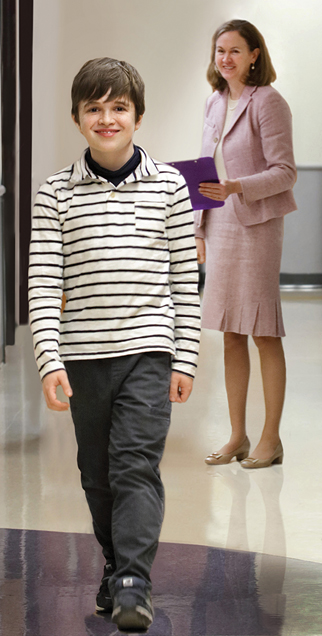 'Stuff That Will Last'
"A lot of fighting this disease is early intervention," Catherine says. She and Dylan learned at the clinic that going up and down stairs may be detrimental to Dylan's muscles, so Dylan doesn't do stairs anymore. He takes supplements to maintain his health and drugs to protect his heart.
"A little bit of work on the front end of the diagnosis can change the trajectory of the disorder for the better," Catherine says. "The young boys with muscular dystrophy today are doing amazingly well," thanks to all of the research that's gone into keeping them as healthy as possible.
Catherine credits Dr. Wagner for her son's ability to continue walking. "She really knows the intricacies of this disease and how hard it is to combat."
Dr. Wagner draws inspiration for her work from her patients themselves.
"It really is an honor to work with patients with muscular dystrophy," she says. "They have a survivor's mindset, always challenging themselves to overcome obstacles." In spite of these obstacles, "they're very optimistic, and I really enjoy working with them.
It's what brought me into the field to begin with," she explains, "and it's what motivates me every day in my work.
Dylan couldn't exemplify that courageous optimism any better. As Dr. Wagner researches how to save and build up her patients' muscles, Dylan learns all he can about architecture so that he can be an architect in the not-too-distant future.
In that way, he's a lot like Dr. Wagner. "I want to build stuff that will last," he says.
To learn more about Kennedy Krieger's Center for Genetic Muscle Disorders, visit its website at KennedyKrieger.org/MuscleDisorders2.