Dr. Jacqueline Stone: Today I am joined by Dr. Katherine Wagner, director of our Center for Genetic Muscle Disorders at Kennedy Krieger Institute.
Dr. Kathryn Wagner: Yuva is a 17 year old boy who is an excellent student, national chess player, and scientific researcher who I have treated for Duchenne muscular dystrophy at the center for genetic muscle disorders at Kennedy Krieger. Duchenne is a devastating disease that affects primarily boys. It is marked by progressive loss of muscle function, so the boys lose the ability to walk, use their arms, and breathe independently. It also affects the heart muscles, which frequently claims their lives in early adulthood. Yuva was diagnosed at the age of three and a half. He has had progressive weakness in his legs until he began to use a wheelchair full time at the age of thirteen. This has not stopped him from excelling in all avenues. That is why I find this story so inspiring.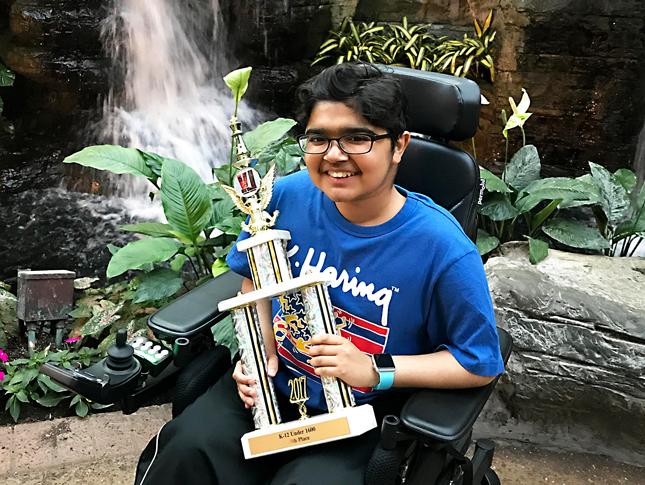 Yuva goes to a competitive magnet school in Pennsylvania, where he has an incredible 4.5 GPA. He competes in the Pennsylvania state and national scholastic chess championships with his school team. He can move the chess pieces that are close to him, but due to arm weakness, he needs to have his opponent move the pieces on the far side of the board. Yuva is also combating his disease by participating in research. This past summer he worked at a lab in U Penn where he performed researched in gene editing. He needed some help from his aids to do the physically demanding tasks, but his intellectual contributions were a great benefit to the lab.
Finally Yuva participates as a research subject at Kennedy Krieger, where he has an experimental therapy infused into his veins weekly. The studies determine whether this experimental drug can slow down the progression of his disease. This is, perhaps, his greatest contribution as to it requires quite a bit of his time and frequent blood and urine samples. Development of novel therapeutics for muscular dystrophy cannot occur without volunteers and Yuva has cheerfully and enthusiastically answered this call. We are confident that Yuva generation of boys with Duchenne would have a better and longer future due to the new therapeutic developments at Kennedy Krieger and around the world. Yuva is considering a career in management, engineering, or biotech. I am certain he will make his mark in the world for all of those with muscular dystrophy.
Dr. Jacqueline Stone: Inspiring Moments is produced for WYPR by Kennedy Krieger Institue, I am Dr. Jacqueline Stone.