BALTIMORE, February 9, 2023–Kennedy Krieger Institute announced the appointment of Dr. Wedad Fallatah, a postdoctoral fellow who will directly train with renowned researcher Ann Moser at the Peroxisomal Diseases Laboratory in the Hugo W. Moser Research Institute. Their work advances the diagnosis and treatment of peroxisomal disorders in pediatric patients.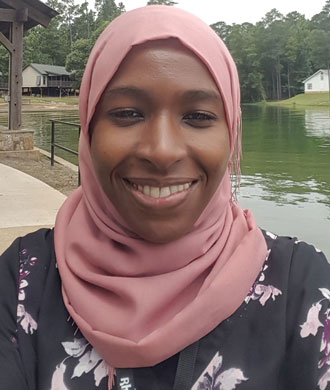 Dr. Fallatah holds a master's degree of advanced studies in clinical research from University of California San Diego and a PhD in human genetics from McGill University. She studied medicine at King Abdulaziz University Medical College in Saudi Arabia. During her studies, she started a small support group for families of children with rhizomelic chondrodysplasia punctuate, a peroxisomal disorder that impairs the development of many body systems.
Her work is inspired by the rapid growth in the genetics field in recent years, which has enabled physicians to integrate biomedical research with clinical medicine.
Moser formerly co-directed the Peroxisomal Diseases Laboratory at Kennedy Krieger Institute and Johns Hopkins University. She joined Kennedy Krieger in 1976 as a senior technician, and since 1991, has been working as a research associate in neurology. Together with her husband, the late Dr. Hugo Moser, they helped identify some of the gene mutations that cause peroxisomal disorders.
A peroxisome is a microbody found in certain types of cells which contain enzymes essential for a variety of metabolic reactions. A peroxisomal disorder occurs when peroxisomes are not functioning properly, are missing, or are severely diminished. A patient with a peroxisomal disorder may have neurological issues, hearing and vision loss, low muscle tone, seizures, developmental delays, feeding issues, bone disease or other symptoms.
"Throughout her career, Ann Moser has been a leader in research on peroxisomal disorders. Her work and the work of Dr. Moser have brought us to the point where we are today, which is being able to identify these illnesses in infants and thus begin earlier treatment," said Dr. Ali Fatemi, chief medical officer and director of the Moser Center for Leukodystrophies. "We are excited to welcome Dr. Fallatah and are eager for her to collaborate with Ann on the next advancements in this field."
Four foundations that raise money for research into peroxisomal and mitochondrial disorders helped fund Dr. Fallatah's position: Global DARE Foundation, The Global Foundation for Peroxisomal Disorders, Rhizo Kids International, and United Leukodystrophy Foundation. "I am very grateful to these four committed foundations for their generous support of our work," Moser said. "I also am so pleased to welcome Dr. Fallatah to the Peroxisomal Laboratory at the Hugo Moser Research Institute as one of the next generation of scientists who will continue this important work and make an impact on the lives of our patients."
###
About Kennedy Krieger Institute 
Kennedy Krieger Institute, an internationally known, non-profit organization located in the greater Baltimore/Washington, D.C. region, transforms the lives of more than 27,000 individuals a year through inpatient and outpatient medical, behavioral health and wellness therapies, home and community services, school-based programs, training and education for professionals and advocacy. Kennedy Krieger provides a wide range of services for children, adolescents and adults with diseases, disorders or injuries that impact the nervous system, ranging from mild to severe. The Institute is home to a team of investigators who contribute to the understanding of how disorders develop, while at the same time pioneer new interventions and methods of early diagnosis, prevention and treatment. Visit KennedyKrieger.org for more information about Kennedy Krieger.
MEDIA CONTACT:
Jessica Gregg
Greggj@KennedyKrieger.org
443-823-9811 (cell)
Carson Rehfield
PROFILES
Carson@ProfilesPR.com
443-641-3371 (cell)