Dr. Lana Warren: Today I am joined by Michele Mueller, Director of Special Events at Kennedy Krieger Institute.
Michele Mueller: My team puts on Kennedy Krieger's largest fundraiser of the year, Festival of Trees. Now in its 29th year, the focal point of the event is the large display of artificial trees, wreaths and gingerbread houses designed and decorated by members of the local community, including corporate sponsors, families, schools and clubs. One group of designers are the Kemp sisters, a close knit group of 7 sisters and their mother, who donated their time, talent and creativity to the Festival of Trees for more than 25 years.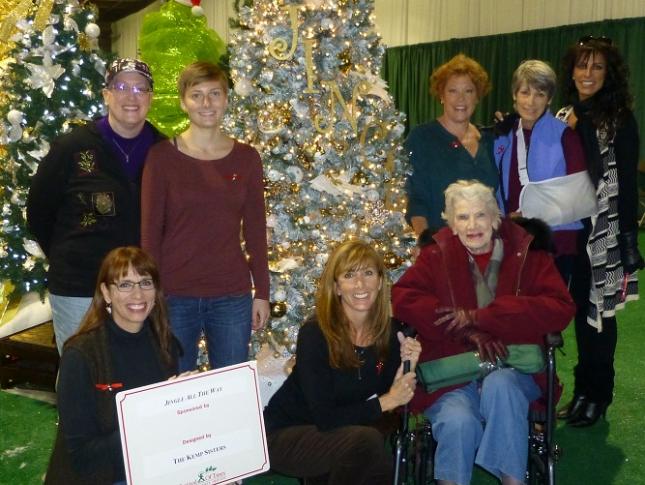 This family first became involved with the Festival of Trees over two decades ago. One of their inspirations is a family member who is a patient at Kennedy Krieger. Festival of Trees has become a family tradition for the Kemp family, which now includes a third generation. Sadly in 2007, one of the sisters, Holly, passed away. The family decided to decorate their tree in her memory that year. The tree was called "It's Time for Mistletoe and Holly" and it was covered in hand made holly and mistletoe ornaments. Holly loved cherubs, so the tree topper was an angel holding a dove with a wreath of holly surrounding it. The family says they feel like their sister is still with them every year while they are decorating.
This wonderful group of ladies thinks about Festival year round. They've told me they begin planning their design in the beginning of the year. They have some really great fun and a few fights during the design, creation and decoration. Almost all the ornaments on their trees are hand made with hundreds of hours going into their designs. Over the years the Kemp women submitted dozens of creations, both as a group and individually. Fun fact is that their first tree they ever decorated as a family was purchased by former governor, William Donald Schaefer. However, if you were to ask the sisters which award their most proud of, they would tell you it's the Kennedy Krieger Institute's volunteer of the year award.
The Kemp sisters have often told me that the holiday season wouldn't be complete without designing a tree or wreath for Festival. I say that the Festival of Trees wouldn't be the same without the inspiring Kemp sisters and their amazing enthusiasm and spectacular design
Dr. Lana Warren: Inspiring moments is produced for WYPR by Kennedy Krieger Institute. I am Dr. Lana Warren.