Dr. Lana Warren: Today I am joined by Sherry Fisher, a special programs coordinator for Kennedy Krieger Child Life and Therapeutic Recreation program.
Sherry Fisher: For the past 18 years, I have worked with many dedicated and knowledgeable staff and have learned a lot from them. But it is the lessons that I have learned from our patients and their families that really stays with me at the end of the day. As a special programs coordinator, I get to be the fun lady. I will do anything to make our patients smile, so it is not unusual for nurses to contact me when a patient is having a bad day.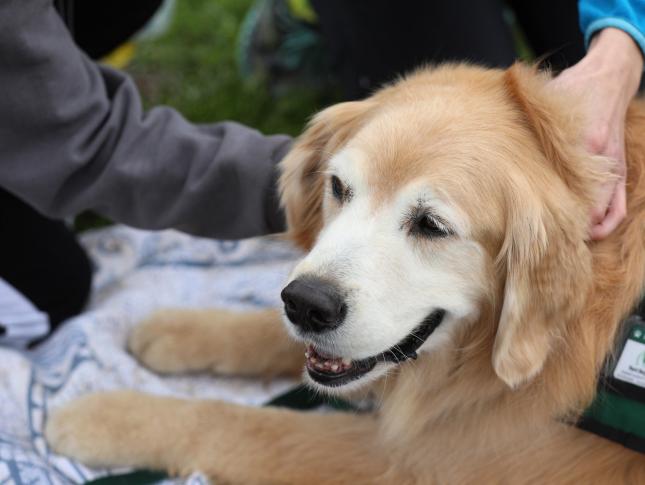 One evening, I received a request to come and visit a new admission as he wasn't very happy. Valentino was a Native American from New Mexico who has suffered severe injuries and wasn't able to move or breathe on his own. When I entered the room, he had tubes and wires coming from multiple places on his body and he was laying there looking small and scared. But what I most noticed was his loving grandparents on one side and his parents on the other and his little sister, Palouma, who was busy adjusting his pillows and blanket and rubbing his feet. In an effort to make him smile, I pretended to get tangled up in the curtain of his room wrapping myself up like a cocoon. It made his sister laugh, but no response from him. I pretended to leap over his sister which made the grandparents smile, but still no response from Tino. So I decided it was time to bring in the big dogs and when I bring in the big dogs, it's a really big therapy dog. I asked him if he dared me to bring the dog to his bed and he raised an eyebrow, so I brought the dog in to his bed and he smiled. From that day forward, we spent many times together playing and laughing as his family shared their culture and life with us.
Tino had been a great hoop dancer and one day we heard that his group would be visiting to perform a hoop dance in Washington D.C. We were happy to invite them to Kennedy Krieger to visit Tino and do a demonstration of hoop dancing for patients, families and staff. I was a little afraid that seeing his friends and fellow hoop dancers may make him feel sad that he was not able to join them or hoop dance anymore, but when I looked over his head was keeping to the beat of the drums and he was smiling and I had no doubt that in his mind he was still hoop dancing.
Dr. Lana Warren: Inspiring moments is produced for WYPR by Kennedy Krieger Institute. I am Dr. Lana Warren