By Laura Thornton
F

or Christopher, Demi, Elijah and Je'ani, it was not just any summer afternoon outing to Baltimore's National Aquarium. It was a chance for the teens and young adults—all inpatients at Kennedy Krieger Institute this past summer—to practice being mobile in the real world, before leaving the Institute to go back home.

The Institute's therapeutic recreation program, which focuses on improving patients' mental and physical health, conducts one or two activities in the Baltimore area for inpatients every week, in addition to organizing activities at the Institute's hospital. The program has taken patients bowling, on picnics, to restaurants, and to the Maryland Zoo in Baltimore, among other destinations. Recreational therapists accompany every outing.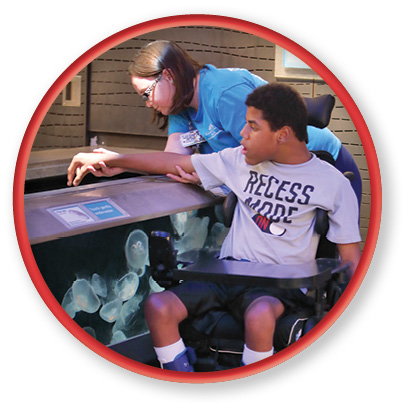 Part of the Child Life and Therapeutic Recreation Department, the program helps patients translate what they're working on in rehabilitation therapy to real-life situations. It also allows them to experience the emotional benefits that come with taking a break from the hospital setting.
For Je'ani, 13, the aquarium trip was an entirely new experience. It was her first time away from a hospital since arriving in Baltimore via helicopter earlier in the summer, after a motor vehicle crash had left her paralyzed from the ribcage down. It was also her first time navigating the world with a motorized wheelchair.
"This trip to the aquarium is a great transition for her," said her mom, Carla. "It's a chance for my daughter to get back into the outside world again."
Recreation With a Purpose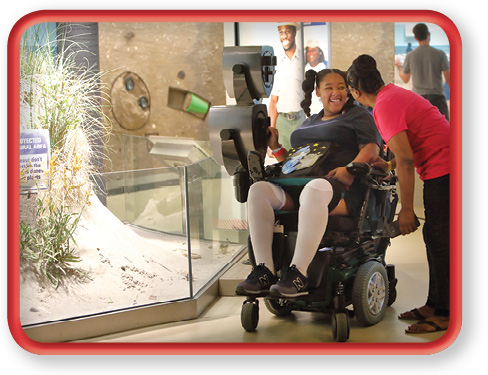 Most patients at Kennedy Krieger's inpatient hospital work with a therapeutic recreation specialist, explains Sharon Borshay, the department's director. The specialists ensure, through fun activities and outings, that when patients return home from the hospital, they've already practiced many of the skills they'll need to live their lives as independently as possible.
"Community integration outings are key to what we do," Borshay explains. "The whole goal of rehabilitation is to get kids and young adults back to feeling like themselves again and able to navigate their way in the community.
"The children and teens who are our patients need to know they can have fun again," she adds. "Our outings help them, emotionally and physically, by showing that, with some accommodations and planning, most activities are still possible."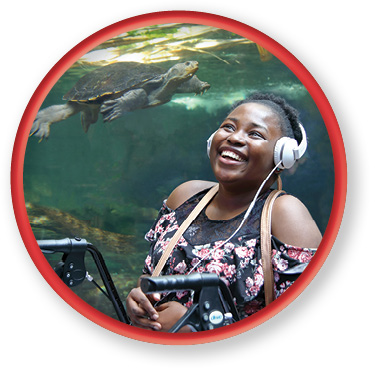 Going home with a new means of mobility like a motorized wheelchair is a big adjustment. It means learning how to secure the wheelchair in a van, getting used to seeking out accessible entryways into buildings, moving through crowds in a new way, and getting used to being a little more visible in the community.
Christopher, 22, Demi, 21, Elijah, 14, and Je'ani rode to the aquarium in the Institute's therapeutic recreation bus, which has removable seating to accommodate passengers in wheelchairs. The bus's stairs offered Demi, who uses a walker, a great opportunity to practice boarding and exiting a public transportation vehicle, while its wheelchair lift made it easier for the others to board and exit with minimal assistance.
"These outings make rehabilitation more motivating and fun," Borshay explains, "and they make it easier for our patients to accomplish goals like increasing their mobility and getting back to doing things with their friends and families."
A New Point of View
By the end of the outing, Je'ani was smiling and getting more comfortable with moving about in her wheelchair, especially with her new friends by her side for encouragement.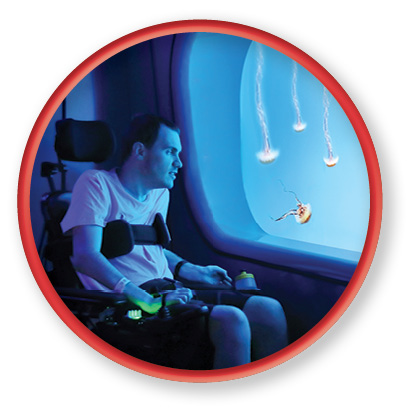 "I was nervous about her being in a vehicle again," Carla said, "but she's doing amazingly well."
When Christopher, Demi, Elijah and Je'ani found the underwater viewing window for the dolphin pool, they paused to watch the dolphins swim around for a bit.
Je'ani pressed the button on her wheelchair to recline herself backward in order to see the dolphins swim back up to the surface of the water, a perspective those standing didn't have. "I'm getting a better view," she explained.
Christopher and Elijah reclined their wheelchairs, too, and Demi sat down on the cushioned seat of her walker.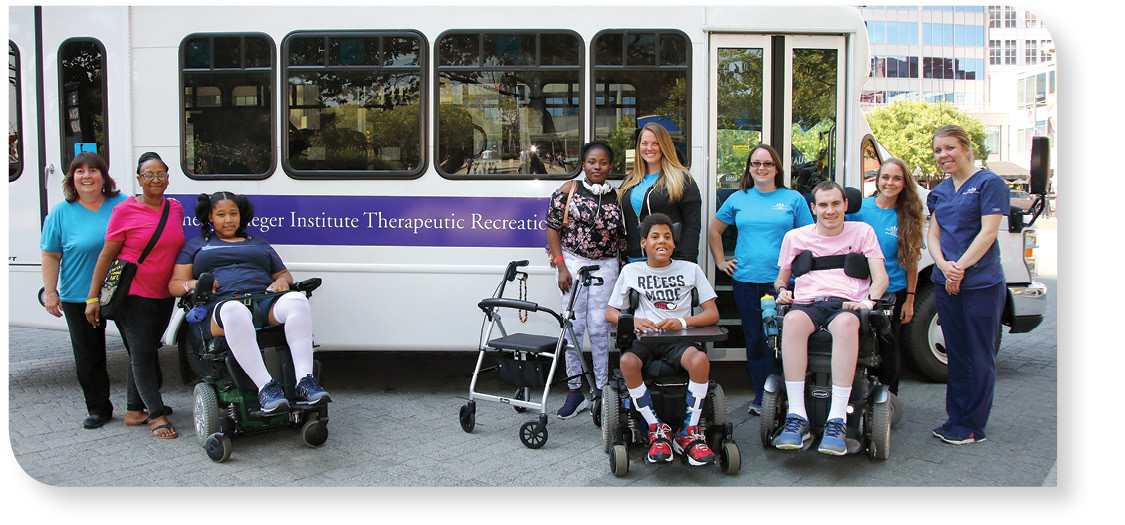 For a few minutes, as Christopher, Demi, Elijah and Je'ani relaxed and enjoyed the view, they seemed transported to another place. The next morning, having had a taste of independence, they'd be back in the therapy gym at Kennedy Krieger, working hard toward their recovery goals, but for now, they were just four young people, enjoying an afternoon at the aquarium.