By Laura Thornton
A

fter carefully preparing for a patient with complex medical needs to begin treatment at Kennedy Krieger Institute—gathering referrals and insurance approvals, reviewing medical records and assembling an interdisciplinary care team—nurse clinical care manager Angela Huff can't wait to meet the patient when he or she arrives at Kennedy Krieger.

"I'm so focused on helping our patients get the treatments they need," says Huff, who works with patients coming to Kennedy Krieger for treatment at the Institute's International Center for Spinal Cord Injury. "Seeing them here is one of the best parts of my job."

Every year, 24,000 patients and their families—from all over the country and around the world—come to Kennedy Krieger for treatment. Parents often need help determining which specialists their child should see, understanding insurance benefits, and planning their trip to the Institute.

That's where Kennedy Krieger's team of 13 care management specialists—10 nurse clinical care managers and three full-time patient care coordinators—comes in. The team ensures that every patient has the necessary paperwork on file, appointments scheduled, and an interdisciplinary care team lined up and fully informed about the child's medical history and treatment goals before the child arrives.

"Our aim is to make a family's time at the Institute as stress-free, therapeutic and seamless as possible," says Jody Luttrell, the Institute's director of nursing care management.
Helping Patients and Their Families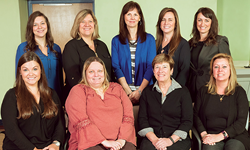 Sometimes parents of a child with a serious condition are hesitant about traveling far from home, or about traveling again for more treatment. But nurse clinical care manager Maureen Kapinos, who works primarily with families of patients arriving from another hospital for an inpatient stay, truly believes it when she says to parents: "Just wait—just wait until you get here. It's really awesome."
"I tell parents that once their child is here, we make sure they get the best care possible," adds nurse clinical care manager Kristine Mauldin, who works with families of children attending the Institute's Specialized Transition Program, a neurorehabilitation day program.
All of the nurse clinical care managers are registered nurses, and most were nurses at Kennedy Krieger before joining the care management team. "Even though we're not providing hands-on care, we use our 'nurse brains' all the time," explains Luttrell, who in 1989 became the Institute's first—and at that time, only—nurse clinical care manager. With their nursing background and expert knowledge of Kennedy Krieger's various programs, they're able to quickly and accurately assess a child's needs, and help organize and communicate a treatment plan.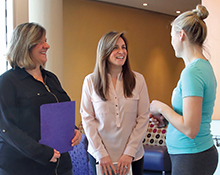 The care management team works with every child receiving treatment at the Institute's inpatient hospital, day hospital and spinal cord injury center, coordinating care throughout a child's admission as part of a larger interdisciplinary team. They also coordinate a child's discharge starting at pre-admission: Newly injured and chronically ill patients need special equipment, referrals for resources and careful discharge planning.

The team also works with many families of children coming from far away to Kennedy Krieger as outpatients, coordinating a child's multiple appointments—often with several doctors and therapists, and typically taking place within a short time frame—to ensure all providers are in communication with one another. Care management for outpatients is not typically offered at medical institutions, Luttrell says, but is critical at Kennedy Krieger because of the wide variety of conditions—many of them extremely rare—the Institute treats.
Amazing Things, Happening Daily
Care management team members are instinctively attuned to the unique needs and situation of each family. "We truly empathize with the stress and trauma each family is going through," Luttrell says.
"It's very humbling, as well as an honor," adds nurse clinical care manager Heather Dean, who works with families of patients coming to the Institute's inpatient hospital from home, "to walk alongside a family going through such a difficult time."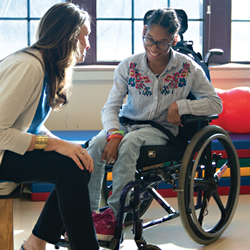 "But when you see one of the patients you've worked with walk again, or demonstrate a skill his or her parents worried had been lost, it's extremely rewarding," nurse clinical care manager Courtney Dunlow explains. Dunlow works—typically through interpreters—with families coming to the Institute from abroad, often coordinating arrivals and departures with the embassies representing patients' home countries.
"It's so satisfying to see patients getting better, advancing through treatment, and living their lives to the fullest," adds nurse clinical care manager Lisa Trotta, who works with patients coming to the spinal cord injury center.
One of Luttrell's favorite places to show to families considering coming to Kennedy Krieger is the Institute's Child Life and Therapeutic Recreation room, where "there might be 15 children, all smiling and having a lot of fun.
"It's not an unusual sight for us, but the families are so amazed. They can hardly believe what they're seeing. It's a privilege to show them what's possible, and then help them once they're here."
To learn more about the Institute's patient care services, visit the Patient Care page.