By Laura Thornton
Landon has never let his physical disabilities slow him down. Even when he was 15 months old and unable to walk because his left arm and leg were stiff and weak from left-sided hemiparesis, a form of cerebral palsy, he still kept trying to keep up with his older brother.
But over the past seven years, as Landon's participated in various therapies and programs at Kennedy Krieger Institute, his left side has become stronger and more flexible, and coordination between his right and left arms and legs has improved tremendously. He's conquered all kinds of challenges, from the jungle gym to the pitcher's mound, becoming a multi-sport athlete along the way. What's remained constant is his determination to keep pushing himself, every day, to improve his physical abilities and be the best athlete he possibly can.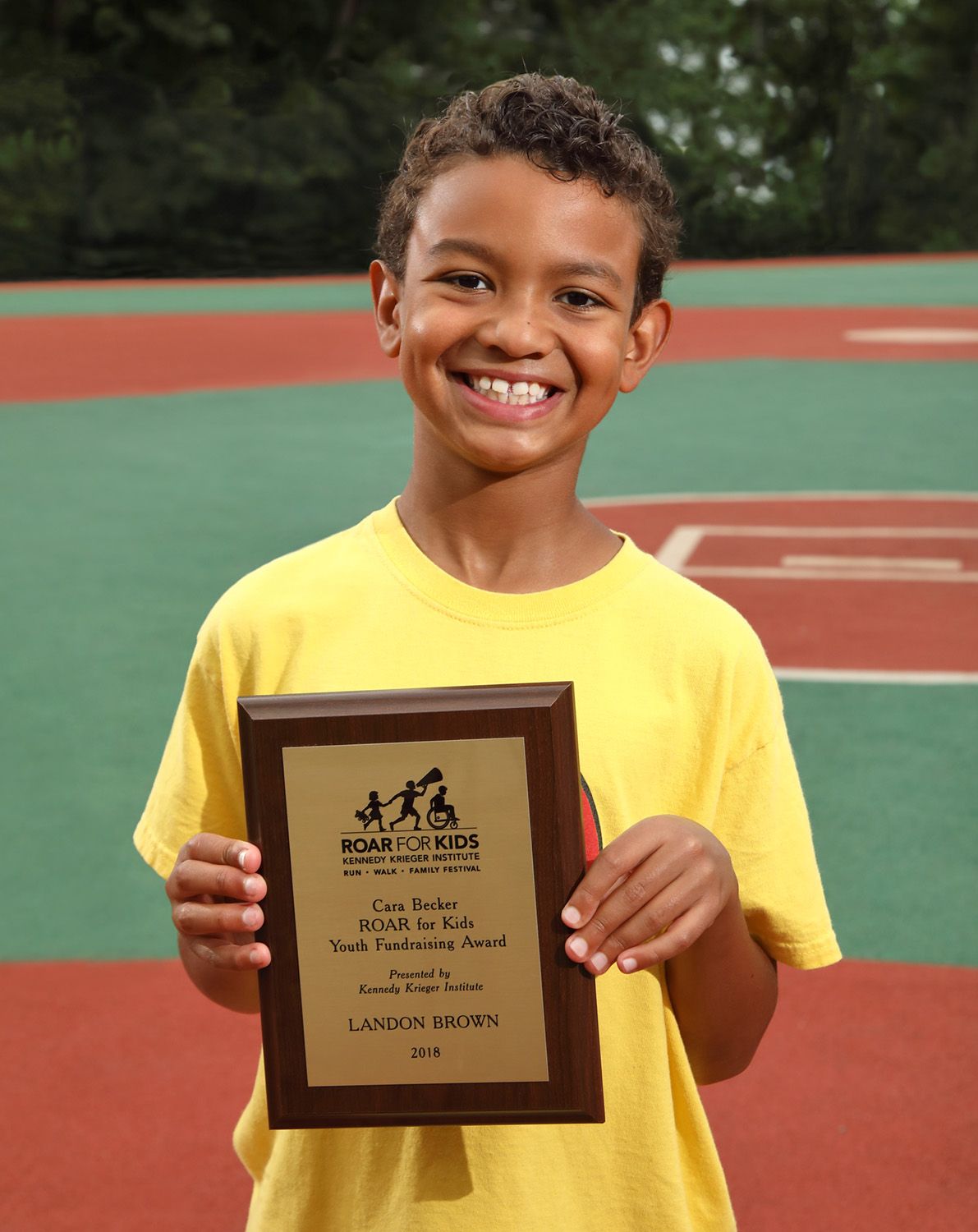 "He's such a sweet, social kid, and very motivated by sports," explains Dr. Katlyn Billups, one of Landon's physical therapists.
"And he's a natural-born athlete," says his mom, Tania. "The competition, the camaraderie—that's really important to him."
Landon, now 8, plays baseball, basketball and soccer on teams with kids without disabilities. The soccer team is a traveling one, and he's received two all-star awards in baseball. He also swims, runs track, plays soccer and basketball, and ascends rock-climbing walls with the Bennett Blazers, Kennedy Krieger's adaptive sports team. Last June, Landon participated in his first track meet, taking home the "Outstanding Male Athlete" trophy at a qualifying meet for Adaptive Sports USA's Junior Nationals.
And for the past two years in a row, Landon, who lives outside of Baltimore, has raised more money for Kennedy Krieger through the Institute's annual ROAR for Kids fundraising event than any other participant under the age of 18. To date, he's raised more than $5,300 for Kennedy Krieger, and he won first place in the adaptive category for the timed 5K at ROAR 2018, running the race in only 34 minutes—an amazing feat for a child who once struggled to walk.
Early Intervention
A brain scan taken shortly after Landon turned 1 indicated he'd probably had a stroke—which can lead to cerebral palsy—around the time he was born. Landon's pediatricians recommended that his parents take him to Kennedy Krieger.
"Landon's benefited from everyone he's seen at the Institute," Tania says, from occupational and physical therapists to doctors specializing in rehabilitation medicine and orthopedic surgery, and especially his Bennett Blazers coaches. "We feel Landon would not be who he is today without them."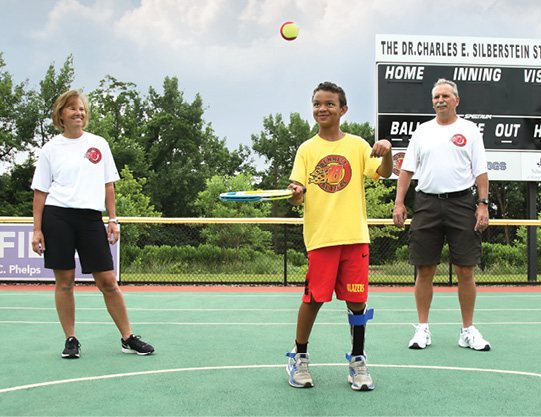 Landon's first taste of intense therapy took place shortly before he turned 3, when he participated in the Institute's constraint-induced therapy program, one of the first clinically-based programs of its kind in the country, explains Dr. Frank Pidcock, the Institute's vice president of rehabilitation.
For six weeks, during daily therapy sessions, Landon would wear a long splint—from fingertips to upper arm—to immobilize his stronger, right arm, encouraging him to use his left arm instead. Under his therapists' direction, he honed the skilled movements he needed to be able to do with his left arm in order to do things like get dressed and buckle his seat belt, explains occupational therapist Teressa Garcia Reidy, of the Institute's Constraint-Induced and Bimanual Therapy Program.
Landon worked hard to master the tasks his therapists assigned him, and ended up meeting all his therapy goals. It was just the beginning of a pattern that's persisted to this day.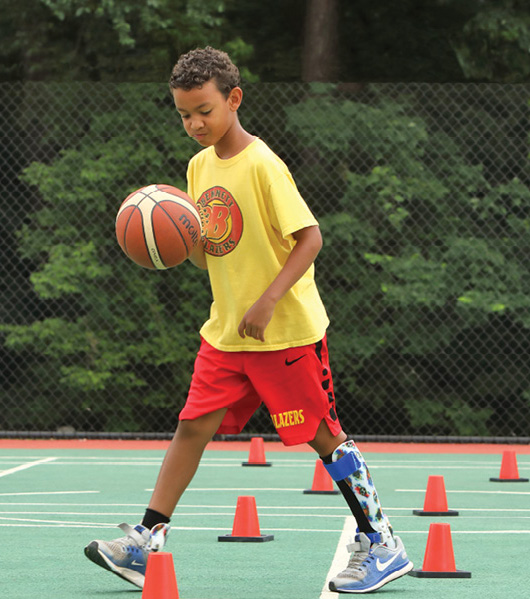 During the summers that Landon was 4 and 5, he participated in the Institute's bimanual therapy program, which focuses on coordinating the use of both hands for children with weakness on one side. His parents wanted to be sure he'd be ready for kindergarten—and able to play on the playground equipment like the other kids.
Climbing ladders was difficult for Landon back then, which made jungle gyms almost impossible for him to enjoy. But physical therapist Patricia Turlington worked closely with Landon on his balance, coordination and grip—first holding her left hand over his as he gripped the rungs of a ladder, and gradually, over several weeks, reducing the amount of assistance she gave to his left hand—until he could climb the ladder of a jungle gym on his own.
"Seeing him climb that ladder and get to the top," Tania says, "and seeing the look of accomplishment on his face is something I'll never forget."
Play Ball!
When Landon was 3, his parents enrolled him in the Bennett Blazers' adaptive sports program. He started out in the program's weekly motor development class, which focuses on basic sports skills—throwing, catching, climbing, doing obstacle courses—that help kids develop strength, power, coordination, flexibility, balance and agility. As his skills improved, his confidence grew, Blazers coaches Gerry and Gwena Herman say.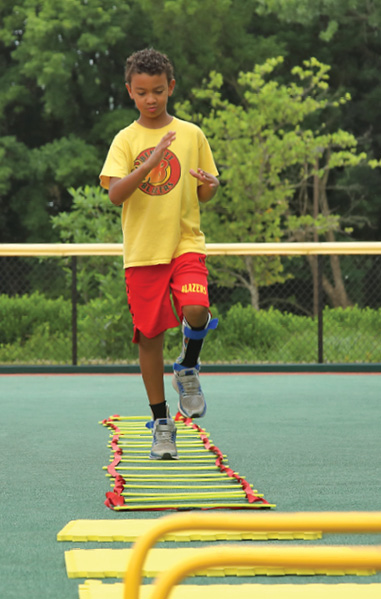 Initially, Landon was a little fearful of trying new things. Climbing anything higher than three feet frightened him, as did swimming. But his determination—and the Hermans' encouragement—was greater than his fear. He's now competing in swim meets with other athletes with disabilities, and he's conquered every climbing apparatus at the Kennedy Krieger gym where the Blazers practice.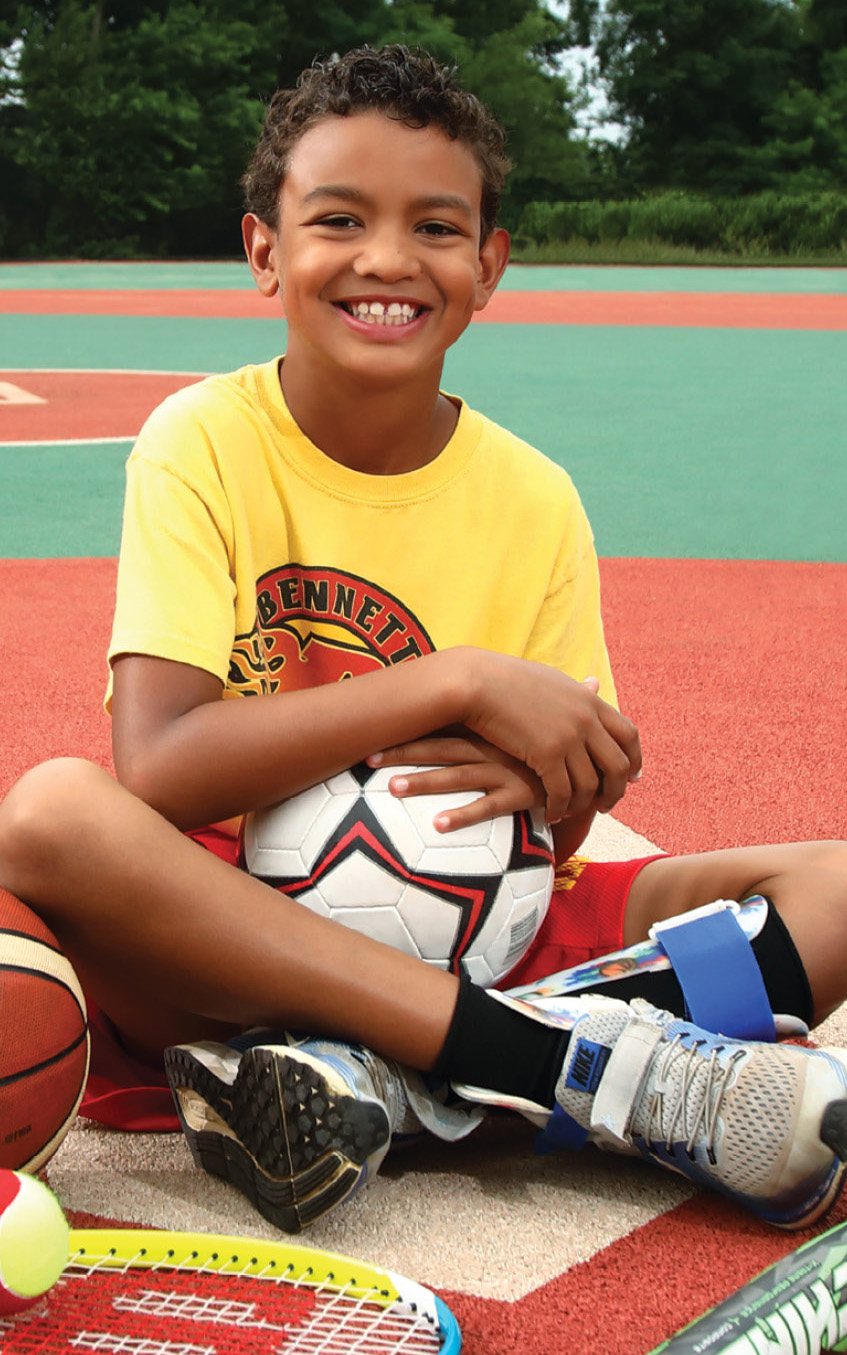 Landon now trains with the Blazers multiple times a week, swimming year-round and playing other sports seasonally. He's more skilled in sports than many kids his age are, say the Hermans, who've been coaching the Blazers for nearly 30 years. They encourage Landon and his teammates to be well-rounded athletes, holding off on specializing in a single sport until college.
Because Landon was doing intense therapy early on, "he was able to graduate out of it and replace it with sports," Reidy says. "If possible, we don't want kids to have to keep coming to therapy every week—ultimately, we want them out doing activities with their peers."
Landon's brother, Mason, 11, and sister, Kendall, 6, are also into sports, which means Landon is doing exactly the same types of activities his siblings and friends are doing, all thanks to early interdisciplinary interventions, from therapy to sports.
"We really attribute where Landon is now to all the services he's received at Kennedy Krieger over the years," Tania says.
Landon's positive attitude, motivation and determination to always do his best will take him far.
Watch as Landon and his mom, Tania, talk about the importance of giving back: