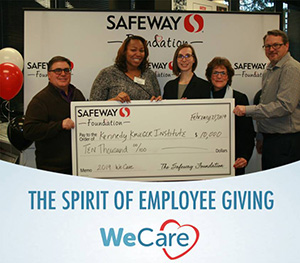 On February 21, 2019 during a ceremony at their Lanham headquarters, the Safeway Foundation in Safeway's Eastern Division awarded Kennedy Krieger Institute with a $10,000 grant to support groundbreaking research at the Institute. 
Through Safeway's We Care program, employees voluntarily contribute to Safeway Foundation. Funds are used to both support local community organizations recommended by their employees and to assist employees who have experienced financial emergencies. 
Safeway Foundation in Safeway's Eastern Division invested more than $2 million in their local neighborhoods in Maryland, Northern Virginia, the District of Columbia, and Delaware. During the check ceremony, Safeway employees presented grants to 23 organizations, all of which were chosen by Safeway employees. Joan Callagery-Ohl, store director for Safeway's Canton location, nominated Kennedy Krieger Institute to receive this grant. 
Kennedy Krieger will use their Safeway Foundation We Care grant to fund research at the Institute.  Kennedy Krieger's research initiatives holds the promise to develop innovative treatments from discoveries made in the lab, the clinic, and the field that ultimately improve interventions and care for the millions of children and families affected by developmental disabilities. This support helps bring the Institute one step closer to understanding and overcoming childhood brain-related disorders, diseases, and injuries.