Stronger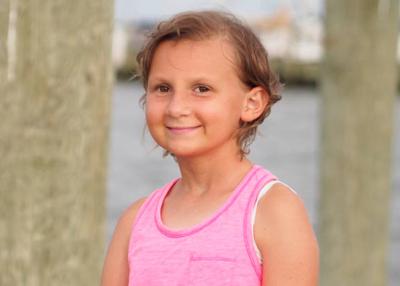 After cancer and chemotherapy left her so fragile doctors said she might never walk again, Perry found her strength with the help of Kennedy Krieger's Specialized Transition Program.
You have to realize how hard it is to get someone to walk again. They got her walking and that was her goal… Coming to Kennedy Krieger was worth the travel and relocation.
Anne Zimmerman, mother of Perry
At the tender age of 13, Perry Zimmerman has already battled a lifetime's worth of illnesses. Born with retinoblastoma, a type of eye cancer, Perry developed a related brain tumor at age two that doctors did not expect her to survive. For the Zimmerman family, watching their two-year-old daughter go through chemotherapy was heartwrenching, but when it was over, Perry emerged cancer-free.
For several years, cancer remained a distant, long-ago memory, until one morning two years ago, Perry complained about a lump on her left thigh, and showed her mother. "The second I saw it, I knew what it was," her mother, Anne Zimmerman, recalls. An MRI showed a large tumor. For the third time, Perry had cancer—this time, osteosarcoma.
Limb-sparing surgery removed the tumor, but because it was so large, surgeons had to reconstruct her leg. She wore a cast from waist to toe for three months, and doctors said she might never walk again. The surgery and nine months of chemotherapy took their toll, leaving her body ravaged and her bones weak.
Everything She Needed All in One Place
For patients like Perry who have gone through surgery and chemotherapy, their struggle does not end when the cancer is gone. They still face fatigue, weakness, pain, immobility, and low bone density, and need months of rehabilitation to recover.
Despite the multitude of rehabilitation facilities near the family's home in Manhattan, none of them could offer the intensive five-day-a-week rehabilitation therapy Perry needed. "She just wasn't getting what she needed in New York, and I knew it," says Zimmerman. So they temporarily relocated to Maryland, so Perry could receive treatment at Kennedy Krieger's Specialized Transition Program (STP).
"STP really is a unique day program," says Katlyn Recchia, Perry's physical therapist. "It's set up as a school day, but kids also receive three to four hours of intensive physical,occupational, and speech therapy, along with neuropsychology. To have that in such an intensive format allows kids like Perry, who have such great challenges, the opportunity to progress at their own speed."
When she arrived at Kennedy Krieger, Perry was fragile, weighing only 45 pounds, and in a wheelchair. She couldn't move or bear any weight on her leg, and had lost nearly all muscle tone, recalls Recchia.
Intensive daily physical therapy helped Perry transition from a wheelchair to a walker, and rebuild muscle that was lost. Weight-bearing exercises helped strengthen her muscles and bones, and electrical stimulation helped re-teach her muscles how to work again. A series of casts and braces helped give Perry the ability to extend her leg.
Through it all, Perry kept working hard. When setbacks occurred—Perry broke both an ankle and a wrist—therapists adjusted her regimen and kept her moving forward. "She had fallen so many times at home that she had a fear about movement," says Recchia. "She learned to trust me and the other therapists when we said, 'You are going to be okay if you take this step.' She worked incredibly hard and was very brave."
Keeping Up With School
 In between therapy, Kennedy Krieger teachers continued her schooling so she wouldn't fall behind. Kids recovering from all types of injuries or conditions are grouped together in a classroom, but each has an individualized school curriculum and therapy regimen.
"The educational piece here in an outpatient setting is unique," says Perry's teacher at STP, Ali Adler. "Since teachers are employed by Kennedy Krieger and not a school system, we have the flexibility to implement individualized curriculums. For Perry, I was able to implement the curriculum for the school she would be attending upon discharge…We try to simulate as much of a normal school day as possible to help ensure a smooth reentry into school."
Assistant teacher Brandt Dunn, who most days can be found wielding a guitar and singing songs to the kids, brought a little bit of whimsy to the classroom. "He made the whole experience fun for Perry," says Zimmerman. And Perry also made an impression on Dunn. In honor of Perry, he cut and donated his long hair to make real-hair wigs for others with cancer.
Dunn says he is inspired almost every day by the kids who come to STP. He sees kids recovering from all types of accidents, brain injuries, surgeries, and cancers in his classroom. "I tell the kids all the time, 'You guys are way tougher than I am,'" he says. As for Perry, he says, "She's always been tough, but now she's stronger, more confident, and vocal…I've seen so much growth in Perry."
Taking it All in Stride
 Slowly, Perry progressed from not being able to put any weight on her leg to walking with a walker, to crutches, and finally, to taking her first steps unassisted. For Perry and her family, walking was a monumental feat. "You have to realize how hard it is to get someone to walk again," says Perry's mom. "They got her walking, and that was her goal."
"To her, it is just so freeing to be able to walk around carrying something instead of crutches taking up her hands," she adds. "She's proud and happy." In August, the family returned to New York with a home program to follow. And despite her medical problems over the past two years, Perry has not fallen behind on her schoolwork and will return to her same school with all of her friends, making it as seamless a transition as possible.
Coming to Kennedy Krieger was worth the travel and relocation," says Zimmerman. "It's so amazing to see how far she's come.

I'm inspired almost every day. I tell the kids all the time, 'You guys are way tougher than I am.' 
Brandt Dunn, assistant teacher at Kennedy Krieger's Specialized Transition Program